Counselling Services for Students
Commerce Counsellor
Students can schedule Commerce Counselling appointments confidentially on the Commerce Portal by signing in with their net ID and password.
The Commerce Counsellor is an extension of Queen's University's Student Wellness Services that supports personal, academic and social development of Smith School of Business students. Confidential appointments are with an experienced professional counsellor who can assist your student with:
Adjusting to university
Academic concerns
Addiction issues
Anxiety/stress
Grief issues
Relationship concerns
Sadness/low mood/depression
Other mental health issues
Career exploration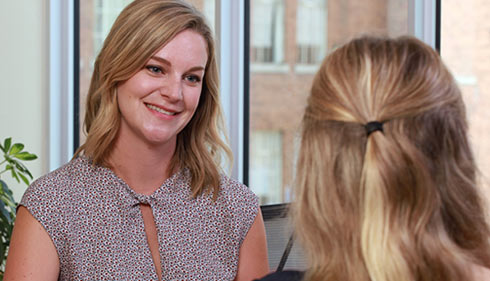 Queen's Student Wellness Centre
Alternatively, students can book with Counselling Services, a service offered by Queen's Student Wellness Services.
Learn more
Accommodations and Health Concerns
Special Accommodations
For all questions regarding past, present and future accommodation concerns please refer to Queen's Student Accessibility Services. On occasion, there may be a situation beyond your student's control that compromises their ability to write exams or submit assignments at required times. Requests for special academic accommodations should begin with the student contacting their instructor or, if the extenuating circumstances are of a personal or confidential nature, students may prefer to speak with their counsellor. For further information please refer to Student Wellness Services Policy on Special Academic Accommodation Requests.
Short Term Illness
If a student becomes ill and must miss class in order to take care of themselves, it is their responsibility to inform the instructor. This is especially important if the student misses an assignment, test, or exam, as they must make an alternative arrangement with their instructor(s). Students may be required to present documentation to the instructor and/or the Commerce Office.
Students seeking such documentation should be familiar with Queen's Health Services Policy on Verification of Illness.
Health Services
Students who require comprehensive medical care, travel medicine and education, immunization and referrals for specialized treatment can refer to Queen's Health Services.
Student Health Services provides Queen's students with quality, comprehensive health care in a convenient campus location. Your student can make an appointment with a doctor or nurse or visit the walk-in clinic for urgent care.  They offer a multidisciplinary health team including family physicians, psychiatrists, registered nurses and support staff.