"

The Queen's program stands out because of its personalized approach, quality of professors and access to a fantastic alumni network. I learned a lot about myself while in the program and it gave me more confidence in all aspects of my life. Personally, I would describe the Queen's MBA as life changing and it's definitely something of which I am very proud.

"
Graduate Success Stories
Our unique approach will better prepare you
for your dream job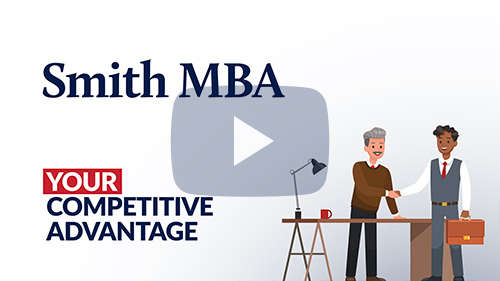 Using the features below, let us build the personalized academic experience that gets you where you want to go. Say goodbye to the cookie cutter approach used in other MBA programs, the Queen's MBA experience is unlike any other.

Tell us who you are. Introduce Yourself.
Internship Opportunities
The design of the program enables you to pursue internships at high profile companies and in multiple industries in order to gain work experience in their chosen area.
Double Degrees
In today's competitive environment, there are some career paths that demand a level of specialization beyond the MBA program. Smith School of Business Double Degree options are designed to accommodate these demands. Learn more
International Exchange
If international exposure is integral to your career goals, Queen's MBA offers exchange opportunities at more than 25 of the world's top international business schools. Learn more
Queen's MBA in the Rankings
Here are the relative rankings within Canada, of what are widely thought to be the top 3 MBA programs in Canada.
MBA Rankings in Canada (2017)
Queen's
Rotman
Ivey
Salary Increase
#1
#2
#3
Value for Money
#1
#3
#2
Salary
#1
#4
#2
Job Placement
#1
#5
#2
Attend an Event
| Event | Date | Location | |
| --- | --- | --- | --- |
| Information Session | May 4, 2017 | Toronto | Register |
| One-on-One Session | May 4, 2017 | Toronto | Register |
| Information Session | May 4, 2017 | Toronto | Register |
| Information Session | May 9, 2017 | Halifax | Register |
More Events »
Be Notified of Future Events