Renmin University's Hanqing Advanced Institute of Economics and Finance
Renmin University of China is one of the most prestigious universities in China, and has produced many influential figures in China's reform and development. Renmin is a leading Chinese university in economics and finance, and has established relationships with 125 universities and research institutions in more than 32 countries, which enables the University to be the center of academic and cultural communications between China and foreign countries. According to the academic ranking conducted by China's Ministry of Education in 2013, Renmin University's nine academic subjects (including Applied Economics, Finance, and Business Administration) are ranked No.1 in China.
Hanqing Advanced Institute of Economics and Finance was founded in 2007 as a separate research institute that follows western practice with a mission to establish a world-class faculty with a strong focus on frontier research, high-quality graduate teaching and intensive international exchanges and cooperation. Although relatively new, Hanqing is growing fast and currently has 18 full-time faculty members, who all graduated from top US and European universities.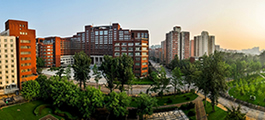 Ministry of Education Approval
The Ministry of Education of China officially approved the program in September 2013. This formal approval confirms that the MoE of China supports the Renmin-Queen's partnership and recognizes the Queen's Master of Finance – Beijing program as an official Master program in China. With the support of the Chinese and Canadian governments this unique one-year program is created to foster growing relations, co-operation and shared knowledge between the two countries.
MOE approval serial number: MOE11CA1A20131441N