The fall issue of Smith Magazine is now out
Posted on October 27, 2022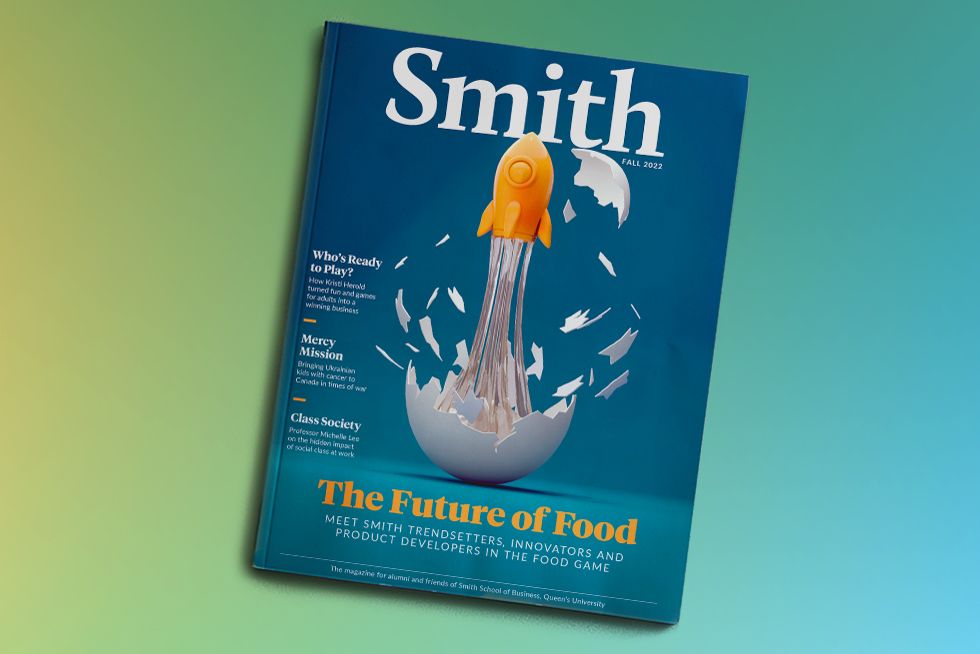 Kingston, Ont. – The latest issue of Smith Magazine is now available online and in print. This issue includes feature stories, alumni profiles, school news and insights from faculty and alumni experts. Highlights include:
The future of food
What we eat, and how our food gets produced, is changing. Meet some of the Smith alumni on the front lines of food trends and product development.
The work of play
In building one of North America's largest adult sports leagues, Kristi Herold, BCom'93, made recreation her vocation. Now, thanks to a pandemic pivot, she's bringing the fun to the corporate world.
Sixteen days in March
Russia's invasion of Ukraine forced children with cancer and their families to flee. Here's how the Smith community rallied to help.
Yield of dreams
Jenny Lemieux, MMAI'20, is using artificial intelligence to help fruit growers unearth the ultimate harvest.
Why don't we talk about social class?
Professor Michelle Lee delves into an often invisible, but crucial, dynamic at work.
Suite success
Indu Brar, EMBA'18, has managed some of the world's top hotels. She even renovated a historic one while earning her degree at Smith.
Plus:
Earth orbit has a debris problem. Stewart Bain, EMBA'02, wants to launch a solution; Professor Julian Barling unpacks leadership lessons from a famous (and short) speech; learn about a Smith student who's putting sustainability into sports; meet Professor Kelley Packalen; and much more!