Russia's invasion of Ukraine forced children with cancer and their families to flee. Here's how the Smith community rallied to help them get to safety and receive treatment in Canada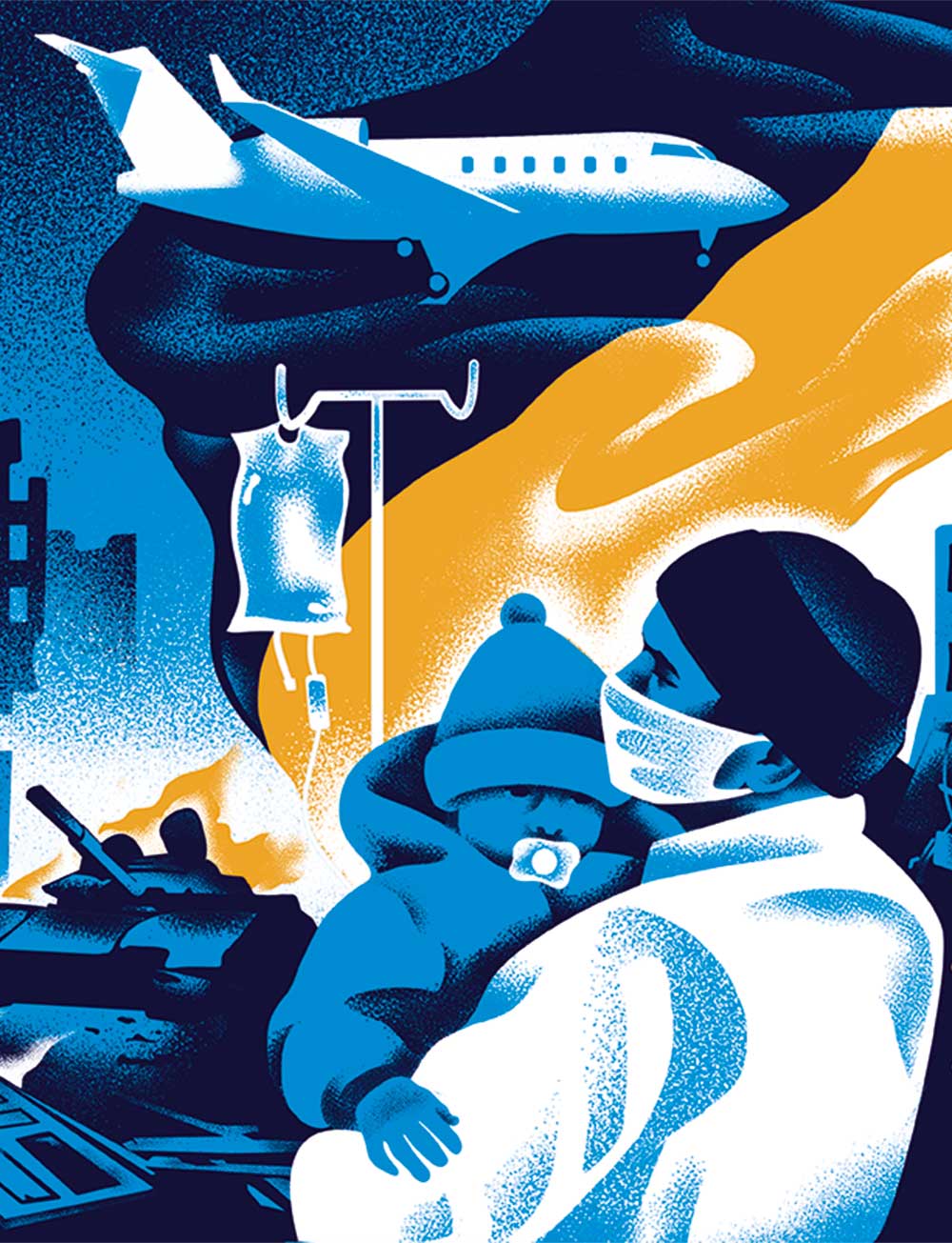 March 13, 2022. Jim Hamilton looked down at his cellphone and tried to decide what to do next. Hanging in the balance were a handful of Ukrainian children with cancer who were stuck at a triage centre in Krakow, Poland. At the start of March, Hamilton had inadvertently become part of a small group, many with ties to Smith School of Business, working to move the sick kids and their families to the Hospital for Sick Children in Toronto for treatment.
But the logistics of doing so were proving increasingly challenging. Thanks to a generous Smith donor, the group knew they had the money to charter the private plane they needed. But pacing in his office on a Sunday night, Hamilton, who teaches at Smith, waited for word that it was time to wire that money to secure the plane.
The group still needed confirmation that the patient list for Canada had been finalized before they could book the plane. Send the money too soon and it would take off without them. Wait, and they risked that the earmarked patients would be shuttled off to another country and they would have to start from scratch, further delaying treatment for potential patients. And then there was the question of the visas they were waiting to secure. Without visas, even a plane full of sick children would be turned around at the Canadian border. Hamilton knew it could all fall apart at any moment.
But against all odds, it didn't. This is a story about how the Smith community worked together over 16 intense days to bring sick kids to safety.
---
Shortly after Russia invaded Ukraine last winter, Hamilton was scrolling through LinkedIn when he came across a video posted by Wladimir Klitschko, the retired heavyweight boxing champion, urging the world to fight back against the invasion of his country. "I'm addressing the entire world to stop this war that Russia has started," Klitschko said, speaking directly to the camera. "There is no time to wait because it is going to lead to a humanitarian catastrophe." Posted on February 26, the minute-long video struck a nerve with Hamilton, listening to Klitschko's words from his home in Kingston. "We have to do something," he thought to himself. Like many, he donated money to support the people of Ukraine, but it didn't feel like enough.
It was while trying to explain the war to his kids that same weekend that Hamilton (who is not Ukrainian and has no direct connection to the country) realized he needed to better understand the situation unfolding in eastern Europe. That is when he put in a call to a Smith connection: Mike Coyle, a Canadian military veteran and founding partner and vice-president of Reticle Ventures Canada. Reticle offers strategic risk management and training services, along with tailored solutions to discreetly meet the needs of both public- and private-sector clients. It has worked in partnership with Smith to put graduate-level students through complex team-based challenges that build resilience. Coyle ran Reticle alongside Stephen Day, who had recently returned to the Department of National Defence as a colonel. Thanks to his role as director of the Smith Graduate Diploma in Business program, Hamilton, who is also the Distinguished Faculty Fellow of Sales Management, had an easy relationship with Reticle's leadership team. Putting Coyle on speakerphone, the pair chatted about the war, while Hamilton's kids listened in.
That conversation set the stage for a call from Day the following Monday that would change the course of everything. "We've been asked to help with cancer patients in Ukraine," he told Hamilton. Day explained that thanks to their military experience in getting people out of war zones, he and Coyle had been asked to lend a hand in getting children with cancer, now triaged in Krakow, Poland, to safe countries for continued treatment.
Day, who was serving as the mission's de facto commander, wanted to know if Hamilton, with his sales experience and extensive network, could help in securing the money that would be required to fund the mission. Also playing leading roles in this effort would be Jeff Mainland, MBA'05, executive vice-president of Toronto's Hospital for Sick Children and Brian MacDonald, another military veteran and the executive director of Aman Lara, a non-profit that evacuates people from war zones. Though Hamilton wasn't sure exactly how he was going to help, he did not hesitate to say yes.
---
While SickKids had agreed to take a handful of Ukrainian kids for treatment, everyone involved knew that getting them there was not going to be as easy as simply putting them on a transatlantic flight. The logistics were daunting. First, because of their unique medical needs, the children could not travel on a commercial flight. That meant chartering a private plane and then finding medical staff to accompany the kids and their families. With his military connections, Day began working to secure a plane. That was no easy feat given the war and political tensions in eastern Europe at that moment.
SickKids, meanwhile, was keeping tabs on which children needed treatment through its work with the International Society of Pediatric Oncology. The children with cancer arriving from Ukraine at the Polish border were triaged at a clinic in Krakow (affectionately called the Unicorn Clinic) for a day or two before being sent, with their families, to other countries for treatment.
There were other complications too. The ongoing Covid-19 pandemic was one of them. Time was also of the essence—not only because of the urgency of the children's medical situations, but because every day more families arrived at the clinic in search of care. That's when another member of the Smith community got involved with the team.
Hamilton had met Richard Hamm, BCom'76, some years earlier because of their shared interest in sales and sales education. They had been introduced by a mutual contact at Smith and went on to enjoy a relaxed friendship. Hamm, CEO of the finance firm Bristol Gate Capital Partners, an asset management company, had maintained a close relationship with Queen's University since graduation.
Hamilton and Hamm talked regularly, even playing the occasional golf game. That's why, shortly after watching Klitschko's video, it was Hamm that Hamilton called to talk through the global implications of what was happening in Ukraine. Before hanging up that night, both men agreed that they wanted to do something significant to help.
Shortly after, Day called Hamilton to say that he had located a plane they could charter but that it would not be cheap. It was clear that time was tight. The team could not secure a plane until they were certain they would have the patients to put on it. But before finalizing the patient list, they had to be sure they had the money—an estimated $100,000 to $130,000—to pay for it.
Hamilton knew that it was a risky venture. He would have to ask someone to front the money to send a chartered plane into an explosive situation with absolutely no guarantees it would arrive in Toronto. He also knew that many pediatric cancer patients were moving through the triage centre in Poland, desperate for somewhere to go. After some deliberation, Hamilton called Hamm, who has a history of philanthropy. Without skipping a beat, Hamm agreed to pay for the plane. "Go get 'em," he told Hamilton.
---
Meanwhile, every day was critical for the children and their families lining up for care at the triage centre in Krakow. Not only had their treatment programs been interrupted by the war, but none were certain about where they were headed next. With many families wanting to stay close to home, demand for cancer treatment in other parts of Europe, especially Germany, grew.
But as the days ticked over, Mainland at SickKids looked to see if families were ready to make the transatlantic journey for treatment in Toronto. With Hamm having provided the funds for the plane, Hamilton, Day, Mainland and others began meeting regularly over Zoom to move the mission forward.
Back in Canada, Hamilton sensed that the team was still "flying blind" though. It had no intel on the number of kids they were going to move or how many family members would travel with them. It was clear that without their own feet on the ground, they were too dependent on third-party information about what was happening. And while the money for the plane was a sure thing, the logistics of securing a flight was causing headaches. The problem, in a nutshell: It was impossible to book a plane without fronting the money. But nobody wanted to give that money over until they knew they had the kids lined up to travel. Even then, it could take at least 24 hours to wire money to Europe—sometimes longer—and most companies needed that money in-hand at least 48 hours before departure to guarantee a plane. Finally, many families were arriving in Poland without proper identification, something the group knew would not fly with Canadian immigration.
Soon, Mainland got word that at least 100 sick children were headed for the triage centre in Poland. Some were ready to travel to Canada for treatment. Led by Day, the team decided to fly someone with military experience over to Poland to be their eyes and ears on the ground. Securing a plane was proving more challenging by the day, and the price tag was rising, with new estimates putting the venture at $165,000. Hearing about this price increase, Hamm was unfazed, telling the team to continue with the mission.
In short order, the group learned that three families were ready to make the trip. After losing another potential plane, the group found one that would do the trick. But the outstanding visas still threatened to derail all they had accomplished so far. It was the weekend when Mainland learned that their earmarked patients needed to be out of the Unicorn Clinic the next morning. While their man on the ground in Krakow was working to keep the patients and their families updated, no one knew when the paperwork would be ready for them to travel. Hamilton and Day remained in constant contact about what to do next.
However, thanks to a Queen's connection, they got a break. Lubomyr Luciuk, Artsci'76, MA'79, a Kingston-based Ukrainian, had a connection to the president of the Ukrainian Canadian Congress, who in turn, had a direct link to Deputy Prime Minister Chrystia Freeland. The president asked the group to provide her with a letter that she could share with Freeland and other ministers to expedite the visa process. Hamilton and the rest of the team went to bed that night with bated breath, fully prepared that they could lose another batch of potential patients and another plane.
But it worked. The approvals went through and the fast-tracked visas were granted. While the cost for the mission had by now jumped to close to $185,000, Hamm was still on board to see the flight through. When the nurse they had secured to travel with the children got waylaid at an airport in Germany due to a strike there, they scrambled successfully to find someone who could monitor the children during the flight.
Finally, with support from their point person on the ground, the children and their families boarded the plane. Hamilton, Day and the others tracked the flight as it made its journey. When the plane finally touched down at Toronto's Pearson airport and the children and their parents deplaned, 16 days after the initial call between Day and Hamilton, the team felt nothing but relief. While they still do not know much about the patients and families thanks to confidentiality agreements, they do know that their efforts made a powerful difference. Even better, they were ultimately successful in repeating their efforts and bringing a second plane full of sick children to Toronto. Currently, nine children and adolescents are receiving care at SickKids as a result.
For Hamilton, it was yet more evidence that the Smith community is capable of making big changes in the world by working together. "I guess the beautiful part of the Queen's and Smith mindset is always 'how do I help,' " Hamilton mused after the mission. "It's not 'should I help' or 'convince me to help.' For us, the answer is always 'yes' first."