Jenny Lemieux, MMAI'20, is using artificial intelligence to help fruit growers unearth the ultimate harvest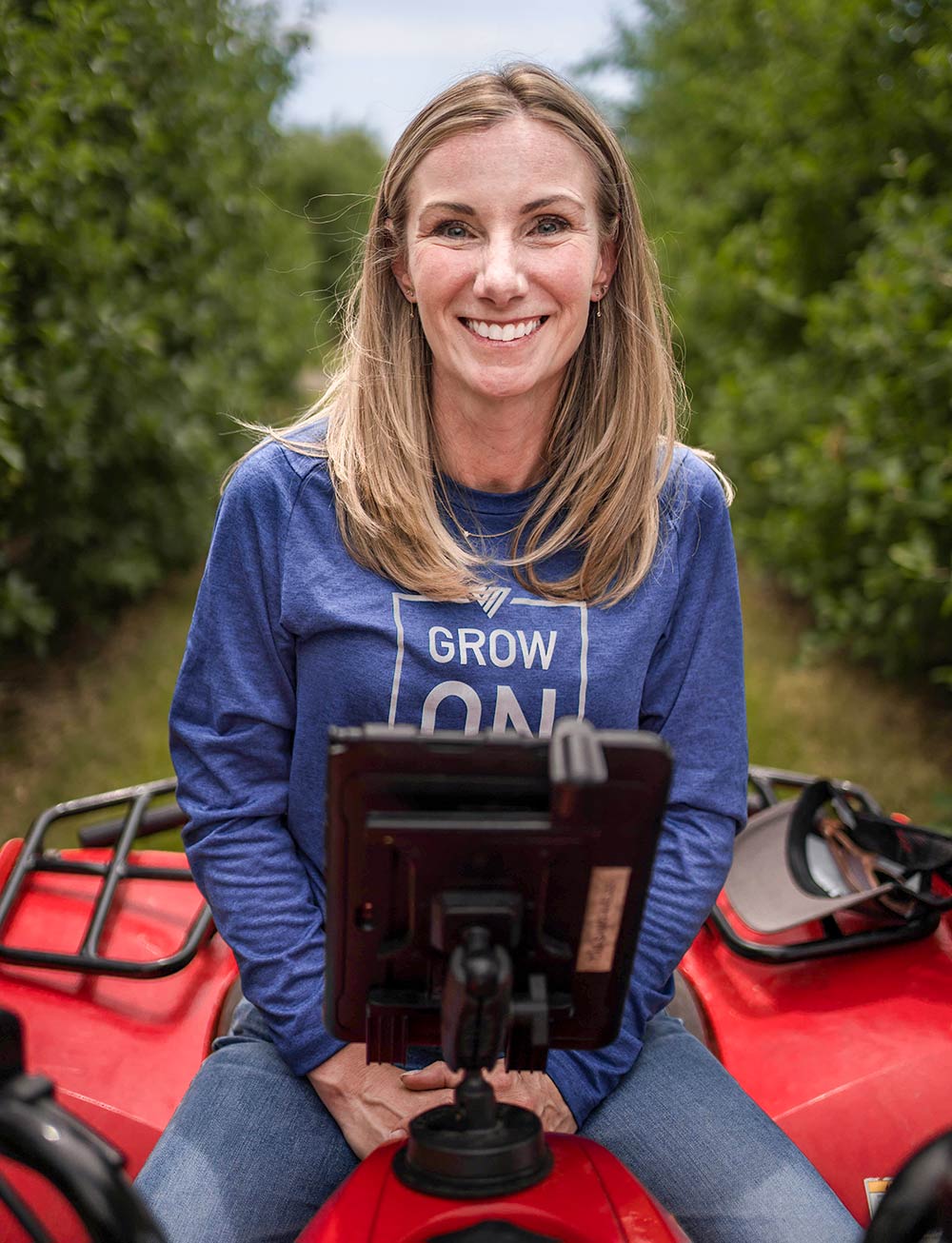 Jenny Lemieux grew up in the farming community of Ilderton, just outside London, Ont. It's fitting then that she has gone back to her roots by creating a technology solution that helps growers optimize their fruit production.
"I've always been impressed with farmers of all kinds," she says, citing her grandfather and uncle as examples. "Not only have they had to understand agriculture and horticulture, but the futures market, farm inputs, sales and such a broad variety of challenges to make their crop production viable."
Fruit growers, she says, have it especially tough. There's the weather and pests that affect crop yields of course. But unlike regular row crops, fruit trees can't be monitored from the sky by drones or satellites. "With outdoor fruit production, you have the variability of dozens of fruit varieties and tree setups and ages that need to be managed differently," says Lemieux. "Many growers are predicting output based on gut. If they're wrong, that's money lost and food wasted."
After years of experience in software and machine learning, Lemieux saw an opportunity to use artificial intelligence and analytics to address these challenges. With her co-founder, Jonathan Binas, she started Vivid Machines in November 2020. The goal: to build an AI-driven solution that helps growers improve the volume and quality of their fruit production while reducing labour costs and food waste.
Fast forward to today: The Toronto-based company's Vivid X-Vision system integrates a small, five-camera, high-resolution sensor mounted right onto a grower's farm equipment to "digitize" every plant in the orchard. The sensor can capture the plant's visible and chemical details in real time from bud to harvest. "Right now, we are using information collected to predict apple count per tree, but we'll also be able to predict apple size before harvest, and predict the yield of a given crop weeks or months before [it was] previously possible," she says.
Lemieux expects the technology to ultimately help farmers manage growth and earlier diagnose pests, diseases and nutrient deficiencies. "Even at the end of season, a more accurate prediction of yield means farmers don't end up with apples they can't sell because they have already planned for those particular sizes and varieties," says Lemieux. The system's prediction accuracy rate is about 80 per cent early in the season and over 90 per cent for end-of-season crops. Those rates are improving as the technology evolves, she says.
Lemieux developed her love of software and machine learning after earning degrees in chemical engineering and product design. That included an intensive year in Italy for a master's in product design. As a 2020 graduate of the 12-month Master of Management in Artificial Intelligence program, she credits her time at Smith for giving her the knowledge to develop a marketable business model for Vivid Machines. "There's no way I would be doing what I'm doing without that degree because I wouldn't understand the underlying concepts of AI enough to be able to identify a problem that could be solved through machine learning," she says.
During Entrepreneur First—a global investor program connecting tech entrepreneurs—she met Binas. He had expertise in building hardware to optimize machine learning and he shared Lemieux's passion for food security (his family ran an organic food business). They clicked instantly and Vivid Machines was born.
While apple growers are their primary target so far, Lemieux says the sky's the limit for other potential fruit growers and even new industries where their system could be applied. "The opportunities are huge. It's just a matter of making sure the technology is working at its best first," she says.
To that end, the company is currently working with nine pilot farms in Ontario, New York and Washington state. It has also partnered with apple growers in New Zealand and Chile. "We are seeing new varieties of apples, and, as our dataset grows, that requires us to continue work on perfecting our models," she says.
Vivid Machines has also partnered with Cornell AgriTech (a leading agriculture and food research centre in New York) to study common diseases in grapes. "Not only are we providing services to growers, but we've had so much interest from pack houses and marketing agencies to get data about the growers they work with," she says.
Ultimately, Lemieux's vision is for Vivid Machines' technology system to become a key part of the fruit supply chain worldwide. "For that supply chain to work, everyone needs visibility into the farm to know what's being produced," she says. "Food security is one of the most important problems of our future. We believe we can be an integral part of supporting growers, pack houses and marketers to solve this problem in fruit."