Indu Brar, EMBA'18, has managed some of the world's top luxury hotels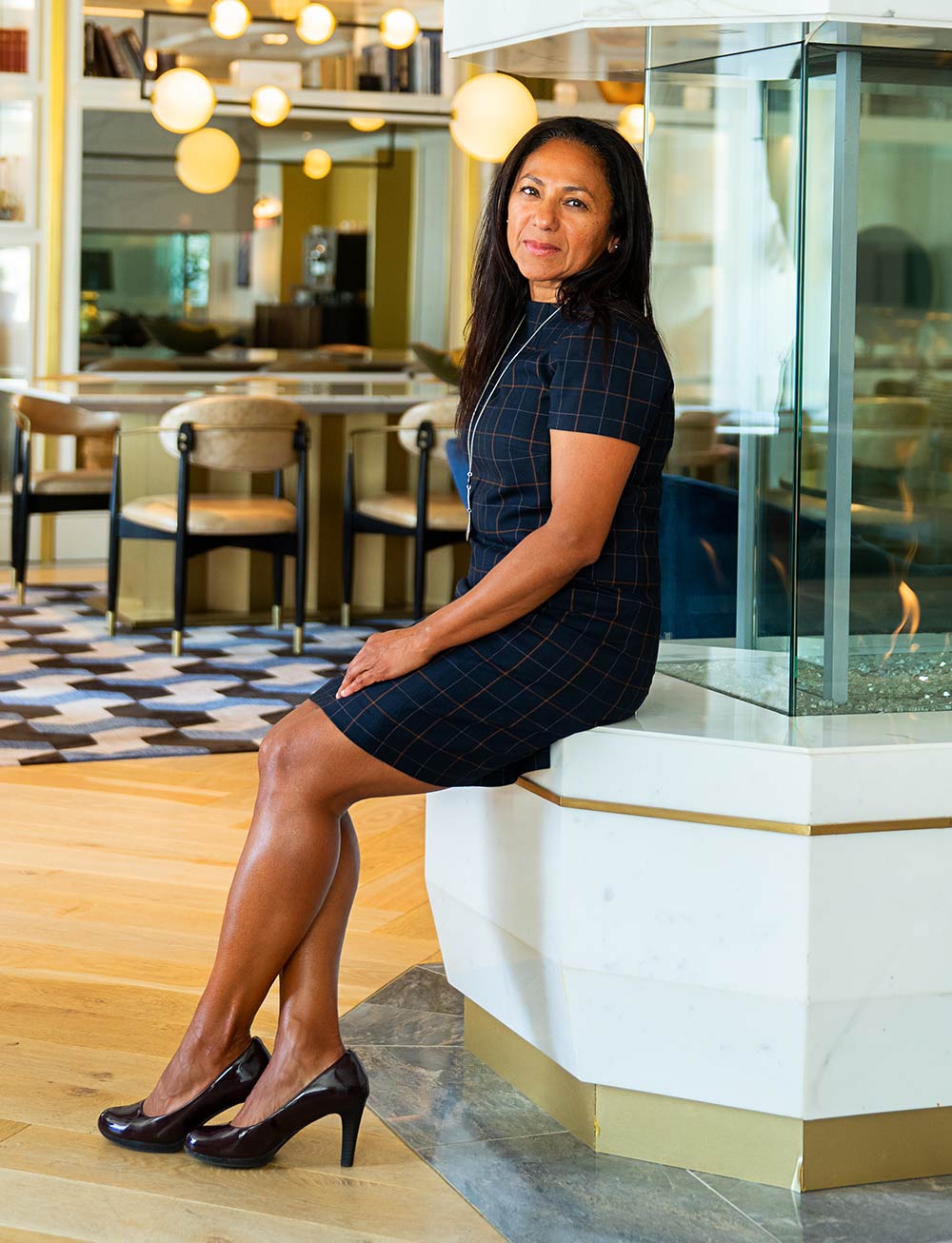 Indu Brar worked her way to the top of the hotel management business the old-fashioned way—from the ground up, and with an innate ability to make guests feel welcome, which she picked up from her immigrant parents.
"My parents were the kindest souls who would give you the shirt off their backs. There was always a seat at our table," says Brar, who grew up in Calgary, the middle of five children.
She recalls some strict protocols when guests came to the family home. She and her siblings would serve tea and converse politely before being allowed to retreat to their rooms. "There was a big emphasis on making people feel comfortable and welcome," says Brar, whose parents came to Canada from India in 1966.
Brar was 18 when her father passed away, and she took a switchboard job at a Calgary airport hotel. That first job, her childhood experience with family visitors, and her genuine interest in what makes people tick, shaped her "calling" in hospitality. "I just needed a job, but then I fell in love with the work," Brar says. "I was in awe of the interactions; how kind and gracious the staff was with the guests, and how quick-witted, innovative and organized they were. I think that's when I knew there could be a career for me in this industry."
While in her early 20s, Brar worked her way up to middle-management roles at Canadian Pacific Hotels (now part of the Fairmont Hotels and Resorts chain), before a series of promotions at marquee hotels across the chain. She was a director at Fairmont hotels in Edmonton and Lake Louise, managed The Plaza in New York City and was general manager at the chain's top hotels in Winnipeg, Boston and Vancouver before being tapped to oversee the $60-million renovation at the iconic Fairmont Empress Hotel in Victoria, B.C., in the spring of 2016.
Under Brar's leadership over the next five years, the Empress (first opened in 1908) was not only refreshed for a new era, but it also received international accolades, including "Best Hotel in the Americas" in 2020 by Historic Hotels Worldwide and was listed as one of the "Top 21 Iconic Hotels in the World" by National Geographic Traveler magazine, to name a few.
Perhaps more impressive is that Brar helped pull all this off while getting her Executive MBA and helping care for her elderly mother. While Brar acknowledges it was a lot—even too much, in hindsight—to take on at once, having her mother around kept Brar focused on what's important in life. "You can have all the big titles and responsibilities, but none of that matters if your family is not OK," she says. "It kept me grounded."
Still, Brar is delighted with the renovation and rebranding of the Empress, which she describes as a "showpiece" for the Fairmont brand and Victoria. "I'm so proud of how we lifted the team, the destination and the community," she says. "Everything was just so thoughtfully done," she adds, from the selected artwork to naming the resident dog, Winston (after Winston Churchill).
While the Empress revitalization was a big success, the arrival of the pandemic in early 2020 put a damper on the hotel and the broader hospitality industry. Brar gets teary-eyed while describing the lockdowns and layoffs as "heartbreaking" for the hotel and its staff. She worked hard to rally her team while also using the unprecedented circumstances to focus on becoming a more resilient and compassionate leader.
"I can be very tough. I've always been driven by an underdog mentality," she says. "But I realized during the pandemic that I don't have to be strong all the time. I learned to let things go a little bit and to be more balanced around what people need personally. It's not all business."
In summer 2021, as pandemic restrictions eased and Brar did her part to help the hotel get back on its feet, she was tapped by Fairmont's parent company, Accor, to take on a very different challenge as senior vice-president of customer technology services for North and Central America.
In her new gig, based in Toronto, Brar is helping drive the company's technology transformation. The role includes a range of responsibilities, such as moving to the cloud, integrations and what she sees as most important—"ensuring technology is an accelerator to support and enhance the experience across each touch point of the guest journey."
It's a whole other world for Brar, given her career up until then was working in luxury hotels. Still, she embraces the challenge with the same enthusiasm as all her previous promotions.
For Brar, each posting in a new city is also an opportunity to experience different communities and cultures. "My desire has always been to travel and see what makes the world go round," says Brar, who is single and the proud aunt of eight nieces and nephews. She not only experiences new places through her work but many personal pursuits such as running, cycling and attending community arts and cultural events. Brar also travels to different places on vacation, including a cycling trip to Italy in August.
Travelling also brings Brar perspective on people, reinforcing what her parents taught her: That everyone deserves to be treated with respect, regardless of where they're from or what they do for a living.
"My work must be fulfilling, yet life is about so much more than what we do for work," she says. "I believe life is meant to be about living, lifting each other up, being generous with your strength and spirit, feeding your soul and, ultimately, never forgetting to be curious about the world."