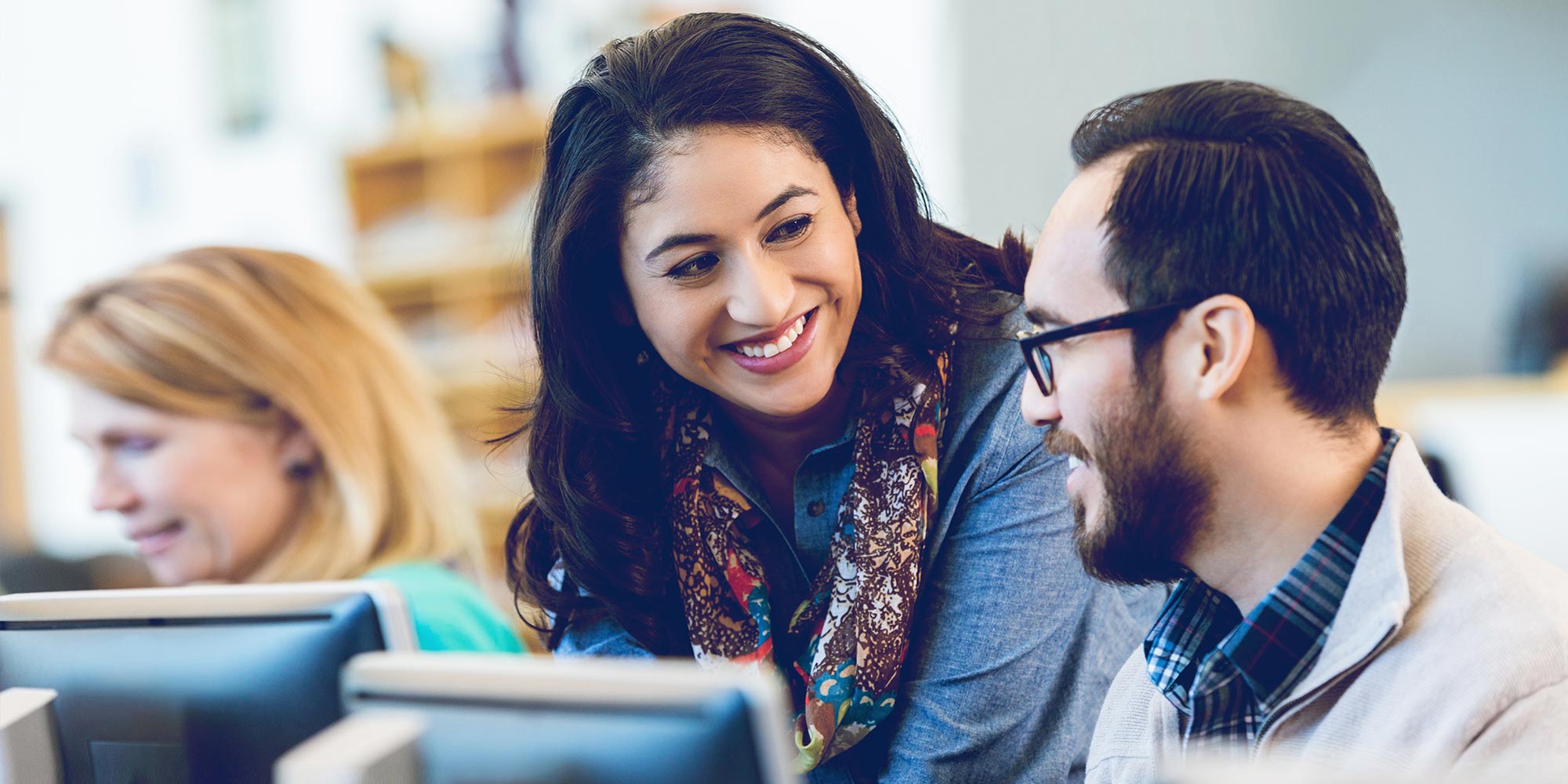 Coaching for High Performance - Virtual
About the program
Designed to equip managers with the tools, skills, and mindset of world-class coaches, Coaching for High Performance will help you empower the people you coach, increasing their commitment and improving their performance.
Coaches are leaders who do all they can to help people improve and succeed. Through the integration of examples from the sports and business worlds, you'll work with an innovative framework to create a clear picture of what great coaches can achieve—and how they manage to achieve it.
In this virtual program, individuals learn the concepts and skills of a coaching style of management that builds commitment, drives employee engagement, gets results, and can be integrated into their existing repertoire of leadership skills.
Enrollment for this program is limited to maintain low student-facilitator ratios.
Learn the skills of world-class coaches
Learning coaching skills is the best way to dramatically increase the commitment level and performance of your employees and team members. Good coaches are always interested in strengthening and empowering the people they coach, pushing them to grow, develop and become better at whatever it is they do.
Combining first-hand examples from both the sport and corporate worlds with an innovative coaching framework, Coaching for High Performance provides a clear picture of what good coaches do and shares their tools and techniques.
In this program you will learn to:
Utilize skills in communicating high expectations in a respectful and caring way
Build commitment and achieve results
Integrate new concepts into your existing repertoire of leadership techniques
Develop the competencies and confidence of your employees
Coaching Companion
The included Coaching Companion provides three months of online support delivered via email, reinforcing the tools learned in the workshop. Participants are given specific 'homework' in applying each of the core skill sets of the Coaching For High Performance model, guided in reflecting on their application, and provided with additional resources for deepening their development.
Dynamic virtual classroom
Participate in the program from anywhere. Our online learning platform combines live, interactive video instruction with breakout sessions, panel discussions, and expert Q&A.
Who should attend
This program is designed for managers and business professionals who need to build committed teams, provide feedback (whether inspiring or constructive), and develop the next generation of leaders through communication and recognition.
This program is designated an approved recertification program by the HRPA.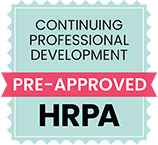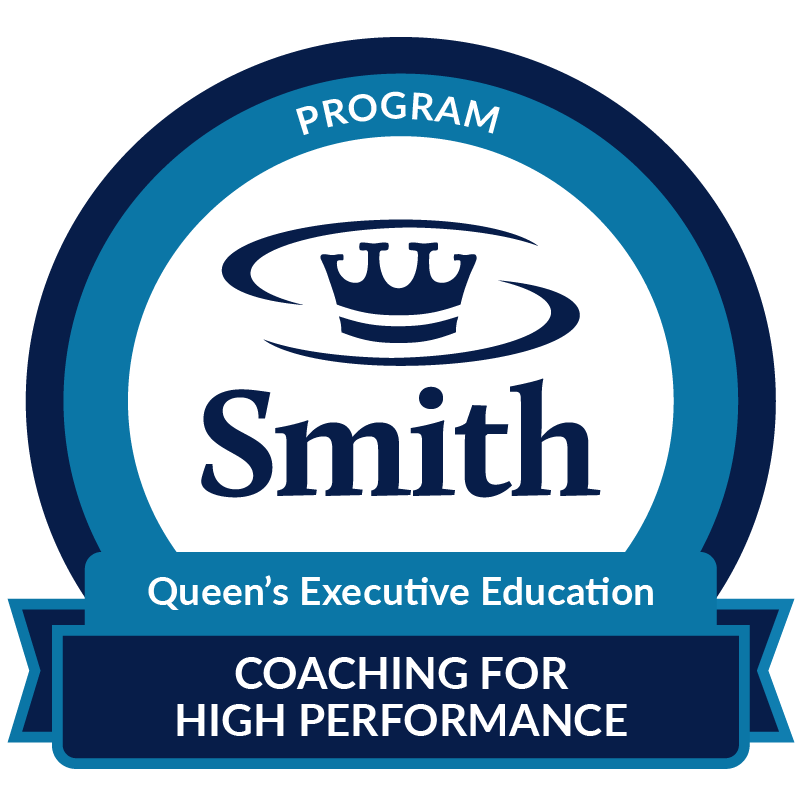 A Recognized Symbol of Excellence
Participants who complete the program earn the Coaching for High Performance digital badge credential.
Drive performance. Develop your future.
In this program, individuals learn the concepts and skills of a coaching style of management that gets results, builds commitment, develops the 'next generation', and can be integrated into their existing repertoire of leadership skills.
Personal benefits
Improved relationships with employees
Strengthened confidence and motivation to lead
Greater success rate in achieving strategic initiatives
Organizational benefits
Improved retention of top staff
Employee engagement at all levels
A strong succession plan
This program is dedicated to four overarching themes:
Mindset & Feedback (Live, instructor-led): 

The experiences that lead to becoming a manager rarely prepare people to be an effective coach. With this in mind, participants will lay a foundation for coaching that begins with defining coaching and understanding the mindset of a coach. This developmental bias allows a coach to encourage their people to see what they are capable of, figure out their next step and help them achieve their personal best. Using their own real workplace situations, participants are involved in a series of large group, small group, and triad exercises designed to demonstrate the impact of competent relevant feedback. Participants learn and practice using a feedback tool called BID to deliver reinforcing and corrective feedback that inspires commitment and a growth mindset in the people they are leading.

Recognition (Asynchronous): 

This self-directed module explores how recognition is instrumental in building relationships, maintaining motivation, and providing clarity on what drives high performance. Participants are challenged to consider how different people need to be recognized in different ways and will be inspired with new ways to give effective recognition in their environment.

Questioning & Listening & GROW (Live, instructor-led): Often individuals find themselves in leadership roles on the basis of their functional expertise and problem-solving abilities. This can lead to a common leadership challenge known as the "curse of knowledge". Participants will identify key areas where their people require clarity in order to be committed and perform at the highest levels. Activities and skills are brought together in a culminating pairs exercise that provides an opportunity for participants to experience, first hand, how truly effective questions can allow people to solve their own challenges and how difficult but powerful respectful listening can be. Each participant has the opportunity to coach a colleague and be coached by a colleague on a coaching challenge they choose that is important to them using the GROW model - a simple map to guide your coaching discussions and GROW your people. Asking these questions and actively listening to the responses will unlock solutions and build commitment to follow-through.
Confronting (Asynchronous): 

Participants learn how to effectively prepare themselves and the opening statement of a challenging conversation building on the skills developed throughout the program. They explore how requiring a change in another individual triggers resistance and they identify different forms that resistance can take and how to move through the resistance to address the change that is required.
Dynamic Virtual Classroom
Participate in the program from anywhere. Our online learning platform combines live, interactive video instruction with breakout sessions, panel discussions, and expert Q&A.
Our learning platform is fully encrypted, allowing you to connect securely from home, office or anywhere in between.
Virtual programs are designed to fit within your schedule, allowing you to learn new skills and immediately put them to work.
Please note: Our Executive Education Virtual Classroom leverages Zoom for content delivery and participation collaboration. Please consult with your IT administrator if you have any concerns about platform access or setup requirements.
Session Leaders
Session leaders include senior professors from Smith School of Business and knowledgeable experts from industry. These outstanding teachers are constantly in touch with today's business world through real-world business experience, Board memberships and their own consulting practices.
Peggy has dedicated her life to training excellence. Her passion for developing people, proven expertise, vast training experience, and engaging style make her the perfect trainer to deliver programs to demanding, senior-level audiences. With more than 20 years of corporate training experience, Peggy has delivered hundreds of programs to leading corporations across numerous industries and she consistently receives outstanding reviews by inspiring deep commitment in those she coaches.