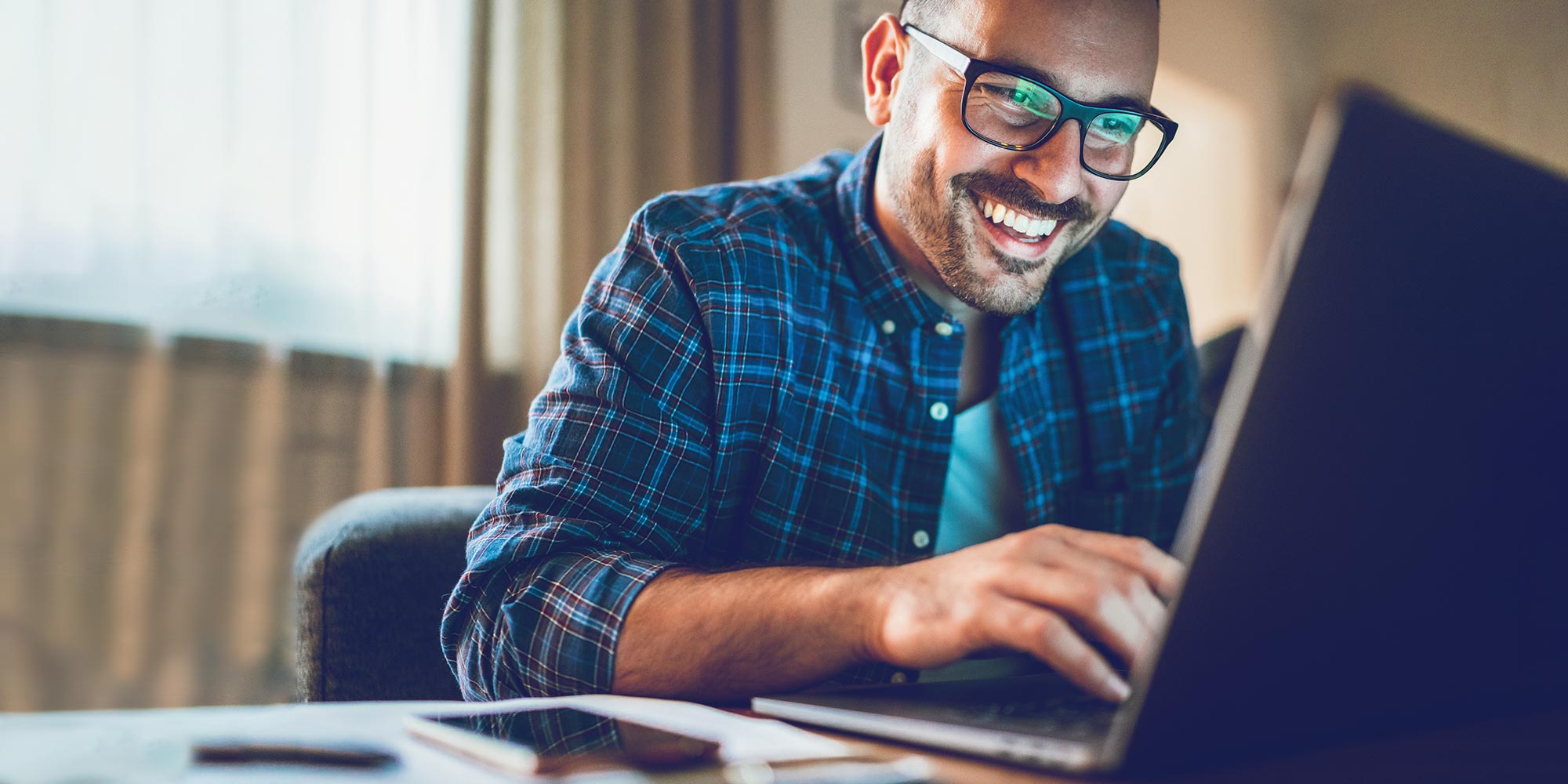 Developing Your Leadership Presence
About the program
As a leader, your ability to make things happen is contingent on how much your influence inspires and motivates those around you.
The best communicators understand that exhibiting a strong presence goes well beyond the analytical content of their message. Building the story and communicating it with clarity, inspiration, and inclusion is equally important.
This highly interactive experiential program will stretch you to think differently. You'll first learn concepts using topics not found in a typical work context, encouraging creativity and experimentation. Then you'll apply new skills to address real workplace challenges, including how to establish an authentic and engaging presence when communicating.
Expert facilitators work in groups and personalized one-on-one coaching sessions to help you deepen your awareness of personal strengths and development areas, and address your real business communication challenges.
Enrollment for this program is limited to maintain low student-facilitator ratios.
In this program you will learn to:
Present yourself and your ideas with authenticity, authority, and inspiration by integrating the four core areas of your own unique personal communication style: voice, body, mind, and emotion
Build and maintain trust, social capital, and influence with your teams and stakeholders by generating connection and engagement at every interaction
Leverage your full toolkit of personal presence and storytelling skills in order to heighten your presence and effectively influence your audiences
Tap into and effectively articulate your most important personal and organizational values in order to craft a fulfilling and meaningful identity as a leader in a rapidly changing world
Available via live, in-person delivery
Attend the program in an immersive, in-person environment at SmithToronto, located at 200 Front Street West, in the heart of Toronto's downtown financial district.
Who should attend
This program is designed for managers and business professionals who rely heavily on relationships for success and must motivate, influence, and connect with a diverse group of people through verbal communication.
This program is designated an approved recertification program by the HRPA.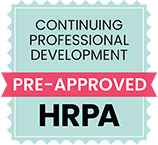 Discounts Available
Registered Charities
Queen's Executive Education is pleased to offer a limited number of discounted seats in every program to employees of Canadian registered charities. Check your eligibility.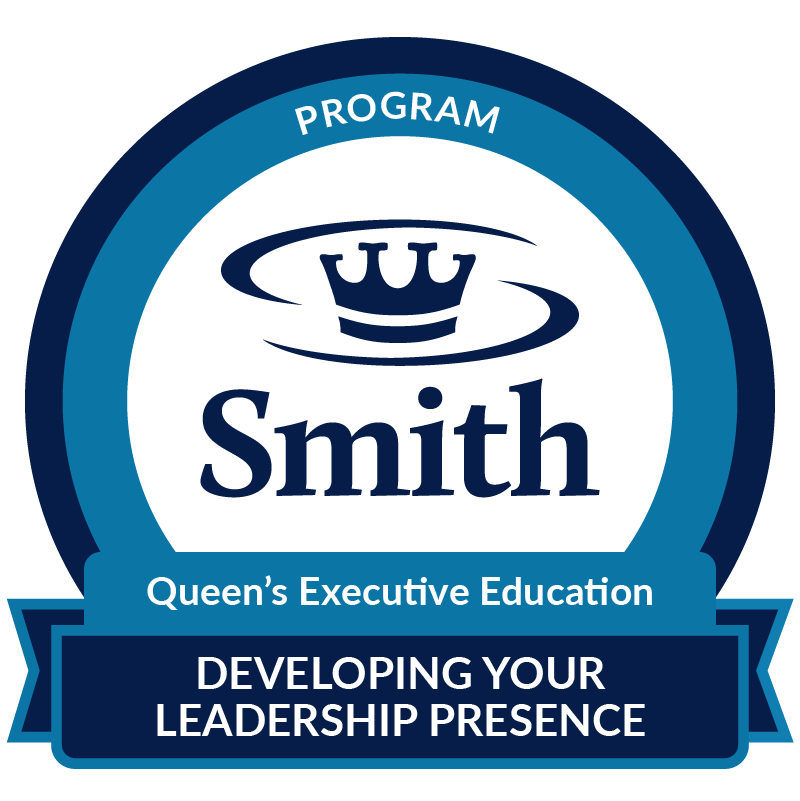 A Recognized Symbol of Excellence
Participants who complete the program earn the Developing Your Leadership Presence digital badge credential.
Personal Benefits
Inspire, motivate, and lead more effectively
Build more positive relationships
Deliver succinct, clear, and articulate messages
Get more buy-in from your team, colleagues, and clients
Learn how to use your authentic, unique personality to connect more strongly to those around you
Learn how to be persuasive and influential
Organizational benefits
More effective and inspiring leaders
Improved motivation amongst employees
More authentic communicators in your leadership team
Module 1
Honing Personal Style for Projecting Confidence and Competence
Deepen your awareness and skills with practice and personal coaching in emotion, imagination, spontaneity, passion, and energy to develop a powerful and authentic leadership presence brand and style
Experience our best-in-class immersive, entertaining, and interactive social learning curriculum
Identify and explore your own professional communication goals and aspirations that will form the blue-print of your learning journey
Building Trust and Relationship through Self-Reflection, Listening, and Empathy
Explore and identify your own personal and professional values in order to build a foundation for your leadership communication brand
Learn and practice a toolkit of techniques for managing work-life balance, personal energy, and authentic social engagement
Strengthen your ability to listen deeply and

build authentic relationships

with clients and customers, internal teams, and external stakeholders in order to facilitate engaged and collaborative creative processes

Module 2
Narrative Intelligence, Business Storytelling and Consultative Dialogue with Clients and Teams
Refine your use of dynamic and creative language choices as an effective tool for sharing personal experiences and building relationships, as well as for delivering analytical information in a compelling way
Engage in the practice of employing storytelling skills such as the use of vivid images, speaking in snapshots, recognizing the need for strong beginnings and endings, and using body and voice to convey key messages
Develop the art of consultation, collaboration, and coaching with your colleagues in order to more effectively drive change and influence your clients and teams 
Application Clinic: Feedback and Coaching on Applying Presence and Communication Skills to Real Workplace Scenarios
Practice the skills of communicating in high-stakes, challenging internal and client situations that require careful problem-solving techniques and solutions grounded in emotional intelligence
Work closely with your learning team to apply skills, rehearse scenarios and receive individualized coaching and feedback on your style and effectiveness and a team leader in your own real-time situations
Envision a future learning path for your growth and mastery of Leadership Presence as a set of skills that will support your evolution and success in your life and career
In-Person Learning
Learn alongside fellow participants from across the country, discovering best practices that span industries and sectors.
Our in-person programs include classroom learning sessions led by award-winning Smith School of Business professors and industry experts. Practice new skills in breakout sessions, projects and simulations, and apply your learning toward real-world case studies.
Queen's Health and Safety protocols for in-person programs are evolving and may change by the program date. View the campus operating guidelines (opens in a new tab).
Session Leaders
Session leaders include senior professors from Smith School of Business and knowledgeable experts from industry. These outstanding teachers are constantly in touch with today's business world through real-world business experience, Board memberships and their own consulting practices.
CvB & Associates was founded by Christopher von Baeyer, who began his research and professional practice over 35 years ago as an undergraduate at Harvard University. He has since developed an international reputation as a thought leader and expert practitioner in the field of Leadership Presence. Currently based in Toronto, he has designed and delivered arts-based programming in leadership and professional communication for hundreds of clients across North America, Europe, the Middle East, and Asia, including BASF, Dolby, Duke Corporate Education, Rogers Communication, Enbridge, Société Générale, Deloitte & Touche, Boston Consulting Group, the Canadian government and the Hearst Corporation. He has served as a consultant and contributing partner to the Queen's/Smith Professional Development faculty for over 15 years.
Over the course of his career, he has coached thousands of men and women in the art of leadership presence, emotional intelligence, interpersonal communication, Shakespeare, and voice. As a founding principal at The Ariel Group, the industry-leading international corporate training skills firm from Boston, he served as VP of Client Solutions where he managed the company's highest revenue-generating clients for over 10 years. He has taught at the Harvard Business School, Emerson College, Boston College, the Kellogg Graduate School of Management in Chicago and the Columbia University Senior Executive Program in New York. He has served on the faculty and Advisory Board for Leadership Development at the Banff Centre in Alberta, as well as the board of the Centre for Playback Theatre in New York. In 2014 he returned from a two-year work sabbatical travelling and living between Hong Kong, Shanghai, Bangkok, Bali Province, Indonesia and Berlin, Germany.
Chris is deeply committed to employing the arts as a creative tool for promoting dialogue on issues of social and civic concern. He recently completed an intensive training with Al Gore to become certified as a member of the Climate Reality Leaderships Corps. For 10 years he served as the Artistic Director for Toronto Playback Theatre, which he founded with the mission of providing improvisational and audience-interactive theatre for diverse communities in the Toronto area. He currently serves as Chairman of the Board of the Dharma Centre of Canada, one of the oldest meditation centres in North America. He holds a BA in English and American literature from Harvard University and an M.A. in Theatre Arts and Vocal Communication from Lesley University Graduate School. He currently resides in Toronto and is the proud father of a university-aged son.