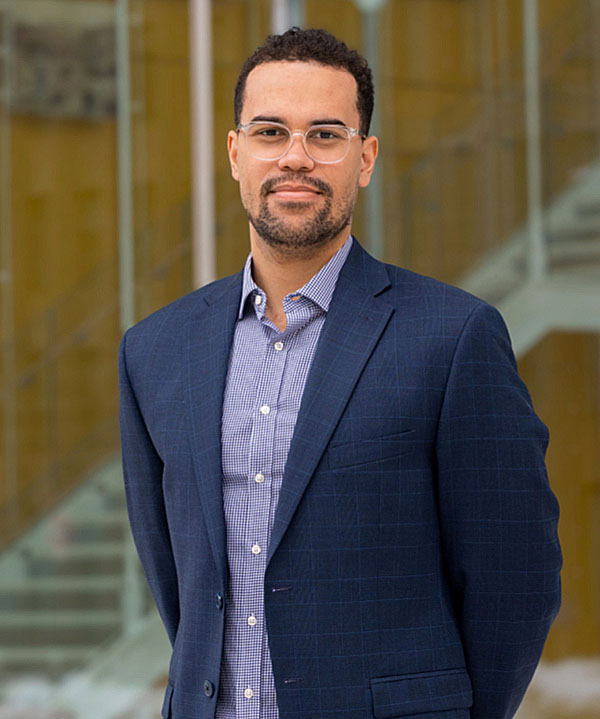 By day, Craig O'Connor, MMA'20, is a data science manager at Compass Digital in Toronto. But last year he took on an extra role as president of Smith Alumni Analytics & AI Chapter. It's one of seven alumni chapters that connect the Smith community across industries and cities.
Alumni chapters focus on networking and professional development. Events they host feature top-notch speakers and panellists (who are often Smith and Queen's alumni).
A big reason these chapters are successful is that each is run by alumni volunteers like Craig. Here, he talks about why he stepped up to volunteer for the Smith community and explains what the chapter has been working on lately.
How did you get involved in the Smith Alumni Analytics & AI Chapter?
I first heard about the chapter by attending a virtual event a few years ago. It was a panel discussion on building your career in analytics, and afterwards I sought out additional information about the chapter. I originally joined in 2021 as mentorship chair, and I became president last fall when our past president and founder, Jane Ho, MMA'14, stepped down. I'm lucky to build on the strong foundation Jane built over her years as president.
Tell us about an event you've held recently.
We're particularly proud of our panel event at SmithToronto on product management, which served to welcome the new Master of Digital Product Management program to Smith. We were lucky to have Kathryn Brohman, director of the MDPM program to moderate, and three engaging speakers who shared their experiences in the industry. Our chapter has expanded from the more traditional Master of Management Analytics (MMA) and Master of Management in Artificial Intelligence (MMAI) grads to welcome any Smith alumni interested in the analytics and AI space, and so we were delighted to have alumni attendees from a variety of Smith undergraduate and graduate programs.
What kind of mentorship initiatives have you done?
We recently launched our first group mentoring circle focused on people and strategy topics in analytics. Our inaugural group of mentees has a great opportunity to connect with one another and foster a lasting relationship with a mentor in an intimate setting. We're on track to launch further circles with varied themes shortly. Last year, we also hosted a speed mentoring event, where mentees were able to connect with a series of mentors in a shorter and more informal setting. It was fun, and we'd love to host it regularly.
What are some of the benefits for alumni to attend chapter events and get involved?
From my experience as an MMA grad, the program's relatively short duration and high intensity make it difficult to connect with others outside your section, and there was generally very little contact with other programs. The analytics and AI space moves quickly, so we tend to focus our initiatives on continued education. Our events and mentorship offering are the perfect opportunity to connect with fellow alum and stay up to date with the latest industry trends. In my time with the chapter, I've been pleased to find that our alumni are generous with their time and open to assisting others in whatever capacity they can.
What got you interested in working in the analytics field?
Earlier in my career, I bounced around across a few different roles and industries but always noticed my most successful colleagues tended to be the most technically competent. I found myself almost accidentally dabbling in analytics projects — mostly out of curiosity despite it not fitting my job description. Like most analytics professionals, I'd say I'm naturally inquisitive. But I lacked technical experience, so I made a point of developing those hard skills. The MMA program was a big part of that process, and it was a perfect match for me and my career goals.
Who else is involved in leading this alumni chapter?
I'm lucky to work with four others on the leadership team: Julia McKeown, BCom'18, Kelvin Zhang, MMA'20, Sammy Steiman, MMA'20, and Usman Janvekar MMIE'19, MMA'23. We've also benefitted from fantastic support from Smith faculty and staff. There are a variety of paths to getting involved, and we're always on the lookout for mentors and panellists. SmithConnect and our LinkedIn group are the best ways to keep in touch.