Turn Big Data into Gold
Today, with advancing technologies, most companies and organizations find themselves awash in a sea of data, but lacking the human resources, tools and knowledge to use it to create competitive advantage and generate value. Queen's Master of Management Analytics is designed to give you the skills and knowledge you need to develop, direct, and deliver projects in big data analytics that add value to your organization.
Download our brochure
Fast-track to a successful career in the high-demand area of analytics
The field of management analytics is exploding, and companies are hard pressed to find qualified people who can organize big data, analyze it and create value from it. In fact, a recent study by McKinsey suggests that demand for deep analytical talent in North America will outstrip supply by 50% by 2018. Queen's Master of Management Analytics will provide you with the knowledge, skills and tools to succeed in this area of high demand.
Professional Certifications
The Queen's Master of Management Analytics program includes courses that may be applied to the certification requirements for either a Certified Associate in Project Management (CAPM) or, with additional training, a Project Management Professional (PMP) with the Project Management Institute. As well, the Program will prepare you for the SAS Certification exam. SAS is a leader in business analytics software and services.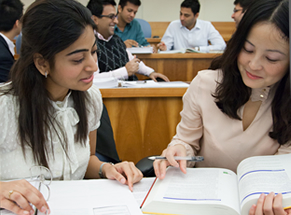 Master of Management Analytics / MBA Options
Queen's offers the opportunity to earn an MBA in addition to the Master of Management Analytics degree. By applying your credits across the 2 programs, you may do so at a significantly reduced fee.
Program Advisory Board
The Queen's Master of Management Analytics program Advisory Board provides advice and counsel to the Program Director, and includes many influential members of the big data management, analytics business community.