Back to home
Helping Smith startups succeed
Chris Sinkinson, MBA'11, Artsci'02
David Sinkinson, MBA'13, Artsci'11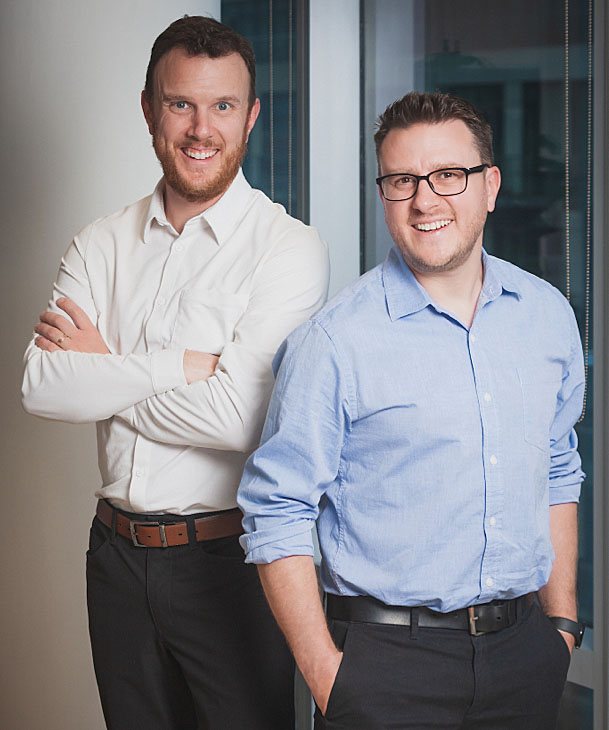 Brothers Chris Sinkinson, MBA'11, Artsci'02, and David Sinkinson, MBA'13, Artsci'11, are living the entrepreneurial dream: create a startup that helps people, turn that idea into a sustainable company with a great team, and then get acquired by an international firm.
And now a bonus: the ability to give back.
For Chris and David, that desire has led them to support a Dare to Dream program entrepreneurship award at Smith. What has made their gift extra special is that exactly 10 years ago they were Dare to Dream recipients too, and the award provided an early boost to their then-fledgling company, AppArmor.
"I didn't imagine that in 10 years we were going to have the success that we had," says Chris, looking back on the company's remarkable growth. "When we reflected on what our priorities are going to be now, there is some element of paying it forward and giving others the same opportunity."
A decade older than David, Chris (right in photo) was accepted into Smith's Full-time MBA program in 2010 after spending eight years as a software entrepreneur. Upon hearing about all that his brother was learning in the MBA program, David became intrigued. "Chris would go to his classes and then we'd have lunch at Stooley's up the street, and he'd say, 'Have you ever tried this or that?' offering tips for my role," says David, who was then business manager for The Queen's Journal. The advice stirred David's passion for business. "I saw the experience that Chris had, and I thought, this looks super fascinating." In 2012, he was accepted into the Full-time MBA program too.
If Chris connected David to the Smith MBA, it was David who connected them both to the idea for AppArmor, the mobile community safety alert app they created that allows organizations to send out mass communications, emergency notifications and important safety updates to their people while also being able to communicate with those in distress. As municipal affairs commissioner for the Queen's Alma Mater Society, David realized there needed to be a better way for students and staff to connect with campus security, and he wondered whether an app might be a solution.
Back in 2011, apps were still relatively new, but David had a computer-programmer-entrepreneur brother to help him turn the idea into reality. "I said, 'Chris, do you think you could whip something up?' That's where the concept for the platform started." AppArmor was born and Queen's became the company's first client.
To help further their new venture, the brothers applied to Smith's Dare to Dream program. Run through the school's Centre for Business Venturing, Dare to Dream provides critical funding and resources to help Smith graduates grow their startups. Each award provides up to $15,000 in support, with funding coming from both Smith alumni and corporations.
Winning the award, in 2013, became an important next step in AppArmor's growth. Thanks to Dare to Dream, Chris and David were able to hire another coder and attend a specialized campus security trade show in Louisville, Kentucky, where they secured their next two clients: York University and the University of Melbourne in Australia.
AppArmor soon took off. By 2014, Chris and David were both working on the business full time and had secured 10 clients. Two years later, they celebrated 100 clients and had five employees. By 2019, with 300 clients, they moved into office space near Toronto's waterfront. Then, in 2022, AppArmor was acquired by an American competitor, Rave Mobile Safety, which was subsequently bought by Motorola.
Today, AppArmor continues to operate under its own brand within the larger company. It has created over 400 apps to date, each branded under the customer's name (Queen's SeQure app, for example). Many customers are in the higher education space (110 institutions in Canada use AppArmor; in the U.S., clients include UCLA, NYU and Princeton) but AppArmor is also making inroads into fields such as health care (the Mayo Clinic) government (the State of Florida) and real estate (RioCan).
Chris and David both say that their smooth working relationship stems from their MBA experience. "There's no voting on an idea on a Smith MBA team; you work by consensus. It's an awesome principle because if you vote, somebody loses," says David. Adds Chris: "When you start a business with your brother, you're going to have some very candid conversations, so that was really valuable to get through the tough times. To have somebody else who can empathize and understand everything you're experiencing is really important."
Having now sold their business — and looking ahead to their next venture — Chris and David recently thought back to their time at Smith and asked themselves how they could do their part for the next generation of students. That's when they decided to support the Dare to Dream program. As entrepreneurs who bootstrapped their way to success, the brothers knew first-hand the impact such a gift could have. "That $15,000 Dare to Dream award, which is such a minute amount of money in the grand scheme of things, was so disproportionately important when we got it and what it enabled us to do," says Chris.
Chris and David credit the support and education they received at Smith as fundamental to their achievement in business. "It's hard to imagine we'd be as successful as we were without having the training we got at Smith and Queen's University," says David. His brother agrees. "We tried to come up with a business that made people safer, to provide a real benefit to society," says Chris. "We've heard many stories of people's lives being saved by our technology — that's incredibly rewarding. It wouldn't have happened if it weren't for all those pieces that came together, the vast majority of which started right at Queen's and Smith School of Business."