Training Future Leaders to Thrive
In a social impact world, business education must evolve to meet the changing expectations of organizations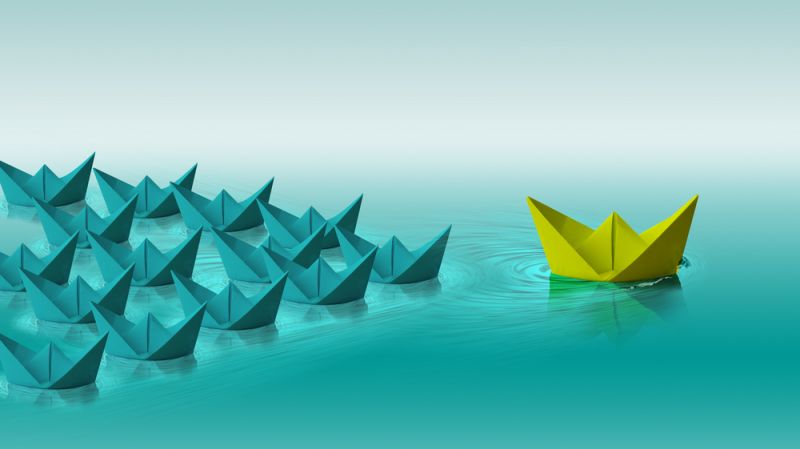 As the dean of a business school, I spend a lot of time speaking with business leaders. I want to know what's on their minds, their challenges and how our business school can support them. Invariably, the conversation turns to two questions: What will business look like next year, in five years, in 10 years and beyond? Critically, what must business schools do to supply the talent that organizations need to succeed?
Let me start by addressing the first question. A tremendous change is underway in business. Of course, technology is a big driver; analytics, artificial intelligence and digital transformation will alter how organizations operate and serve customers. However, there's more to the corporate sea change than high tech. Several other factors are at play.
Climate change is one. Preserving the planet is the issue of our times, and it cannot be solved without corporate innovation. Business school graduates must understand sustainability. The Institute for Sustainable Finance is housed at Smith, and sustainable finance skills in particular will be in high demand. According to a survey by Deloitte and Toronto Finance International, 68 per cent of finance leaders say they need more sustainable finance capabilities within their organization. Sixty-seven per cent expect more recent graduates (post-secondary graduates since 2018) to be well-versed in sustainable finance.
Many companies are starting to address big environmental issues, which shows the positive influence that business can have in the world. That brings us to another factor changing business: social impact. From racial justice to addressing pressing societal issues like poverty, companies are expected to make a difference in their communities and beyond. Today, purpose matters as much as profit.
What else is altering business? Certainly, it's impossible to view the future of organizations without considering the COVID-19 pandemic. Two years of social distancing, intermittent lockdowns, supply shortages and a worldwide health emergency have tested governments, our institutions and businesses large and small. Many consumer habits that the pandemic sparked—from hybrid work to the uptick in e-commerce—will remain.
The pandemic demonstrated how important it is for leaders to be resilient, to pivot quickly and make decisions without complete information. When I think about the attributes that leaders will need in the years ahead, one word springs to mind: grit. What is grit? Angela Duckworth described it best in her excellent book, Grit: The Power of Passion and Perseverance: "To be gritty," Duckworth wrote, "is to keep putting one foot in front of the other. To be gritty is to hold fast to an interesting and purposeful goal. To be gritty is to invest, day after week after year, in challenging practice. To be gritty is to fall down seven times, and rise eight."
Leaders must also be authentic. The ability to have difficult conversations, communicate clearly and connect deeply with employees and customers is crucial. A McKinsey survey of global executives and managers last year compared the types of workplace skills that organizations now need versus the skills they wanted before the pandemic. It found higher demand for soft skills like empathy, adaptability and cognitive skills like critical thinking and decision making.
We know that business needs are changing. So how can business schools evolve to meet new organizational expectations? There are several areas to consider.
The first is recruitment and admissions. Are we enrolling the right students to meet global talent needs? This is an important question. The business world is diverse and graduates can expect to work with people from many different backgrounds, from different countries and ethnic cultures. The classroom experience should reflect the diversity students will see in the workplace. As such, business education must be accessible to people from different backgrounds. Providing financial awards such as bursaries, revising recruitment and application processes and creating a supportive environment in business schools can help achieve those objectives. At the same time, business schools need to diversify faculty ranks. In a global business world, students benefit when they learn from professors with varied experiences from around the world.
Second, business schools must rethink how we teach. We must focus on the competencies and skills that employers need going forward. Core business skills are important, but it's also vital for students to learn how to navigate the world, solve problems and engage with others. From my conversations with business leaders, I know that employers want proven abilities in teamwork, communications, cultural competence and social skills. We must also keep in mind the growing social impact side of business. It's not enough to simply graduate good corporate citizens. We must prepare students to be leaders who understand their role in society regardless of the sector: business, government, entrepreneurship or not-for-profit.
Speaking of social impact, business schools must be leaders in making a positive difference in society. How? One way is to deepen collaboration with other university disciplines to find solutions to the world's most pressing issues. For us at Smith, that means further collaboration with Queen's University. Our researchers have a role to play here. Business school faculty conduct important studies that can influence business decisions. A few recent examples of Smith faculty expertise: insights on the all-important role of CEOs in workplace diversity initiatives, and an idea that can help women entrepreneurs in developing countries find balance at home.
Finally, business schools must be forces for good within their communities. At Smith, that means working with businesses, governments and non-profits in Kingston, Toronto, Ontario and across Canada. Throughout the pandemic, for instance, our students and faculty worked on a number of projects with businesses here in Kingston, helping them pivot and adapt to the changing consumer and economic environment. These were win-win experiences: local companies got help when they needed it most, and our students put their knowledge to the test, solving real-life problems during a crisis.
Every day, I'm reminded that business schools are providers of talent. The better equipped that talent is to take on any challenge any time, the more successful businesses will be. Now and in the future.
Wanda Costen is the dean at Smith School of Business at Queen's University. Her research areas include managing diversity, racial and gender inequality in organizations, women and leadership, and strategic human resources.