Social impact during COVID
Supporting local economies and businesses
How Smith faculty and students helped to power Kingston's recovery during the pandemic
The Kingston region experienced higher unemployment and a significant number of business closures over the past year due to COVID-19 restrictions placed on the tourism and hospitality sectors. In fact, a Conference Board of Canada study identified Kingston as one of the Canadian cities that was hardest hit economically by the pandemic.
As local government agencies and organizations planned how to respond, Smith School of Business faculty, students and staff stepped up to help strengthen local businesses and make the local economy more resilient for the future.
"We saw how people lost jobs and how the community was affected, and we wanted to help," says Matthias Spitzmuller, Distinguished Professor of Organizational Behaviour. "We wanted to do our part to ensure local businesses and governments come through the pandemic as best as possible."
In the spring of 2020, Spitzmuller and Raga Gopalakrishnan, assistant professor of operations management, partnered with the Centre for Social Impact at Smith, the City of Kingston, the Centre for Advanced Computing at Queen's, Workforce WindsorEssex and St. Lawrence College to create a new artificial intelligence tool to help job seekers. Smith student intern Baadshah Verma, BCom'21, and Queen's student intern Vedant Srinivasan Kartik Srinivasan, Comp'22, worked alongside Spitzmuller and Gopalakrishnan to bring the idea to life.
The result is Workforce AI, an online platform enabling job seekers to identify emerging job market trends and ways of adapting their skill set. Workforce AI's proof of concept will launch this fall. To start, it will focus on supporting workers in the law enforcement, information technology, and health-care service sectors.
"We want to help workers identify the skills gaps between their past occupations and where they might want to go, and offer recommendations to help them address those gaps," says Gopalakrishnan.
The Workforce AI platform, which was funded by the City of Kingston and the Ontario government, is also intended to help organizations like colleges and other training and service providers to develop programs that meet local workforce needs and trends, creating a "smoother match" between local labour supply and demand.
Helping small businesses
The Workforce AI project was launched shortly after the arrival of COVID-19 on North American shores and will prove useful in helping the local economy recover. However, during the early months of the pandemic last year, Smith and its partners also knew short-term supports were needed to help businesses adapt quickly. At the same time, Smith students faced an additional challenge as many of them found their summer placements had been cancelled due to COVID-19.
Last spring Smith partnered with the City of Kingston and the Kingston Economic Development Corporation to launch the Kingston Business Support Network. The network connected 40 undergraduate and graduate students with faculty mentors and local organizations in need of assistance.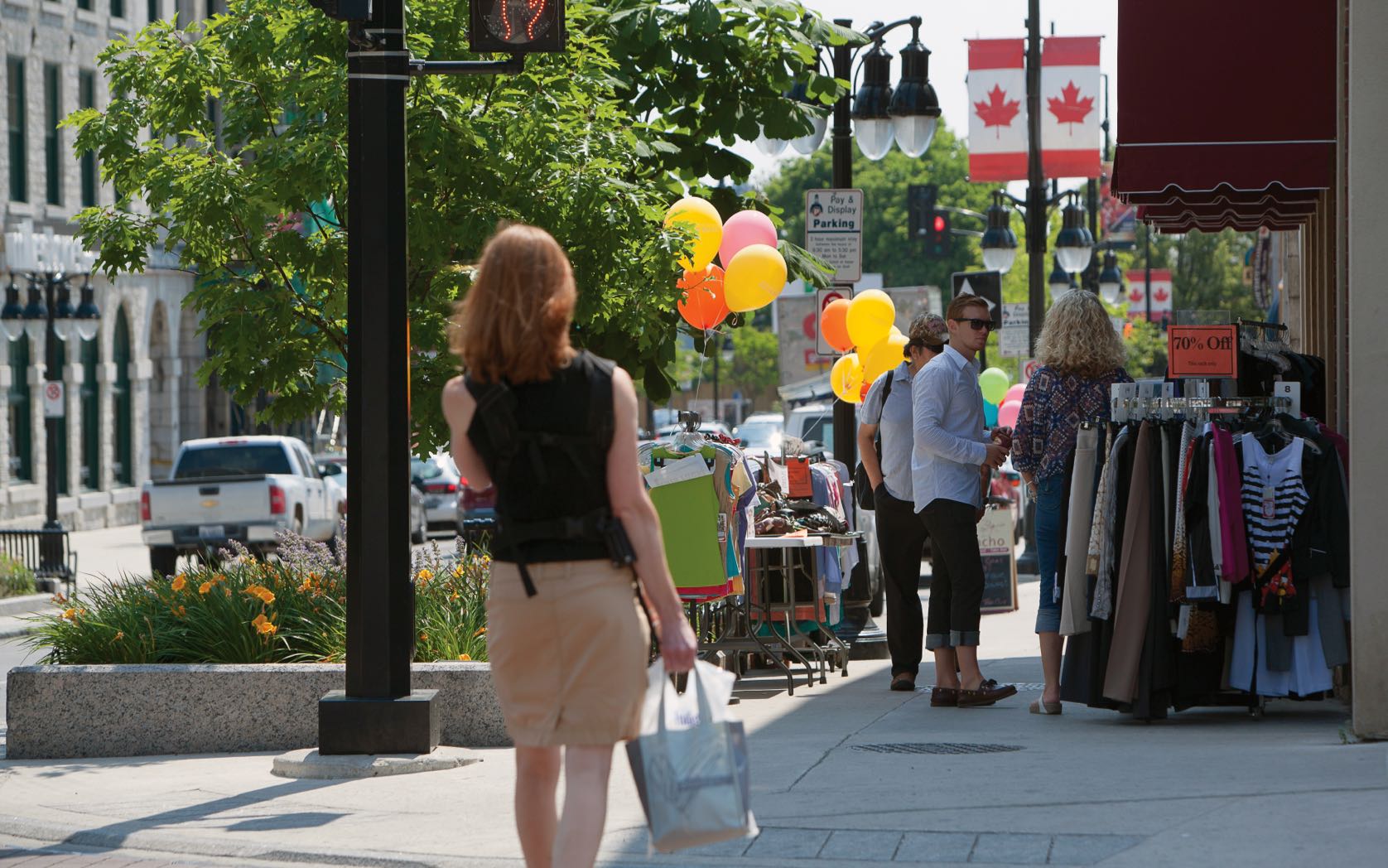 The organizations supported ranged from startups and small businesses like inns and coffee shops to manufacturing companies and not-for-profits. Many had Queen's and Smith connections.
Take Orange Neurosciences, for instance. This social enterprise, founded by Smith alumnus Vinay Singh, EMBA'12, creates programs to help learners with reading disabilities improve their reading skills. Ritesh Agrawal, MMA'20, was part of a team that helped the company revise its marketing, business development plans and financial projections.
"I was able to find employment immediately after I completed the project and believe that the experience I gained helped considerably," says Agrawal. "This experience also continues to help me at work, since I feel better equipped in dealing with similar work situations."
Students like Agrawal who contributed a significant number of hours were rewarded through a certificate from the Centre for Social Impact, their hands-on experience and, in some cases, through employment with the company they helped.
"The students had the opportunity to work on real-life cases, make a difference and apply their skills," says Jean-Baptiste Litrico, director of the Centre for Social Impact. "I am grateful for the number of faculty and staff members who stepped up and helped make this program a reality. It was a great example of the school coming together to help the local community."
Opportunities for students
As Smith and its partners were preparing to launch the Kingston Business Support Network, the federal government had a similar notion. Through Mitacs, a not-for-profit that brings together academia, private industry and government for research and training opportunities, the Business Strategy Internship (BSI) program was deployed across the country, including at Smith, to help stimulate employment and support pivoting businesses.
The program provided four-month paid internships to Smith students so they could work with organizations in need of support. Funding was provided by the business, Mitacs and Smith. As some non-profit organizations supported through the Centre for Social Impact were unable to pay their portion of the bill, generous donor funding from the Durland Family Fund helped cover some internship fees, while for-profit internships were supported by the Dean's Innovation Fund at Smith.
Through its initial run between June 2020 and February 2021, Smith students participating in the BSI program supported 108 projects, mainly in Kingston and the surrounding area.
"The response was so strong from businesses that 20 per cent of student participants were hired on full time by the business at the conclusion of their internship, and many others were extended to a second term," says Mitchell Gudgeon, MBA'13, director, partnerships and special projects for Smith. "Importantly, this program was also open to international students, so not only did they gain their first Canadian work experience that they can now leverage into full-time work in the future, but they also enjoyed a huge milestone: their first Canadian paycheque."
With 95 per cent of BSI businesses that worked with Smith students saying they would recommend the program to others, it comes as no surprise that the federal government had renewed the program for summer 2021.
It is thanks to efforts like Workforce AI, the Kingston Business Support Network and Smith's partnership with the Mitacs BSI program that businesses will be ready for whatever comes next on the road to recovery.