Smith School of Business Partners with City and Kingston Economic Development to Support Local Organizations Impacted by COVID-19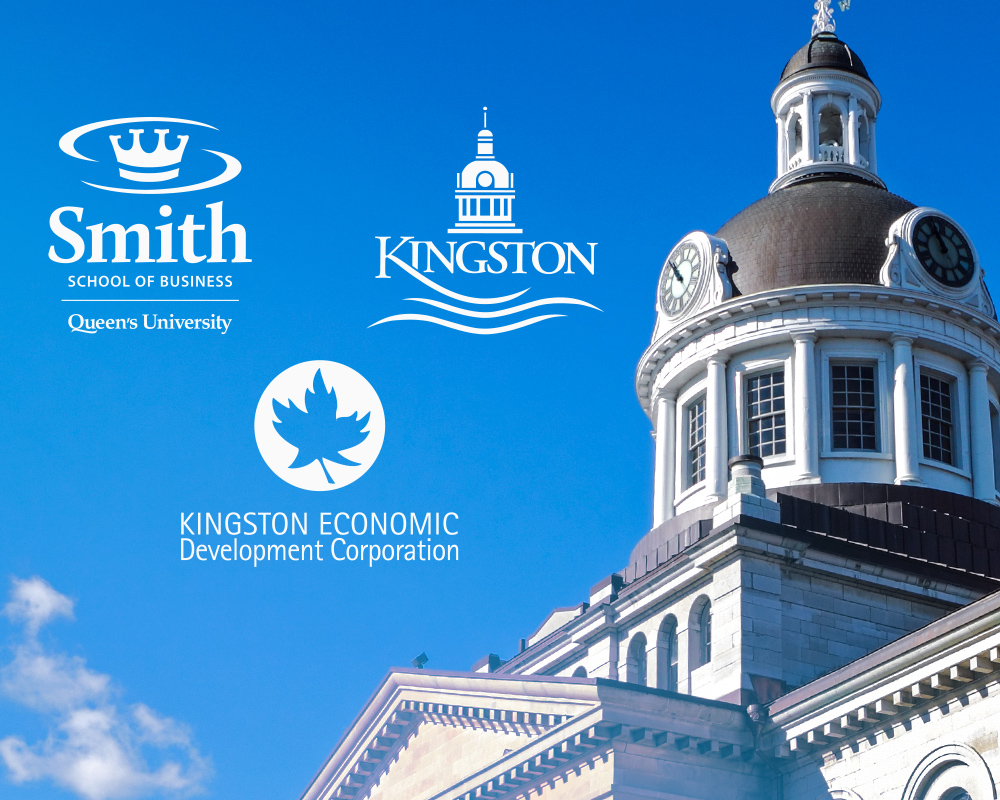 Kingston, Ont. – Smith School of Business at Queen's University is joining forces with the City of Kingston and Kingston Economic Development to provide student and faculty resources to help local businesses, not-for-profits, and social enterprises navigate and survive the impact of COVID-19.
Under the banner of the Kingston Region Business Support Network, free services are being offered including student time and skills, and community classroom learning sessions with faculty on topics designed for local business needs.
Tapping into Student Resources
Organizations can tap into the time, expertise, and skills of students via a matching platform. Once the organization registers, a student consultant supported by faculty will follow-up to confirm specific needs and match the organization to appropriate free student resources to assist.  
Participating students are from across Smith's business programs from undergraduate to professional masters and graduate level research programs. They bring a diverse range of skills and work experience from small to large businesses and entrepreneurship. 
Available services include research, strategic planning, building a digital presence, web site development, sales and marketing, e-commerce, how to innovate and pivot, design thinking, writing government grant applications, and more.
Community Classrooms with Experts
Smith School of Business faculty and instructors are also hosting free webinars designed specifically for regional businesses to help tackle their day-to-day challenges in this new economic reality.  
The first two sessions are: 
Wednesday, April 22 from 4 to 5:15 p.m. -- Cashflow During Coronavirus: Strategy & Tactics for Business Survival & Recovery in the Age of COVID-19.  Peter Gallant, Adjunct Assistant Professor, Strategy, Innovation & Entrepreneurship.
Wednesday, April 29 from 4 to 5:15 p.m. -- Anticipating the New Normal: Critical Changes to Plan Today. Kenneth Wong, Associate Professor & Distinguished Professor of Marketing.
Other planned topics will include negotiation with banks and creditors, and innovating and pivoting. 
Working Together
"We are grateful to be a part of the Kingston community and are ready to help local organizations as they cope with the extraordinary impact of COVID-19," said Brenda Brouwer, Dean, Smith School of Business. "These are our neighbours, friends, employers of our students, and the businesses, stores, and services we rely on day-to-day. We want to contribute what we can to help them through this difficult time."
"The efforts being made by people and organizations across the Kingston region to respond to the challenges brought on by COVID-19 are inspiring," says Patrick Deane, Queen's Principal and Vice-Chancellor. "I am especially proud of our faculty, staff, and students who have been engaged on healthcare's front lines, assisting local businesses, and contributing crucial research and development expertise to help our community through this difficult period."
"Our local businesses and not-for-profits are integral to the character of Kingston and the truth is they are struggling right now. They need every resource we can muster as a community, and so I'm very proud to see this program come together and so quickly. I believe this will serve as an incredible resource for our community," said Kingston Mayor Bryan Paterson.
"Kingston is tremendously blessed to have the wealth of talent and expertise within our post-secondary institutions at Queen's and St. Lawrence College. During these incredibly challenging business times, leveraging these assets and supporting our business community together is paramount to address immediate needs and how we, as a community can support and prepare businesses for the path to recovery," said Donna Gillespie, Chief Executive Officer, Kingston Economic Development.
-30- 
For media inquiries:
Kate Clarke
Smith School of Business, Queen's University
613.331.6488 / clarke.kate@queensu.ca
Nour Mazloum
Kingston Economic Development Corporation
613.329.9270 / mazloum@kingstoncanada.com
City of Kingston
Communications & Customer Experience Department
613.546.4291, ext. 2300 / communications@cityofkingston.ca