Smith School of Business and Mitacs launch internship program to connect students with businesses and not-for-profit organizations during COVID-19
Posted on

June 29, 2020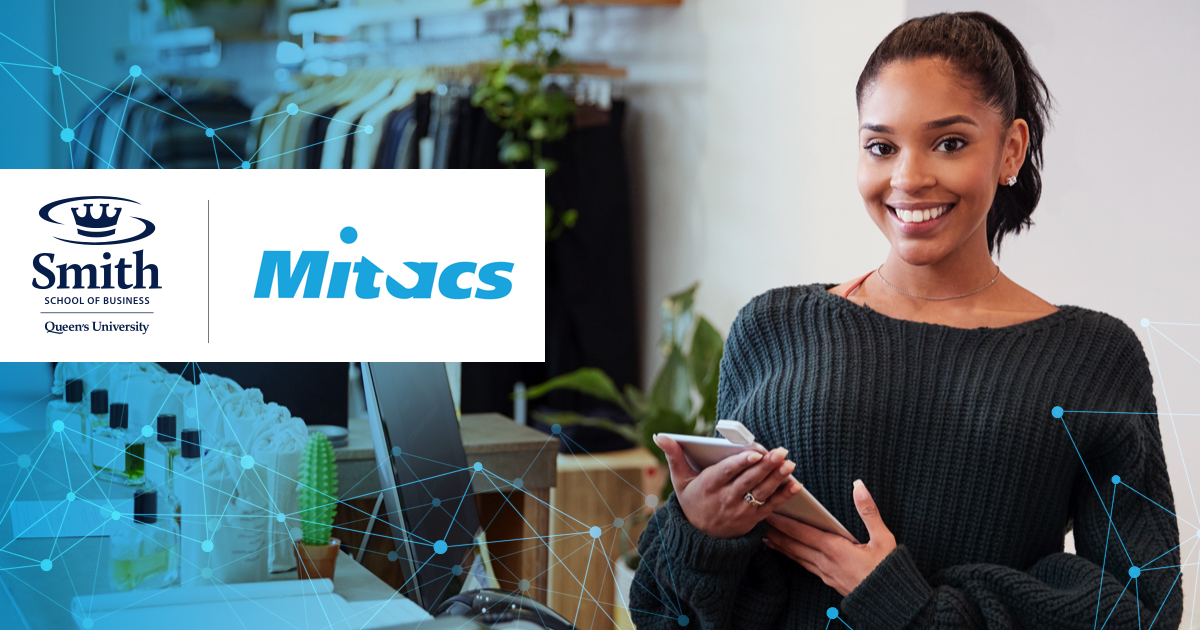 Kingston, Ont. – Smith School of Business and Mitacs – a not-for-profit organization that fosters Canadian growth and innovation – have partnered on a new internship program that will provide Smith students with valuable, practical experience as they assist companies and organizations looking to restore or modify their business operations disrupted by the COVID-19 pandemic. 
Smith joins a growing network of business schools across Canada participating in the Mitacs Business Strategy Internship (BSI), a 16-week paid internship program that aims to bolster Canada's economic recovery by supporting businesses that need assistance adapting to the new economic reality created by COVID-19 and providing opportunities for business students in need of work experience. Faculty supervisors will also be engaged in the student projects to provide mentorship, reflection and guidance.
In addition, Smith is providing incremental funding and support to ensure that a portion of these projects focus on advancing equity, diversity, inclusivity and indigeneity (EDII), given the disproportionate challenges and issues marginalized and equity-seeking groups face in business. 
"The effects of the pandemic are far-reaching, impacting the economy and the ability of our students to find opportunities that provide valuable work experience and earnings to support the continuation of their studies," notes Brenda Brouwer, Dean, Smith School of Business. "Our talented undergraduate and graduate students across our programs have studied many aspects of business. Applying their in-class learnings to assist businesses and not-for-profits as they respond, recover and innovate in today's challenging economy is a win-win scenario."
Students who secure internships through the Mitacs BSI will be eligible for a $10,000 stipend. Mitacs will provide $5,000 in funding, and Smith and the employer will contribute $2,500 each towards the total award. All Smith undergraduate and graduate students will be eligible to participate. Each internship will be designed to address business strategy needs including marketing, operations, finance and more, dependent on the requirements of the organization.
"We are thrilled to partner with Smith School of Business in offering work opportunities for students during these challenging times," says John Hepburn, CEO and Scientific Director, Mitacs. "Through BSI, students will be able to contribute to Canada's recovery and build skills that will be needed in the future. At the same time, the program supports small to medium-sized enterprises and not-for-profit organizations that need assistance to modify or pivot their operations to adapt to the new economic reality."
Businesses and not-for-profit organizations interested in hosting a Smith intern can learn more about eligibility requirements and the application process by visiting smithqueens.com/mitacs.
About Smith School of Business:
Smith School of Business at Queen's University is renowned for its excellence, innovation and leadership in business education. From establishing the first undergraduate business degree a century ago to creating groundbreaking programs and courses in emerging areas including artificial intelligence, fintech, analytics, cultural diversity, entrepreneurship, team dynamics, social impact and more, Smith is at the forefront of preparing students for the business marketplace. In addition to its rich tradition of academic and teaching excellence, Smith is known for delivering an outstanding learning and development experience. Personal attention, individual and team coaching, opportunities for specialization, and a deep commitment to student success characterize the Smith experience
About Mitacs:
Mitacs is a not-for-profit organization that fosters growth and innovation in Canada by solving business and not-for-profit challenges with research solutions from the best academic institutions. Mitacs is funded by the Government of Canada, along with the Government of Alberta, the Government of British Columbia, Research Manitoba, the Government of New Brunswick, the Government of Newfoundland and Labrador, the Government of Nova Scotia, the Government of Ontario, Innovation PEI, the Government of Quebec, the Government of Saskatchewan, as well as by academic, industry, and not-for-profit partners. 
For Mitacs news, visit: https://www.mitacs.ca/en/newsroom/news-release
##
Media contacts:
Smith School of Business
Kristen Sears, Communications Manager
k.sears@queensu.ca
| 613.888.1105
Mitacs
Erin Rose Handy, Communications Manager 
ehandy@mitacs.ca| 604.754.1440