To Mask or Not to Mask?
Pandemic restrictions are coming down. Now comes the hard part for businesses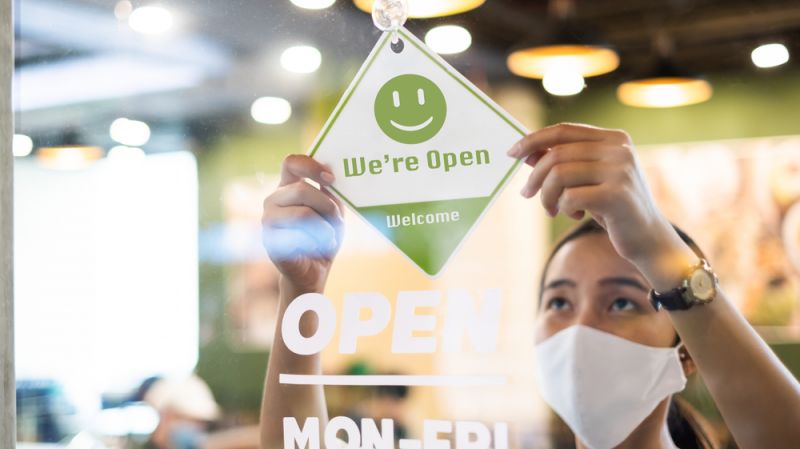 Pandemic mandates are lifting, and some business owners are breathing a sigh of relief. Devinder Kaur is one of them. When Ontario announced it would end vaccine passports on March 1, the director of Ottawa's PranaShanti Yoga Centre told CBC that she believed it was a "turning point" in the pandemic. "It doesn't mean [COVID] is going away . . . but it certainly means we have to find ways to adjust. And part of that adjustment will be letting go with the vaccine passport."
But other businesses aren't ready to drop the rules yet.  
Take Toronto's Rosedale Diner. "Considering the close quarters of our inside dining, we've decided to continue enforcement of the vaccine passport beyond March 1," read the restaurant's Instagram announcement. "Our desire is to keep everyone safe and worry-free while they dine with us."
It's not clear how many shops, restaurants and other businesses are keeping passports, masks or other rules in place and how many are dropping them. Either way, many owners now face a hard choice. Those that follow their province's lead risk alienating customers who aren't ready to return to life circa 2019. Those that do keep rules in place risk losing mandate-weary patrons. 
So, what should businesses do? We put that question to Laurence Ashworth, Distinguished Faculty Fellow of Marketing at Smith School of Business.
What the research says 
One reason it's tough to figure out whether to keep or scrap restrictions is that it's difficult for businesses to know what their customers believe about the virus, says Ashworth.
Early in the pandemic, Ashworth took a deep dive into research about COVID-19 risk perceptions. He was particularly interested in how dangerous people thought it was to get the virus. He found that although people were, on average, quite accurate about the danger, many either dramatically overestimated or underestimated the risk.
Ashworth believes that those wildly disparate estimates now inform the debate around restrictions. "I think what happens when people assess the risks from unvaccinated people is that they're probably strongly influenced by their risk perceptions of the disease overall," he says. "I think this is one of the reasons there is so much disagreement around appropriate responses to COVID, including vaccine passports." 
The question then: What to do with such disagreement? Businesses can either deliberately appeal to customers who care about the rules or those who don't, says Ashworth. Or, they can try a hybrid approach. All options come with pros and cons—and challenges.
The segmentation approach
To appeal to just one group of customers, businesses must first figure out which way their customers lean, then keep or ditch rules based on those preferences, says Ashworth. Choosing one camp over the other isn't easy, given how much disagreement there is about COVID's severity. 
Still, there may be clues. For example, does a large portion of the customer base have risk factors associated with COVID. "Although people aren't great at assessing risk, they seem to be appropriately sensitive to factors that increase or decrease the risk, such as age," says Ashworth. "So if, say, older folks make up most of a businesses' customers, it's reasonable to assume that their risk perceptions are generally higher and, therefore, that they are more likely to prefer the rules are kept in place."
The problem is that such clarity is rare. The customer base at most businesses is diverse and crosses a wide spectrum of risk factors and risk perceptions.
Of course, businesses could consult social media for clues. But Ashworth recommends caution. "Businesses look to social media because it's visible. They may see what's posted and think, 'Oh, my goodness. Is this what my customers think?' Almost always the answer is 'no' though. It's very unlikely that it is. It may be compelling, but those views usually represent the most vocal, the ones who think it's the riskiest or the least risky. They're unlikely to represent the bulk of people in the middle of the distribution."    
The hybrid approach
But what if a business wants to keep both pro-restriction and anti-restriction customers happy? That's where the hybrid approach comes in. "The good thing about hybrid is that you can actually make the claim that you're trying to be respectful of people's preferences from across the spectrum and you're not excluding anyone," says Ashworth.
How does the hybrid approach look in the everyday world? A restaurant could set aside specific times or days when proof of vaccination is required. The trick is to keep a close eye on the response, Ashworth says. If, for instance, a lot of people visit the business during proof-of-vaccination times, then those hours could be extended to meet the high demand. 
Businesses that go with the hybrid option must also do a good job communicating it to customers. "You need to make sure it's very, very obvious to your customers what you're doing. You wouldn't want people showing up expecting no proof of vaccination requirement and then being told there is one," Ashworth says.
Whatever approach businesses follow, there will no doubt be hurdles to overcome, says Ashworth. "We've gotten quite used to these rules, and for some people it's quite jarring to suddenly remove them. My guess is that those people are in a minority, but it's hard to say. And that's the problem that businesses face—they really don't know either."