Feature
Highlighting our research expertise
For 10 years, Smith Business Insight has delivered ideas with impact, courtesy of school faculty, to a business audience
What traits make leaders great? How can office teams be super-effective? These are vexing questions. Yet answers exist. If you look deep, you'll find them in the research papers of business school professors.
But few of us have time to dig through academic journals. Luckily, some places do the work for you, turning research into articles with practical takeaways. One is Smith Business Insight. Since it launched 10 years ago, Insight has produced more than 800 articles, webinars, podcast episodes, papers, videos and more that feature the evidence-based expertise of Smith and Queen's faculty and graduate students.
"There is so much business research that has implications for companies and employees and can be very useful for leaders to understand," says Smith marketing professor Jay Handelman, PhD'96.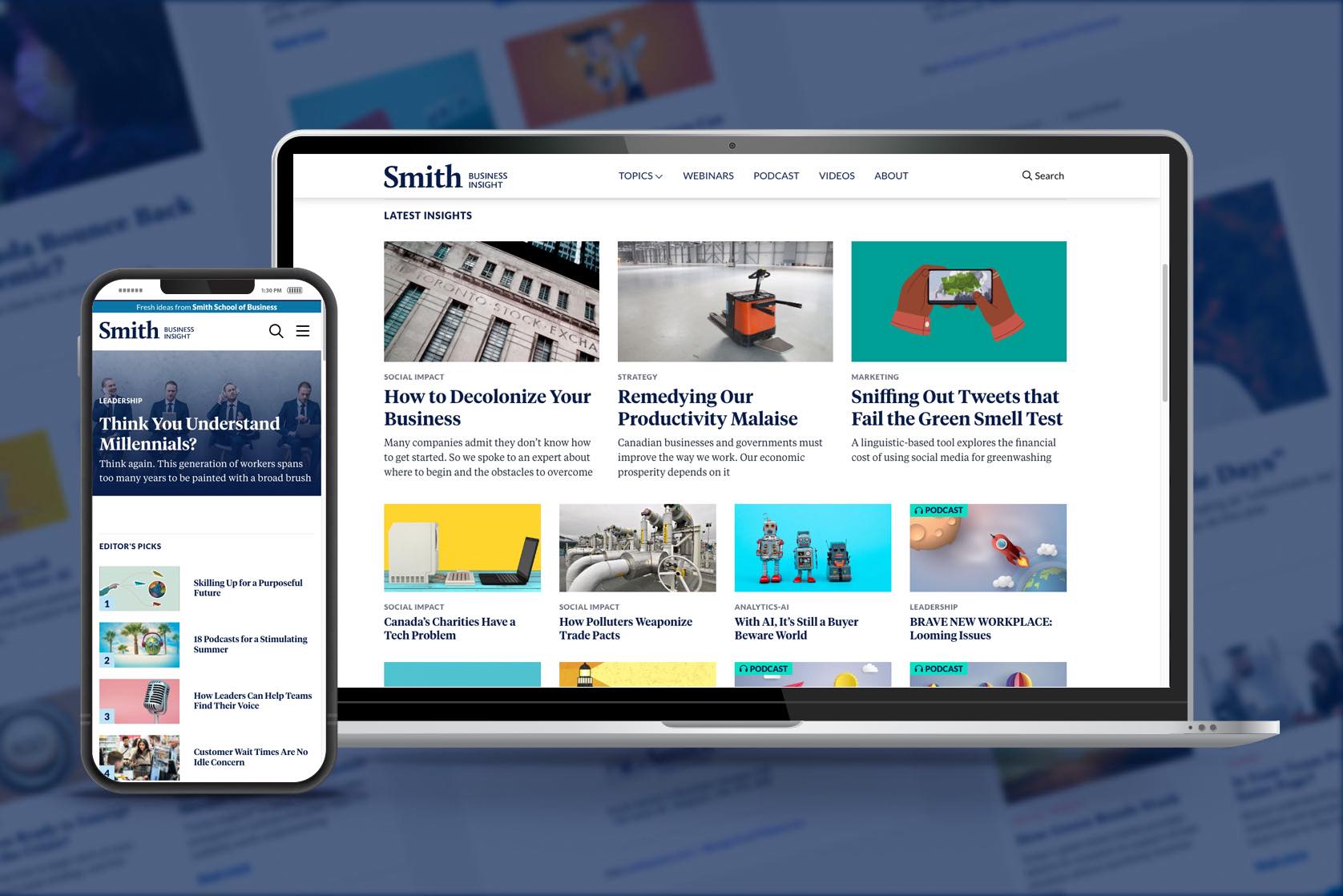 Handelman was associate dean of research when he helped launch Smith Business Insight in March 2013. As he recalls, valuable research was being done at Smith but it didn't usually make it to the corporate world. By contrast, research in other fields was often featured in the popular press. A good example is medical studies with the latest health information.
Handelman thought business research deserved a larger audience. And so, Smith Business Insight was born. Today, it features experts on many topics—from leadership and marketing, to finance, accounting, analytics, entrepreneurship, business strategy and social impact. There's a monthly newsletter, too.
The pandemic highlighted the value of business research when, during the first lockdown, firms grappled with the ups and downs of employees working from home. Fortunately, Smith faculty have bench strength in remote and hybrid teamwork and, through Insight, provide practical advice for managers. More recently, Insight has tapped the expertise of Smith professors on workplace trends such as the four-day workweek and quiet quitting.
Looking back, Handelman recalls some concern as to whether Smith's faculty was producing enough research to warrant a website that would publish weekly. "But that was never a question for me," he says. "I was blown away by how much research was done at the school here. We have so much knowledge in so many areas that we can share."