Of all the ways consumers react to firm's offerings, perceptions of value and feelings of satisfaction are among the strongest determinants of actual purchase behaviour. Yet firms frequently miss out on simple things they can do to maximize these reactions because they don't fully understand what these concepts mean to consumers.
By exploring the psychology of these judgments, this presentation aims to provide managers with important insights about how they can better create perceptions of value and increase the chances of successfully satisfying their customers.
In this free 60-minute webinar, Professor Ashworth will discuss what value means to consumers and offer some simple strategies to increase perceptions of a product's value. He will also discuss the psychological basis of feelings of satisfaction, how these judgments relate to perceptions of value, and provide a simple framework that firms can use to help make sure that they are satisfying and even delighting their customers as well as avoid those things that lead to the opposite: dissatisfaction and customer outrage.
You will learn about:
The psychology of perceptions of value and feelings of satisfaction
Simple strategies for increasing consumers' perceptions of a product's value
A framework to help firms identify sources of satisfaction and delight and avoid dissatisfaction and outrage.
This presentation will be of use to anyone involved in B2C marketing, whether that be in frontline sales or at a more strategic level.
Following our presentation will be a period dedicated to Q&A with our speaker, aiding in real world application of theoretical concepts.
Session Leader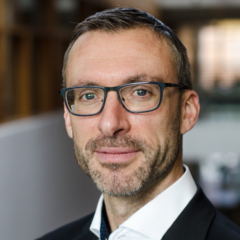 Dr. Laurence Ashworth
Professor & Distinguished Faculty Fellow of Marketing
Laurence Ashworth is an associate professor in marketing at Smith School of Business and Network Leader for the National Council for Marketing and Public Affairs Executives. His research focuses on social and emotional influences on consumer judgment and decision making. His work has been published in a variety of top journals, such as the Journal of Consumer Research, the Journal of Marketing, and the Journal of Consumer Psychology. He also comments regularly, and his work has appeared in media such as the New York Times, the National Post, the Globe and Mail, Macleans, Psychology Today, Cosmopolitan Magazine, the Toronto Star, Canada AM, Global TV, and CBC radio. Laurence teaches courses on Marketing and Consumer Behaviour to students in the undergraduate, M.Sc., Ph.D., and M.B.A. programs. A central theme of his teaching is to integrate broad strategic approaches to marketing with more specific, evidence-based ideas that help predict how and why consumers react to marketers' actions. The goal is to provide students with a broad framework that they can take to the marketplace that will help them make psychologically-informed marketing decisions.