Learning to Lead - Virtual
About the Program
Learning to Lead is designed to help new managers make the transition from individual contributors to effective leaders. Employees are often promoted into a management position because of their expertise and superior performance as individual contributors, yet this knowledge is an insufficient basis to lead teams.
This interactive program focuses on the most critical foundations of effective leadership and management, enabling new managers to overcome the challenges they will encounter during this transition.
In this program you will learn to:
Lead with meaning
Broaden your repertoire of communication and motivational tools to inspire your team and enable them to reach their potential (simulations and exercises will be used to promote active learning)
Utilize tools and techniques to successfully manage talent, including effective ways of hiring, managing performance, and helping your employees stay aligned with the larger organizational strategy and culture
You will leave the program with the knowledge and skills necessary to both inspire others and manage the daily fundamentals in your team.
Dynamic virtual classroom
Participate in the program from anywhere. Our online learning platform combines live, interactive video instruction with breakout sessions, panel discussions, and expert Q&A.
Who should attend
This program is designed for people who are new to managing staff or have been in their roles for two to three years, without formal leadership training. It's also geared to those who are soon to be promoted into management roles.
This program is designated an approved recertification program by the HRPA.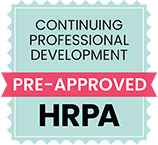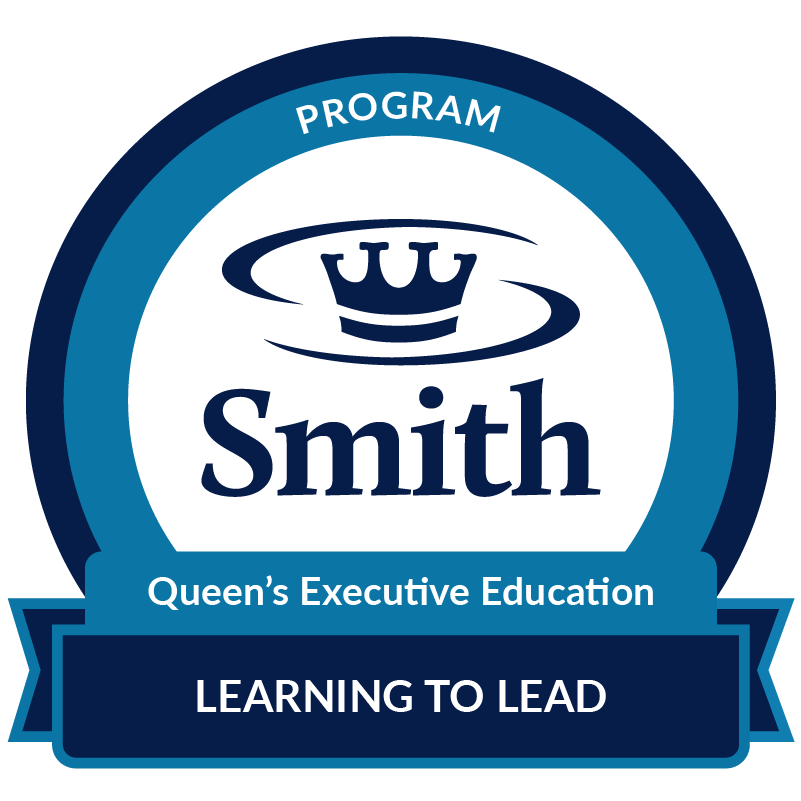 A Recognized Symbol of Excellence
Participants who complete the program earn the Learning to Lead digital badge credential.
Personal benefits
This program will help new leaders learn the ropes of leading and managing employees:
Develop a deep understanding of the challenges that emerging leaders encounter
Broaden your repertoire of communication skills and learn to motivate and inspire employees
Help employees find meaning in their daily work
Find meaning in your role as an emerging leader
Learn how to use motivation tools for the recruitment, selection, development, and retention of employees
Become an effective manager of employee performance by leveraging human capital management
Create long-term commitment between your followers and yourself
Learn how to continue to develop yourself as a leader over time
Organizational benefits
Organizations will benefit from new leaders who inspire followers and who are more effective in their day-to-day roles as managers. They will:
Experience less friction during transition periods in which team leadership changes
Develop leaders of tomorrow in their first steps towards becoming a leader in your organization
Create strategic alignment between the goals of employees, leaders, and the entire organization
Enhance creativity and innovation in the organization
Reduce turnover amongst emerging leaders and in their respective teams
Become an employer of choice by ensuring a successful transition of employees into emerging leaders
Program content
The program covers two modules:
Module 1: Leading With Meaning
This module will focus on the leadership of teams. Participants will learn how to create meaning for themselves and their followers:
Understand the psychological needs of your followers
Motivate followers by promoting psychological experiences of autonomy, relatedness, and competence
Promote creativity and innovation through intrinsically motivated followers
Cultivate positive emotions in yourself and your followers
Inspire followers with a growth mindset
Change the conversation from 'what' to 'why'
Develop a broader understanding of how your team contributes to the organization and society at large
Develop yourself as an emotionally intelligent leader
Module 2: Managing Your Talent
This module builds upon the leadership fundamentals from the previous module by showing participants how to put these elements into action through the management of their human capital. They will:
Understand how to choose new talent to prioritize alignment with your organizational goals and needs
Develop the skills for effectively recruiting and hiring new employees
Learn to identify and manage conflict as well as employees who are behaving in dysfunctional ways
Develop the knowledge and skills necessary to manage employees' performance with ongoing coaching, performance assessments, and performance improvement discussions
Identify and manage your team's performance through goal-setting and alignment with the larger organization
Dynamic Virtual Classroom
Participate in the program from anywhere. Our online learning platform combines live, interactive video instruction with breakout sessions, panel discussions, and expert Q&A.
Our learning platform is fully encrypted, allowing you to connect securely from home, office or anywhere in between.
Virtual programs are designed to fit within your schedule, allowing you to learn new skills and immediately put them to work.
Please note: Our Executive Education Virtual Classroom leverages Zoom for content delivery and participation collaboration. Please consult with your IT administrator if you have any concerns about platform access or setup requirements.
Session Leaders
Session leaders include senior professors from Smith School of Business and knowledgeable experts from industry. These outstanding teachers are constantly in touch with today's business world through real-world business experience, Board memberships and their own consulting practices.
Dr. Raver is an Associate Professor and E. Marie Shantz Faculty Fellow in Organizational Behaviour at Smith School of Business, and is also cross-appointed to the Department of Psychology. She is an authority on interpersonal relations and group processes at work, with a specific emphasis upon the ways in which employees support each other and build high-performance environments (e.g., helping, promoting learning) versus engage in counterproductive actions that undermine each other (e.g., harassment, bullying, relationship conflicts).
Professor Raver's scholarship in this area has been internationally recognized through best paper awards from the Academy of Management and from the International Association of Conflict Management (IACM), and her work on these topics has been published in prestigious outlets including the Academy of Management Journal and the Academy of Management Review. A second area of Professor Raver's expertise pertains to workplace diversity and cultural differences, where her current focus is on the integration of diverse or dissimilar employees into work groups and organizations. Her work has also included cross-cultural investigations of conflict processes and societal control systems. Her scholarship in this domain has also earned awards, including the Outstanding Article Award from IACM, and has been published in the Journal of Applied Psychology, Human Resource Management Review, and in several book chapters. Professor Raver has worked with a number of organizations from both the private and public sectors in the U.S. and Canada. She is also regularly invited to speak about building positive organizational cultures, teams, workplace harassment, conflict, and diversity to associations of academics, policy makers, and employees. Her work has been profiled in media outlets including The Globe & Mail, the National Post, and the Chicago Tribune.  Professor Raver teaches courses in human resource management, organizational behaviour, and group processes that span academic programs (Commerce, MBA, MSc, PhD). She is also actively involved in professional service, including serving on the Editorial Board of Negotiation and Conflict Management Journal and acting as an ad-hoc reviewer for numerous top-tier journals.