New issue of Smith Magazine now available
Posted on

April 27, 2023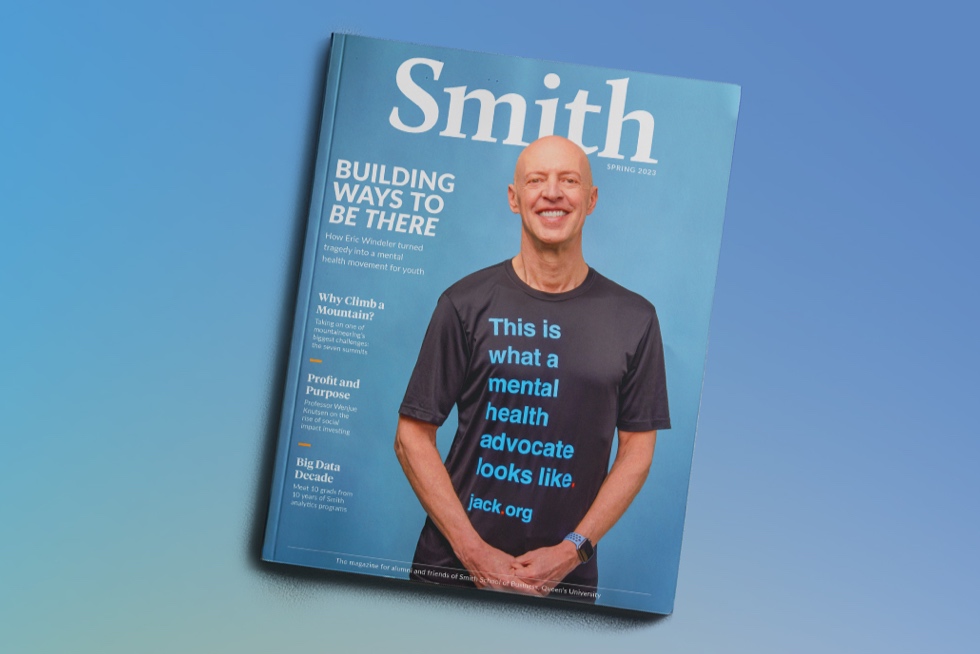 Kingston, ON – The spring issue of Smith Magazine is now out online and in print. Read the latest articles here, including features, alumni profiles, school news and insights from faculty and alumni experts. Highlights include: 
Mental health matters
How Eric Windeler, BCom'82, created Jack.org and put young people back into the conversation about mental health.
Immigration nation
Almost one in four people in Canada are immigrants. Gayathri Shukla, EMBA'19, reflects on what it means to be a newcomer through her story and that of others.
Sounds of the CEO
Professor Blake Steenhoven delves into the hidden messages to be found in corporate earnings calls.
Scaling the seven summits
Only about 500 people have climbed the highest peak on every continent. Meet the Smith alumni who are out to do it (and one who already has).
Analytics anniversary
Ten years ago, Smith launched the Master of Management Analytics program. To celebrate, we're showcasing 10 professionals from our analytics and AI programs.
Social impact investing
Professor Wenjue Knutsen explains what happens when private capital does public good. And expects a return.
Plus:
Many non-profits are technology poor. Charles Buchanan, MBA'92, wants to fix that; Ken Wong, BCom'75, MBA'76, looks back on his career in the classroom; maybe you've seen Alex Hook, Comm'23, on TV; Commerce Orientation Week gets an update; and much more!
Download the complete spring issue of Smith Magazine here.