Building ways to be there
How Jack.org founder Eric Windeler, BCom'82, LLD'15, turned tragedy into a transformative force for youth mental health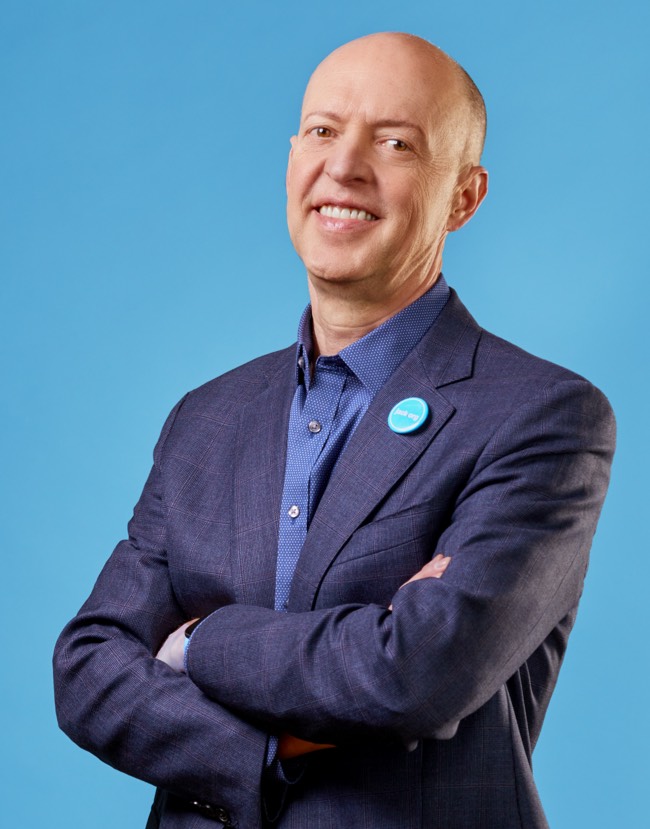 Lady Gaga's megawatt eyes stare directly into the lens. She is—as usual— arrestingly camera-ready, sporting a chic periwinkle pantsuit and an impeccable manicure as she perches on the edge of a pillow-strewn couch. "When I was younger, I struggled," she says, her tone conveying the no-shame vulnerability that inspires such fervent fan loyalty. "I needed a framework like this to help me to be there for myself, but also for people around me. This resource can really change the way we interact with each other."
The pop star is encouraging her followers to take the Be There Certificate, an engaging, and free, online course that trains participants to help others who are struggling with mental health. Her plug is straightforward, earnest and—unsurprisingly—really effective. Almost immediately after her Born This Way Foundation posted the video to its social media channels last March, bright young faces began posting selfies with their own completed #BeThereCertificate on TikTok and Instagram. To date, well over a million people have visited the BeThere.org site and over 17,000 have completed the Be There Certificate.
"It was absolutely incredible," says Eric Windeler, founder and, until recently, executive director of Jack.org, the Toronto-based charity that developed the Be There Certificate in partnership with the Born This Way Foundation. Yes, an endorsement from a star of Lady Gaga's magnitude created the kind of shine any cause-based organization would want. But it was also potent proof of how effective Jack.org has been in helping to change the discourse surrounding mental health: here was one of the most famous people on the planet discussing her mental health in the same way she might talk about spraining her wrist.
Normalizing mental health is the work of Eric's life. He talks about it constantly— on stages, in videos, on social media—with anyone, from curious teenagers to literal royalty. (Propped against a window in Jack.org's airy new Toronto office is a framed photo of him and a few dozen of the charity's young leaders huddling with the then-Duke and Duchess of Cambridge—a.k.a. William and Kate—on the future monarchs' 2016 tour of Canada.) This has been Eric's job for nearly 13 years, steering the growth of an initial memorial donation to Kids Help Phone into a $10 million national charity whose work affects hundreds of thousands of young people.
Eric is a natural builder. He spent most of his career as an entrepreneur, scaling loose ideas into significant business ventures; he's the kind of go-go-go guy who's as energized by setting new goals as he is by surpassing old ones. But his CV only partially explains his contribution to Jack.org's growth. His mandate in doing so has been personal; the mission of a man who'd suffered unthinkable loss and who has since poured his life into making sure fewer people have to. "Eric is the kindest person you'll ever meet," says Sandra Hanington, his Jack.org co-founder and wife of more than 35 years. "It just permeates him. It's the core of who he is."
Today, as Eric hands off control of Jack.org and moves into a founder role supporting the organization, his attention is firmly on the future. But it's also an apt moment to take stock; to understand how a shattered father turned a tragedy into a transformative force for good.
---
It is impossible to tell the story of Jack.org without starting with the story of Jack.
"You don't," Eric says evenly, "want to find out about mental health the way we did."
On the morning of March 27, 2010, as Eric and Sandra were returning to their Toronto home from a routine spin class, his cellphone rang with the worst call any parent can imagine. Their son, Jack Windeler—a bright, active, shy-leaning 18-year-old closing out his first year of arts and science at Queen's—had died by suicide in his Leonard Hall dorm room the night before.
It's important here to contextualize just how unspoken and underappreciated mental health challenges were in 2010. Today, many of us know this to be an issue that disproportionately affects youth. We know that most (70 per cent) of mental health challenges originate in the so-called "transition years" of youth—the period between 15 and 24 when people start college, university or their first jobs. We also now know that poor mental health is by far the most common health issue facing young people, and that suicide is their leading health-related cause of death.
None of this was common knowledge in 2010. In the days following Jack's death, Eric and Sandra learned that their son had stopped going to class. He'd withdrawn socially and his grades had plummeted. Yet no one around Jack knew to recognize these behaviours as signs of a possible mental health crisis—much less how they might intervene.
After the immediate shock, amid the overwhelming grief that followed, Eric, Sandra and Jack's siblings, Ben (then 16) and Julia (then 14) each attempted to process what happened. For Eric, this manifested as a burning need to understand. "I was very curious about how this was even possible, because we didn't know Jack was struggling," he recalls. "We thought we were a happy, healthy family with three happy, healthy children." Bewildered and heartbroken, he turned his investment in a software startup over to his partner and defaulted to doer mode: Where to start to make sense of the impossible? What to do?
As a professional power couple—Eric as a successful entrepreneur and Sandra as a flourishing corporate executive—the pair had the resources and contacts to contribute to something that might help others. A tight group of longtime friends, including Bill and Sally Morris (BCom'82 and '83, respectively) and Gillian Evans and David Toyne (ArtSci'82 and BCom'82, respectively) gathered around the Hanington-Windeler kitchen table to talk through ideas. "They really coached us," says Eric. "They said, 'Don't just plunge in and s tart a charity. Find a gap that you can fill that will really make a difference.' "
This materialized, initially, as a six-figure donation by Eric and Sandra to establish a memorial fund at Kids Help Phone—a charity Sandra knew well, via recent service on its board. Eric began volunteering with the organization. Before long, he was showing up every single day. "I started to learn so much," he recalls. He spent hours talking, and as he shared his experiences, and listened to those from other families blindsided by youth suicide, he discovered that they had the same questions: Why did our kid fall through the cracks? What needs to change so no one else does? And who can make it happen? From the fog of grief came a calling: maybe he could try to make a difference.
---
From a young age, Eric was drawn to entrepreneurship, delivering newspapers at 11 and starting his own painting business at 16. His decision to study Commerce at Smith ("a fantastic experience") and a subsequent turn at Andersen Consulting, now Accenture (where he met Sandra), were the means to an end of starting up something of his own. Only four years after graduation, he and a colleague started a steel fabrication business, which became Mackie Automotive Systems and comprised 13 factories and 2,000 employees when the pair sold it in 2003. Weeks later, Eric and a different partner began a software startup, which he helped grow and run until Jack's death.
So it didn't take many days of volunteering at Kids Help Phone for Eric to latch on to the potential to establish something meaningful.
That initial family donation funded The Jack Project at Kids Help Phone, a pilot study that delivered more than 110 talks and workshops to youth, parents and educators in its first year. The goal was to encourage positive mental health in young people and offer resources to adults to better support them. A team of professional evaluators reviewed the results, and they were emphatic: these sessions were most effective when they were delivered for youth, by youth. This approach reduced stigma, increased help-seeking and, importantly, removed the cringe factor of talking with older people. Furthermore, inside the broader landscape of mental health care, there was a lack of resources and programming to support peer-to-peer work in this demographic. "Young people were effectively being left out of the conversation," Eric says. "From that moment on, our work became all about engaging young people to be part of the conversation about mental health and to take leadership roles in educating their peers about it."
With this mandate, The Jack Project began to grow. In its third year, it transferred its charitable base to Queen's to test the youth engagement and youth leadership model. At Queen's, it established what would become its first Jack Chapter to help young leaders recognize and remove barriers in the school community. In July 2013, The Jack Project became an independent charity, with Eric as executive director, and rebranded as Jack.org. As time went on, the charity built out its programming: it added more Jack Chapters (there are now close to 200 across Canada); it developed Jack Talks to train youth speakers to talk about mental health effectively and responsibly; and it created Jack Summits, where young delegates gather to connect and share big-picture strategies for helping more of their peers. It also bolstered its library of resources (including the development of a training hub called Be There, as well as the aforementioned certification course). Operationally, the charity staffed up, went bilingual, enhanced its fundraising capabilities and, under the watchful eye of veteran board member Sandra, strengthened its governance protocols.
Mental health in Canada: by the numbers
1 in 5 Canadians experience a mental illness in any given year
1 in 2 Canadians will have had a mental illness by the time they turn 40
$50 billion: Annual economic cost of mental health in Canada
1 in 6 youth say they have contemplated suicide
70% of Canadians say the Covid-19 pandemic worsened personal mental health
55% believe attitudes about mental health issues have improved
75% of working Canadians are reluctant to disclose a mental illness to their employer
As Eric explains each Jack.org milestone, he takes care to credit (usually by name) the staff, board members and friends who helped make it happen. He is a focused and thoughtful conversationalist, asking almost as many questions as he answers, scribbling notes along the way. He follows up and follows through. It's not difficult to see how these traits yield results when applied to the leadership of an organization—especially one devoted to helping people. Did the skills that made him good at building businesses transfer to charitable work? "There's really not that much that is different," Eric reflects. "You're doing most of the same things: You have to manage staff, you need an operations team and you need finance systems. And, of course, you need to be good at fundraising—but, really, that is not overly different from business development."
In that light, several factors that have driven Jack.org's growth are not dissimilar from what you might find in an entrepreneurial case study.
Factor one: finding a product or service that fills a need. If the mental health system is a pyramid, with acute hospital care at the peak, Jack.org operates at the base: the more effective its education and support work, the fewer people will end up in crisis. It's not unlike tackling heart disease by promoting exercise and healthy living, explains Dr. Paul Kurdyak, a psychiatrist, clinician scientist and director of performance improvement at the Centre for Addiction and Mental Health (CAMH), who joined the Jack.org board—which he currently chairs—almost a decade ago. "Their programming is not oriented towards suicide prevention; it's about youth skill-building, destigmatization and wellness-oriented interventions," he says. "That has been a really, really important distinction." This kind of preventive work had been in short supply—Eric took very seriously his friends' advice to find a gap—and Kurdyak adds that Jack.org has brought a needed rigour and scale to it: "They're building the army that will push for what hasn't been pushed for before."
Factor two: eagerness to evolve with its audience. Every decision about what Jack.org offers, and how the organization offers it, comes in direct response to a simple question: How can we better help young people? Eric's onward and upward entrepreneurial bent has helped imbue a relentless spirit of continual improvement in the organization. It's not the kind of place where "that's the way we've always done it" flies. This is one of the main things that drew Rowena Pinto, Jack.org's new president and CEO, to the organization. "What Jack.org has done so well under Eric's leadership, and what it continues to do well, is constantly question its intention when it comes to authentically engaging youth," says Pinto.
Factor three: powerful persuasion. Charities need money to do their work, and individual stories and unique experiences are very effective ways to raise it, says Monica Labarge, BCom'99, MSc'03, an adjunct assistant professor at Smith whose research covers charitable giving, health promotion and non-profit marketing. Humans are drawn to specificity, she says. It's why we're more likely to sponsor a family of endangered antelope than to contribute to a fund that might save 100,000 of them: "The emotional aspect in driving charitable giving can't be overstated." The name Jack.org evokes that response in a way that something more generic like, say, Youth Mental Health Advocates does not. The backstory does the same. By now, Eric has shared his family's personal story hundreds of times, with everyone from youth leaders to politicians to, yes, donors. "It was challenging in the early years," he admits, but it's now something he does without hesitation: "It draws people in to what we do." There are many other elements in Jack.org's fundraising strategy, but there's no denying the role of personal stories in getting it to where it is today.
---
Which brings us to factor four: a succession plan. Eric began to think about the handling off the reins of Jack.org a few years back, shortly after he turned 60. The brutal effect of the Covid-19 pandemic on the mental health of young people was increasing both the need for, and urgency of, Jack.org's work. And while Eric's fire for the work had never burned brighter, he could see how a new leader could drive the organization's next phase. "I didn't want to wait until it was too late for an orderly transition," he reflects.
Ever thorough, he researched best practices in founder-run charity transitions. He met with others who've been through this highly specific experience, including the team at Right to Play, the charity founded by former Olympic speedskater Johann Olav Koss. The advice was to be proactive. So he told the board, who enlisted a recruiting firm to help find the right candidate. They found it in Rowena Pinto, an accomplished non-profit executive with impressive experience working in health and with youth. She joined in August of 2022.
Today, after a careful period of transition, Pinto handles all Jack.org leadership and is working to finalize a new strategic plan for the organization's next phase of growth. Eric's role is now to advise, tend to key relationships, fundraise and support Pinto and the broader team. He's mindful that he's no longer the boss.
And yet Eric Windeler can't stop looking ahead. When he's asked how he feels about his legacy, he hedges with a to-do list: "There's still so much potential for us to make an impact, and to have the most impact, you need to grow," he says, listing a half-dozen ways Jack.org might help more young people, in more places, in more ways. Then he pauses for a moment. "But when I look at how what we've done has resonated with so many people, who've been so appreciative of it, it just makes me incredibly proud."
How to be an ally
If you want to help improve youth mental health, Jack.org offers many ways to get involved. Here are three places to start:
1. Train yourself
The Jack.org-developed Be There Certificate online course was designed for youth, but its research-informed framework is useful for anyone who wants to know how to recognize someone struggling with mental health and learn how to effectively support them and guide them to professional help.
2. Book a jack talk
Jack Talks feature trained youth leaders delivering information and sharing stories to empower audiences to be better informed and better able to help. They're delivered in-person and virtually, pre-recorded or live, mainly in schools, but also in communities and workplaces.
3. Donate
There are many ways to support the work of Jack.org, from hosting an event, to making a donation (personal, foundation or corporate), to participating in or sponsoring a rider at the annual Jack Ride cycling fundraiser (jack.org/ride).