Magali Harvey, MBA'23, is a rugby star who has learned to lead on and off the pitch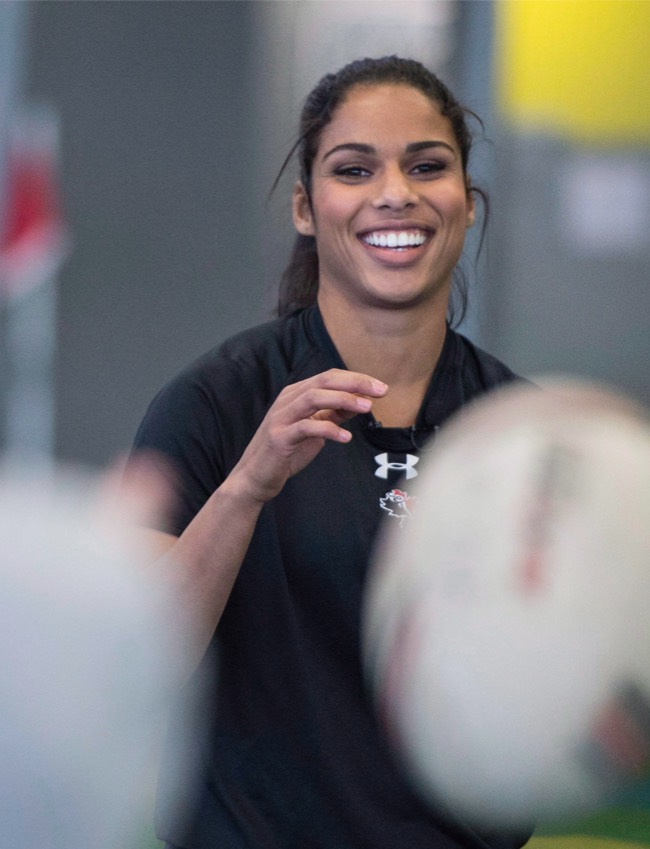 Magali Harvey didn't start playing the sport she would later be named best in the world at until she was 16. Growing up in Quebec City, sports were an affordable option for her parents to put Harvey and her three sisters in. "The house was empty and we weren't in trouble," she says.
Harvey was naturally athletic and embraced extracurriculars like ultimate frisbee and soccer. When rugby was introduced at school, Harvey had little interest. But an older player goaded her into joining the team and, at her first practice, she ended up with a bloody nose after a brutal tackle. That moment became imprinted on her, and as a winger, she learned to run for her life. Speed became her superpower. Two years later, she was trying out for the under-20 national team and headed to St. Francis Xavier University in Nova Scotia.
While a combination of natural talent, grit and determination propelled Harvey into becoming a world-class athlete, what has added a dimension to her game are the lessons she's learned about leadership along the way. Early on, Harvey witnessed polar opposite examples of coaching based on fear and encouragement. Her development—both inside and outside of athletics—came from building on those lessons, applying them as a university-level coach, an MBA student, and now as a more experienced player in Spain.
In Harvey's first year of university, her team won the nationals and she was named the most valuable player of the tournament. That led to a Canada Sevens coach asking her to try out. Harvey surprised herself by making the cut. Coming from a humble background, the idea of supporting herself through sport became more appealing than finishing school, so she quit in her third year and moved to Victoria, B.C. to devote herself to rugby full time.
But Harvey's time on the national team could be gruelling. Harvey felt the coaches chose favourites. (Two years ago, 37 past and present members signed a statement saying the team's bullying and harassment policy failed them.) She ended up being taken off the Sevens team and instead played Fifteens, a blessing in disguise that exposed her to a totally different coaching style. The messages from her new coach felt alien to her—things like: "you're creative on the field so I'm not going to try to box you in" and "just have fun and be a good person."
That move led her to be part of the team that reached the finals in the 2014 World Cup. That same year, she was named World Rugby's Player of the Year, which cited her "electrifying pace, elusive running, ferocious defence and accurate place-kicking." A year later, she was part of Canada's gold medal-winning Sevens team at the Pan Am Games. But somehow, that still wasn't enough for Harvey to clinch a spot on the Olympic team—crushing her after all the sacrifices she made to play.
So Harvey headed abroad, playing in New Zealand before returning to Canada. She enrolled at Concordia while also coaching the McGill women's rugby team. She was nervous as a coach initially. At times, the leadership style that she had chafed under started to show in her own coaching. "The truth is, this scary thing happens when you get bullied and coached a certain way— you're like, 'Oh, this technique works,' " says Harvey.
When her partner at the time attended a practice, she told Harvey that her approach was a bit harsh, resembling some of the things Harvey herself hated about past coaches. "Suddenly I was patient, more communicative and kinder," says Harvey, laughing as she recalled how confusing that must have been for the team.
From there, Harvey wanted to cultivate her leadership skills and was accepted into Smith's Full-time MBA as a Game Plan award recipient. Working with the same small team of students taught her valuable lessons about navigating relationships. "It's not about the grade anymore—it's about making sure you connect with people," she says. She completed her degree as class valedictorian.
Now, Harvey is taking a "break" by returning to rugby before entering the traditional job market. In January, she started with a club in Madrid. As a more experienced player, her contract includes coaching duties. "Rugby has always been my happy place," she says.