An annual rite of passage for Commerce students gets an update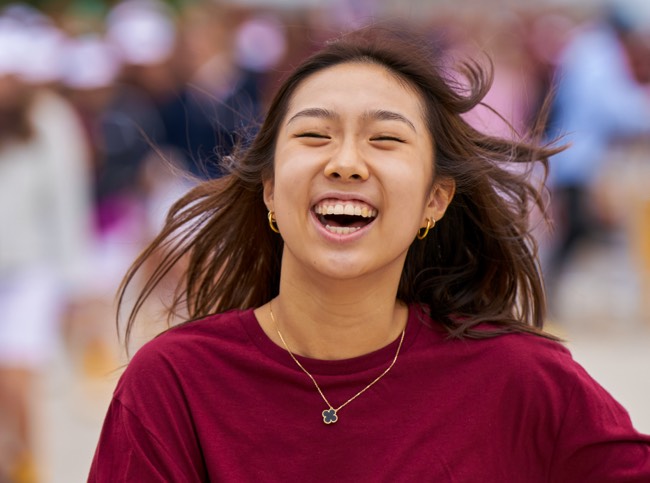 Smith Commerce Orientation Week may be steeped in a century of tradition, but it's staying in step with the times. Last fall, organizers made several changes to the program to ensure that when the welcome is rolled out ... everyone feels truly welcome.
"What's most important to the team is making sure every student feels they have a place where they belong and a community they are part of," says Brooklyn Winter, Comm'24, last year's chair of the Commerce Executive on Orientation (CEO). "Transitioning into the first year of the program is scary and Orientation Week plays a huge role in providing a safe, welcoming environment and setting students up for success for their time at Smith."
The revamp was part of Smith's broader shift to a more inclusive and equitable environment, and saw the in-person implementation of changes resulting from the Smith Commerce Orientation Transformation Project, led by Marla Macinnis, Comm'23, a past chair of CEO. "The transition to an in-person Orientation Week for the first time in two years was a great opportunity to introduce these changes because it was kind of a fresh start," Winter says.
Some of the key changes included a reduced orientation package fee and bursary program to help remove financial barriers to Orientation Week participation; new uniform options; the end to the socio-economic theme of "love" and of "money" in favour of the four suits of cards; a briefing and training for leaders on the realities of international students' experiences and how to offer support; and a mix of high and low-intensity activities.
One change that was a particular hit was "CommChill," which invited students to Goodes Hall for an evening to play video games, watch movies and engage in other activities. "The idea was it would be low intensity, but we also wanted to make sure students weren't in their dorm rooms feeling lonely," Winter says.
As Winter passes the CEO baton to Sagaana Sivathason, Comm'25, she says, "There are still areas that can be improved, and I'm excited to see the direction that Sagaana takes."