Steven MacKinnon, EMBA'98
The Liberal MP and chief government whip answers our questions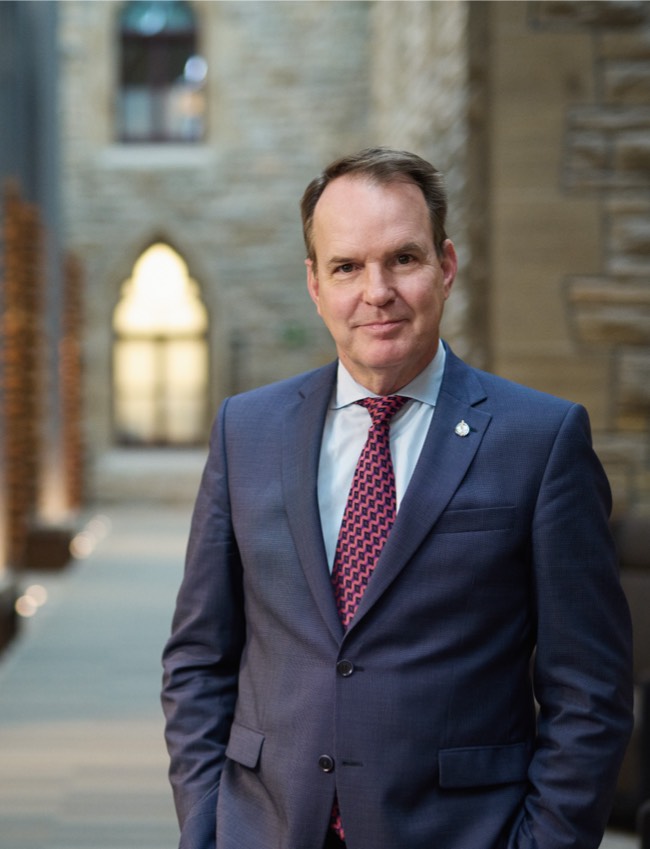 Steve MacKinnon is a political vet. He's advised a former prime minister (Paul Martin) and a premier (New Brunswick's Frank McKenna) and held key roles in the Liberal party. In 2015, he was elected Member of Parliament for Gatineau—and twice re-elected since. Today, he's also chief government whip, which puts him at the centre of parliamentary action. So what's the best part of being an MP? What's his advice for anyone seeking office? These are some of the questions we asked.
Where is your hometown?
I was born and raised in Charlottetown, Prince Edward Island.
When you were growing up, what did you want to be?
Either a touring drummer or commissioner of the NHL.
What was your first job?
I started delivering newspapers in the third grade, but my first real work experience was as a farmhand on my grandfather's dairy and my aunt and uncle's tobacco farms.
What made you run for office?
I had enjoyed formative experiences at the heart of provincial and federal political parties and governments. I felt passionately that the country was on the wrong track under the previous government. I decided that my best contribution to changing that was as a candidate.
What's the best part about being an MP?
Having access to virtually any expert on any issue. MPs can call upon research and information from almost any source. Experts and stakeholders are almost always eager to supply their perspective on an issue with an MP. If you're motivated to learn about an issue, the doors of knowledge are wide open.
What's the toughest part about being an MP?
Keeping your mind open to new information.
Name one thing that has helped you succeed in politics.
My family has been very understanding, and they get involved at important times. Without that, it would be impossible. My previous backroom involvement kept me realistic about what the job entailed.
What's your career highlight so far?
I was involved in the government's response to Covid-19, especially on the procurement side. It wasn't perfect, but in many respects it was an historic and effective undertaking which came as close to a war effort as I can imagine. Personally, being named chief government whip was also a great honour, as it is central to the operations of the entire Liberal parliamentary caucus.
What's your best advice for someone who wants to run for office?
Make sure those most important to you support you; get your facts straight; believe in yourself; and never stop knocking on doors.
Where's your favourite spot on Parliament Hill?
KIt's closed now for the Centre Block renovations, but the Library of Parliament is one of the most spectacular rooms in the country.
What's your best Smith memory?
As part of the national EMBA, we had outstanding summer sessions in Kingston and got to interact with faculty and other students. There were summer morning workouts in the park, evening outings and great friendships formed with people from across the country.
Who was a favourite Smith professor?
It's hard to single any out. Julian Barling was a deep thinker about organizations and leadership and made a somewhat dry topic come alive. Elspeth Murray and Peter Richardson opened my eyes on strategy and brought real-world insights. Ken Wong was a marketing evangelist. The faculty was excellent top to bottom.
What's your motto?
If you're going to be a bear, be a grizzly.
Your favourite all-time book?
"To Kill a Mockingbird". "Les Misérables". One English, One French.
What are you reading now?
"Slouching Towards Utopia: An Economic History of the Twentieth Century, by Bradford DeLong". It's a tour de force about the last century and how we succeeded, and failed, to progress.
Your favourite all-time movie?
"12 Angry Men".
What's the best advice you ever got?
Speak only when you have something to say.
What do you do when you're not working?
Reading, running, cycling and attending as many concerts as possible.
What's one thing most people don't know about you?
Like many active politicians, I am an introvert.
Where's your favourite places to travel?
London. Paris.
What's on your music playlist now?
Brandi Carlile, "Broken Horses"; The Smile, "You Will Never Work in Television Again"; Sheepdogs, "So Far Gone"; Danger Mouse & Black Thought, "Aquamarine"; Los Lobos, "Los Chucos Suaves; Father John Misty, "Q4"; Gord Downie & Bob Rock, "Lustre Parfait"; Vieux Farka Touré & Khruangbin, "Tongo Barra"; Yola, "Diamond Studded Shoes"; Bruce Springsteen, "Ghosts".
What's your idea of perfect happiness?
Peace, order and good government.