Read the latest issue of Smith Magazine
Posted on

October 23, 2023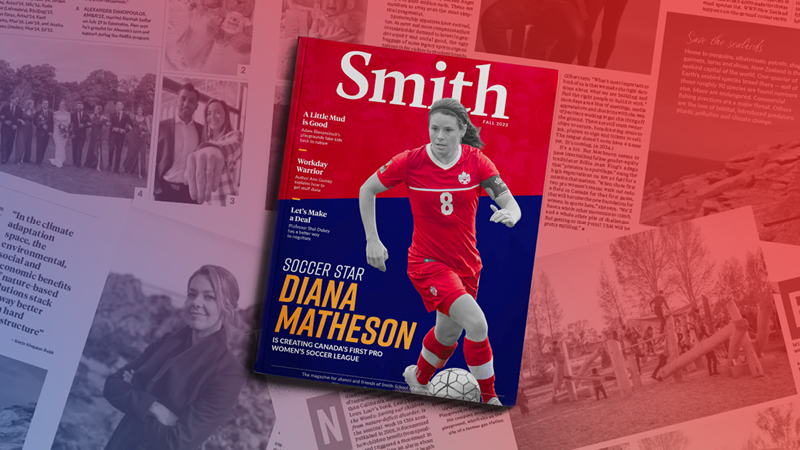 Kingston, Ont. – The fall issue of Smith Magazine is now available online and in print. Dive into the latest articles, including features, alumni profiles, school news and insights from faculty and alumni experts. You won't want to miss:
Going for the goaalll!
How Project 8, created by soccer superstar Diana Matheson, EMBA'23, with her classmate Thomas Gilbert, EMBA'23, Artsci'15, is igniting a new era of professional women's sport in Canada.
Ocean advocate
New Zealand is a marine nation under threat from climate change, pollution and more. WWF's Kayla Kingdon-Bebb, BCom'07, Artsci'07, is out to protect its fragile biodiversity.
The real art of the deal
Smith professor Shai Dubey, Law'94, explains why negotiation isn't the same as bargaining and why it's a skill we can all use.
Success with dress
Xenia Chen, BCom'14, never dreamed of starting her own business. Then she ran into a common problem with womenswear.
How to get stuff done
Ann Gomez, MBA'00, knows the secrets to reclaiming your time at work and being more productive in your day. She even wrote a book about it.
There will be mud
Adam Bienenstock, EMBA'01, is reimagining the way playgrounds are built and how kids spend time outdoors. His big idea: just add nature
Plus:
Communications lecturer Matthew Reesor, Artsci'96, explains how to answer the one question every job interviewer asks; former OHL player Tyler Nother, MBA'24, has a new place in hockey; a new Smith centre combines entrepreneurship, innovation and social impact; and get to know operations management professor Raga Gopalakrishnan.
Download the complete fall issue of Smith Magazine here.