Xenia Chen, BCom'14, never dreamed of starting her own business. Then she ran into a common problem with womenswear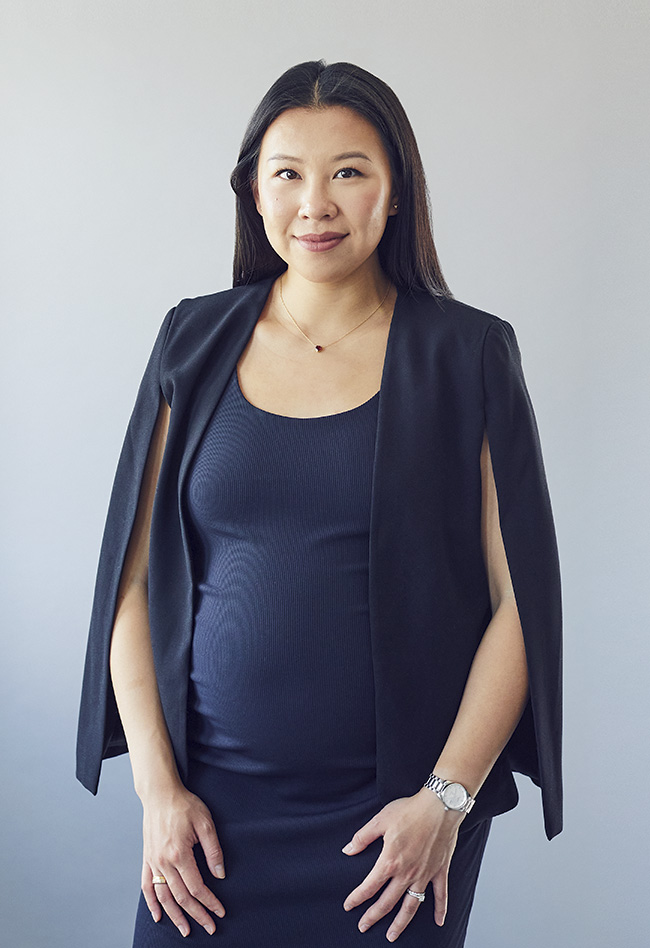 It was just a few months after completing her Commerce degree that Xenia Chen noticed how tough it was to find a pair of tights that would last. She was working as an investment banking analyst at TD, and hosiery was a regular part of the office wardrobe. "It was frustrating," Chen recalls. "I would go through so many pairs a week and I couldn't find a brand that I loved."
At the time, Chen didn't think about turning her apparel issue into a business. As an immigrant from Shenyang, China (her family moved to Toronto in 1997, when Chen was five), her parents encouraged her to find a stable job with benefits. "I had no interest in becoming an entrepreneur," she recalls. "I thought I'd be climbing the corporate ladder and making partner one day."
Chen's finance career with TD brought her to New York City in 2016. Then, in 2017, she returned to Toronto for an associate role in private equity at the investment management firm Onex. There, she worked 12-hour days. Yet, the job offered some reprieve from the demanding schedule at TD where she sometimes clocked 16-hour days. "After having no life for three years, I thought I had so much free time," Chen recalls with a laugh.
As she approached the new year in 2018, she decided to start a project with her newfound free time — developing a business to solve her hosiery problem. Chen improved the traditional design of tights based on responses from 200 women who answered a research survey she sent out. The new design had a contour control top that smoothed out targeted areas (front of the stomach, sides of the hips) and lifted the butt, yet was still comfortable to wear all day. She also extended the leg length by two-and-a-half inches to avoid the "double crotch" — when tights are too short to be pulled up to the wearer's actual crotch. Lastly, she added a double-reinforced sheer toe to prevent holes. Later, she evolved the design to include a shaped foot for a better fit.
Chen was determined to make the product affordable. People are happy to pay more than the ten dollars that drugstores charge for tights, but they don't want to spend $100, she says. Rather, her hosiery is currently priced from $23 to $46.
Chen kept working on her business idea during evenings and on weekends. She invested $10,000 of her savings to get it started. Eventually, she settled on a company name: Threads. "I knew I wanted to branch out into other wardrobe basics, and it was a great neutral synonym for clothing."
By October 2018, Chen had launched her improved tights (known as the Sheer Contour), and, with no marketing budget, saw her sales grow month over month at her online store, yourthreads.co. "That period was complete madness," she remembers. On weekends, she'd go to her parents' house in Richmond Hill, north of Toronto. There, she kept her stock of tights, turning the dining room table into a makeshift fulfilment centre. Chen's sisters, twins who are nine years younger than her, along with her mother, were enlisted to help package and label orders.
Adding new products
It was in February 2019, four months after launching Threads, that Chen left her job at Onex. "It felt really good and really freeing," she says of her decision to dive full-time into entrepreneurship. "I owed it to myself to give this a try."
Jokingly, Chen says she's glad she didn't know how much work it would take to carry her business through the Covid-19 pandemic. "Had I known, I would have said: 'Okay, it's time to quit.' " Like nearly all companies during this crisis, Threads faced supply chain issues but pivoted to mask-making early in the pandemic (thanks to its Italian-based factory foreseeing the need for reusable PPE and suggesting it to Chen) until the need for business wear rebounded.
Chen is grateful that she stuck with it. Last year, Threads branched outside of hosiery with nipple stickies — reusable covers that are worn under clothing to create a smooth shape. This year, it added contour shorts and bra tape. The new launches have bolstered already strong sales. Threads' sales grew 115 per cent year over year from 2021 to 2022. Growth is projected at 90 per cent this year.
Adding to Threads' achievements are major media coverage in places like the Today show, Fashion magazine and Good Housekeeping. That's thanks in part to the company's gender inclusivity policy, which has made Threads popular with people in the drag and crossdressing communities. It's another way that the company sets itself apart from competitors. Threads also now sells fly-contour tights designed for men. And it has expanded its distribution network. In addition to selling online, its products are now available in small independent clothing shops.
While Chen says she still faces ups and downs as a business owner, she has no regrets about becoming an entrepreneur. "I think it can be really addictive," she says. She is currently expecting her first child, due in November. A potential successor for her business? "That would be amazing," Chen says, quickly adding, perhaps as a product of parental expectations herself, "but I wouldn't want to push my kids into anything."