Jenna Archer, MBA'16, began her career as an engineer. Then she discovered her creative passion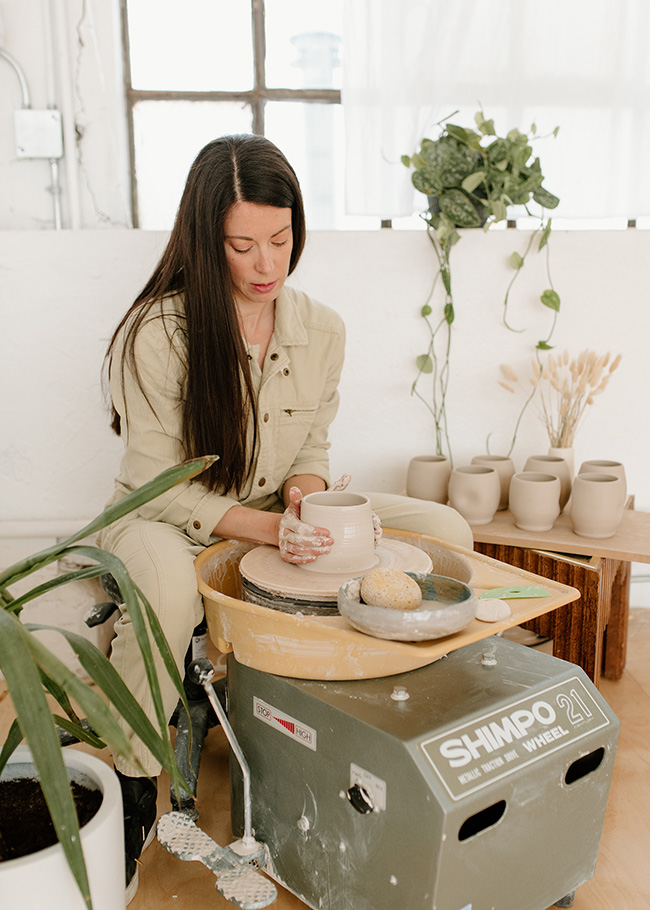 When Jenna Archer's two young children are napping or asleep for the night, she heads to her home pottery studio and gets to work. She transforms clay into mugs, plates, bowls and other modern household ceramics that are shipped from her Calgary-based business to customers around the world. "When I get on my pottery wheel, I feel very grounded," she says. "It's where I'm supposed to be."
It took boldness to get here; to reshape her life from a corporate career to the roles of artist, entrepreneur and mother to a two-year-old daughter and five-year-old son. Archer was an engineer in the oil and gas industry in Calgary, earned her MBA and then worked in several digital leadership positions at GE.
But after giving birth to her son and taking a year-long maternity leave, she couldn't picture herself returning to the business world that she had spent the past nine years rising in. "Ultimately, my corporate career was no longer aligned to my truth and serving the life I wanted to lead — a life filled with creative freedom, quality time with family and friends and adventure," she says. "I did a lot of reflecting over that year and decided that I needed to do something that I was truly passionate about."
Archer launched her ceramics shop Jenna Archer (jennaarcher.com) in 2019, combining her skills as a ceramic artist with her extensive business knowledge. After four years of building her company primarily during evenings and weekends, Archer recently hired branding and marketing consultants to help her business grow nationwide. She also launched Flower Girl Goods, a sister company for ceramic smokeware. "I truly love what I do," she says. "And for me, that made the leap to starting my business far less scary."
Artists in the family
Archer's introduction to pottery happened by chance in 2010. The recent mechanical engineering grad passed a ceramics studio one morning and glimpsed a pottery wheel demonstration through the window. "I walked by and was just captivated by the therapeutic quality that pottery offers," she says. She signed up for evening classes. She still has the first piece she made: a small black bowl.
Soon, Archer was spending most of her spare time at the studio. She took an engineer's approach to pottery. Armed with a logbook and scale, she weighed the clay after cutting it, measured it after throwing it, and weighed it again after it was fired, glazed and fired again. Knowing exactly how much the clay shrunk helped her learn how to create consistent pieces.
Eventually, with her cupboards full of pottery (and her family's and friends' cupboards filled too), Archer began selling her work at local markets. She loves how her handcrafted pieces encourage connection with self and others, like a mug clutched for morning coffee or plates pulled out for a boisterous family gathering.
Pottery remained a hobby, though, with Archer's attention on her engineering career. She wore many hats as a project engineer at Keywest Projects, dabbling in human resources, business development and corporate development. Wanting to evolve as an engineer, Archer applied for and was accepted into Smith's full-time MBA program.
About a week before her move to Ontario, she was diagnosed with thyroid cancer. She went through two surgeries and radiation therapy in Kingston, all while working on her MBA. She was able to spend the last two months of the program on exchange in Japan.
After graduation, Archer worked for two-and-a-half years in three leadership positions at GE, including a marketing role for the global operations team, commercializing a pipeline leak detection software and commercializing software for health care.
Later, as Archer began to grow her pottery business, she leaned on that varied work experience and education. She drew on her marketing background to create a strong value proposition and brand promise for her company, centred on making everyday life a little more beautiful. And she worked in sprints — the same method used in software development that she learned at GE — to test aspects of her business, fail fast and pivot when necessary.
Archer is intentional about seeking out the parts she misses from her past life, such as working on a team. She regularly collaborates with other businesses, like a mug project with the popular Western Canadian cupcake chain Crave Cupcakes. She recently started teaching pottery to others.
One of the hardest parts of running a business has been her change in title and the effect on her ego. "I felt very proud to say that I was a female engineer," she says. But, she adds, she comes from a line of strong women artists: her mom is an author, her grandma was a painter and her great-grandma was an award-winning cake decorator.
Balancing being an entrepreneur and mom isn't always easy. "I am continually reflecting on how I manage my time as an artist/entrepreneur and mother to ensure I am present in both roles — this is the hardest aspect of both my jobs," she says.
Yet, in her studio Archer feels at home. Her finished pottery sits on a storied yellow table that was Archer's grandmother's painting table, and before that, her great-grandmother's dining room table. When she's at work on the nearby pottery wheel, there's a meditative, smooth quality to working with clay, she says, while the repetitive motions of wheel throwing bring a soothing calmness. The clay can be transformed, just like each one of us.