Tyler Nother's hockey career ended with a championship. Now he has a new role in the sport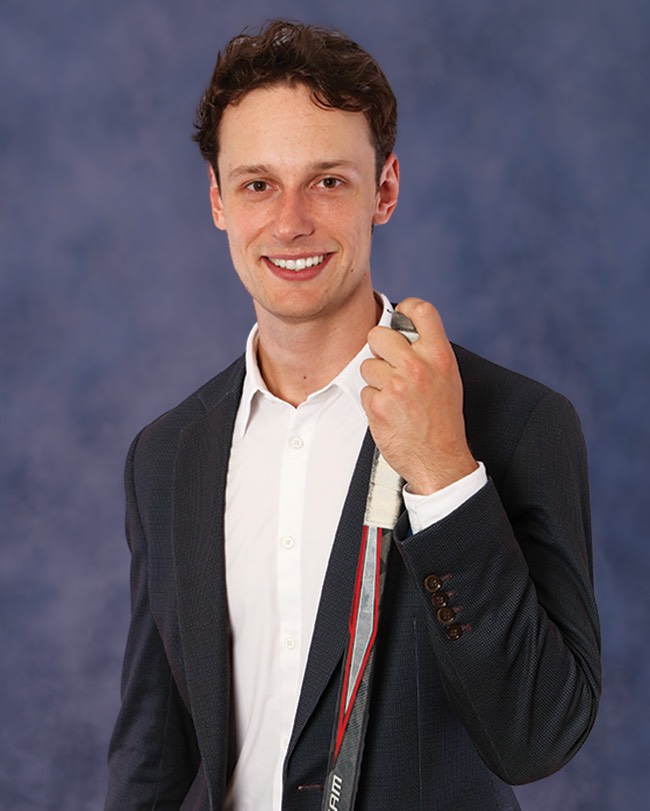 Tyler Nother is familiar with the dance between agent and athlete.
Once a teenage hockey player dreaming of a lucrative future in the sport, he has sat across from agents, visualizing a tantalizing professional career.
Years later, Nother, MBA'24, GDB'22, Artsci'22, is indeed on his way to a successful career in hockey. It won't involve lacing up skates or meting out bodychecks though.
Soon, Nother will be the agent seated before hockey players and their families, as a player agent with Newport Sports Management, an agency with more than 125 National Hockey League clients.
"I wasn't the player that went on to make millions of dollars playing professional hockey," says Nother, who began the sport as a four-year-old in Orangeville, Ont. "I was somebody who had to work hard to achieve what I was able to do in hockey."
Nother's career in the Ontario Hockey League spanned 159 games as a defenceman with the London Knights (2014-16) and Windsor Spitfires (2016-17). His final season, in 2017, ended with a Memorial Cup championship. His experience building relationships on the ice, in the locker room and outside of the arena will come in handy when he begins recruiting Ontario-based players for the largest talent agency in hockey. The Mississauga, Ont.-based company has a cadre of high, first-round NHL entry draft picks, including the most recent No. 1 pick, Connor Bedard, selected by the Chicago Blackhawks in June.
Just as Bedard wows on the ice, Nother has not gone unnoticed at Smith. Fulltime MBA program director Matthew Reesor, Artsci'96, says Nother has the ability to engender feelings of warmth in those with whom he communicates while projecting quiet confidence.
"He will be an excellent sports agent not just because of his academic business training and his personal experiences as a high-level athlete," Reesor says. "He will be an excellent sports agent because he understands how to establish trust and credibility with those around him."
No matter the setting — on ice or in the boardroom— trust and credibility are championship-level attributes.