"This is your Captain speaking"
A familiar face takes the yoke of Smith's MMIE program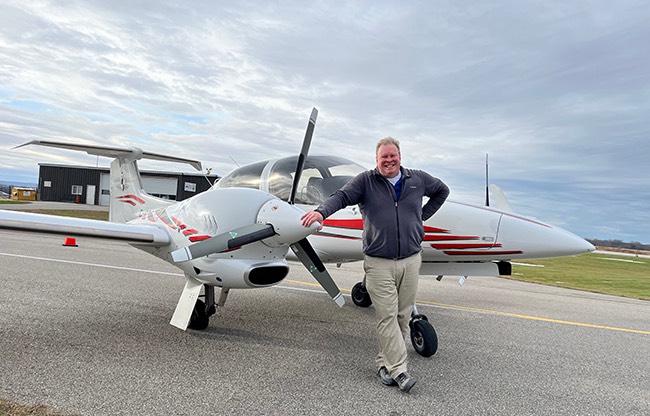 A new pilot is charting the course of Smith's Master of Management Innovation & Entrepreneurship (MMIE) program.
On July 1, Peter Gallant, BSc(Eng)'91, MSc'93, PhD'01, began a one-year term as the program's director, taking over from Nusa Fain, who will continue teaching on the program until April, 2024.
Gallant has taught at Queen's in one capacity or another since 1995 — first as an academic assistant in the Faculty of Applied Science and Engineering. He joined Smith in 2010 and has taught in the MMIE program since its launch in 2015. He became a continuing adjunct assistant professor in 2018.
"I have seen the program grow not only in terms of reputation and popularity, but also in terms of the unique expertise of the teaching team, the novel program structure and world-class individual and team coaching and mentoring models," Gallant says. "These make MMIE one of the leading programs for developing the next generation of entrepreneurs, corporate and social innovators."
Outside the classroom, Gallant ran his own company and was CEO of Ontario's Water Technology Acceleration Project. He consults, coaches and mentors entrepreneurs. In his spare time, he loves to fly. He's been a licensed private pilot since 1997. "We lived near Pearson Airport in Toronto when I was growing up, so going to watch airplanes take off and land was a frequent weekend activity. I also often built model planes, so learning to fly them was a logical extension of my interest."
Stepping into the cockpit of the MMIE, Gallant says igniting student engagement is his top priority. "While student engagement in general has been a challenge for universities in the return to in-person after Covid, it is so fundamental to the success of social and corporate innovators and entrepreneurs and is a key element of the MMIE journey and experience."