In his work and life, Alain Mootoo, MMIE'18, aims to empower the overlooked and marginalized among us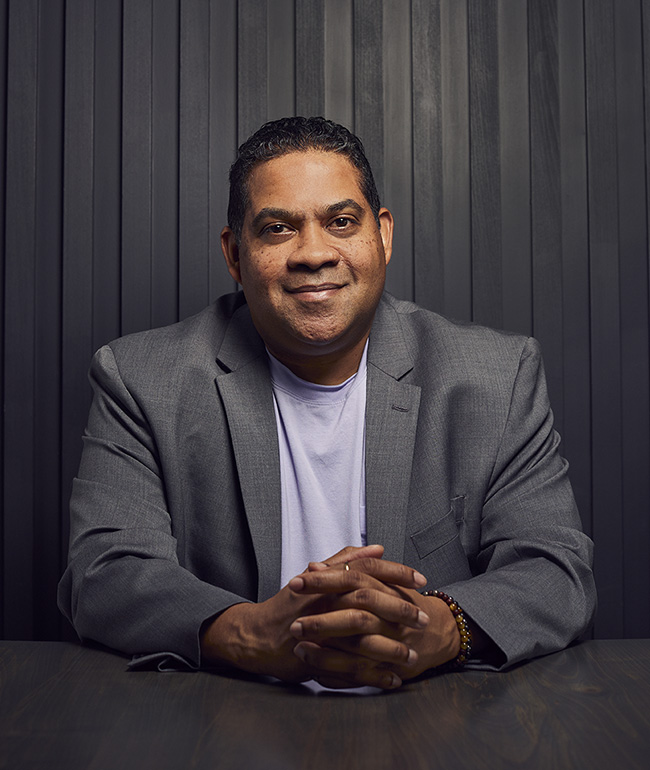 How do you go from being an auditor on a small Caribbean island to overseeing fundraising operations at one of the premier mental health research centres in the world? Alain Mootoo will say it's about trusting your gut, taking risks and working towards something you truly care for. "I may be good at accounting, but education and entrepreneurship and making a difference is what I'm really passionate about."
True to his word, Mootoo took many risks before securing his current role as chief operating officer at the Centre for Addiction and Mental Health (CAMH) Foundation in Toronto. The first was leaving a full-time post at PwC in Trinidad and Tobago to move to Canada in search of a culture more accepting of the LGBTQ+ community he is part of.
During a two-week holiday in 1998 to visit his sister in Toronto, Mootoo sent resumés to all the major accounting firms in the area. He uprooted his life after earning a spot at Ernst & Young as a senior auditor. Then, several years in, when he discovered his foreign-trained accounting certification prevented him from progressing up the corporate ladder, he switched gears to join Corus Entertainment as director, planning and analysis for a $215-million network of 52 radio stations across the country.
Trusting his instincts, Mootoo pivoted once again in seizing an opportunity to join March of Dimes Canada, where he led finance and administrative functions for the community-based charity and created Toronto's first Pride Day float for people with disabilities. Not only was the work fulfilling, but it also steered him towards his ultimate career path in non-profits, where he can use his skills to help those in most need of support.
Mootoo went on to make his mark in senior financial management positions at several non-profits, including Surrey Place where he helped increase revenues by 82 per cent and developed four new full-time positions for those with "lived" experience in developmental disabilities and autism. He even launched a charity, Join the Dance Canada, making dance programs accessible to more than 2,500 youth at inner-city Toronto schools.
"I realized that if I'm going to do this career, I'm going to focus on people who are overlooked and marginalized, and I'm going to help shine a light on them," says Mootoo, remembering his struggles as a flamboyant adolescent growing up in Trinidad and Tobago, where it was illegal to be gay. A victim of school bullying so severe it prompted frequent fainting spells, he says he didn't know what being gay was, even though he was called it. That was in the early 1980s, back when almost no one talked about mental health. "When doctors attributed my fainting spells to psychological issues, that was like a death sentence," he says.
Intrapreneurial thinking
Today, it's particularly fitting that Mootoo is at an organization where mental health and the marginalized communities most impacted are at the forefront of a major fundraising effort. In overseeing operations and strategy at the CAMH Foundation since 2022, Mootoo is contributing to a $500-million fundraising campaign called "No one left behind," the world's largest in support of hospital-based mental health research. Funds will help build a state-of-the-art, 385,000-square-foot research and discovery centre to be completed by 2027, which is expected to attract top researchers in the field from around the globe. "Mental health is the number one health issue right now . . . so to be able to contribute to a campaign that will impact the communities I'm passionate about is pretty amazing.
He's also looking to enhance the centre's technology systems and processes. "We have over 54,000 donors and we're in the middle of major data mining to understand trends that will help us engage them around new proposals," he says. In leading the foundation's equity, diversity and inclusion committee, Mootoo aims to inspire "courageous conversations" around diversity in the workplace too, while improving employee engagement, which he says is already showing significant uptake compared to last year.
Looking back on his career so far, he notes the importance of being an "intrapreneur" — someone who can challenge the status quo by offering new ideas and perspectives. "My experience with many organizations is that their success becomes a barrier to future success because they get stuck in a certain way of operating," he says. "Intrapreneurs are needed to shake things up in a positive way."
Being the person to do the shaking up isn't always easy. Mootoo credits the Master of Management Innovation & Entrepreneurship (MMIE) program at Smith for giving him new tools and perspectives to consider in improving business operations. "The program gave me a lot of hope and inspiration that this is the right career path for me," says Mootoo. "In business, it's not just about achieving goals and hitting the numbers, but it's about being an advocate for ourselves and others like us." In other words, it's about reaching for something bigger and creating a better future where, Mootoo says, "no one is left behind."