How Project 8, created by soccer superstar Diana Matheson, EMBA'23, with her classmate Thomas Gilbert, EMBA'23, Artsci'15, is igniting a new era of professional women's sport in Canada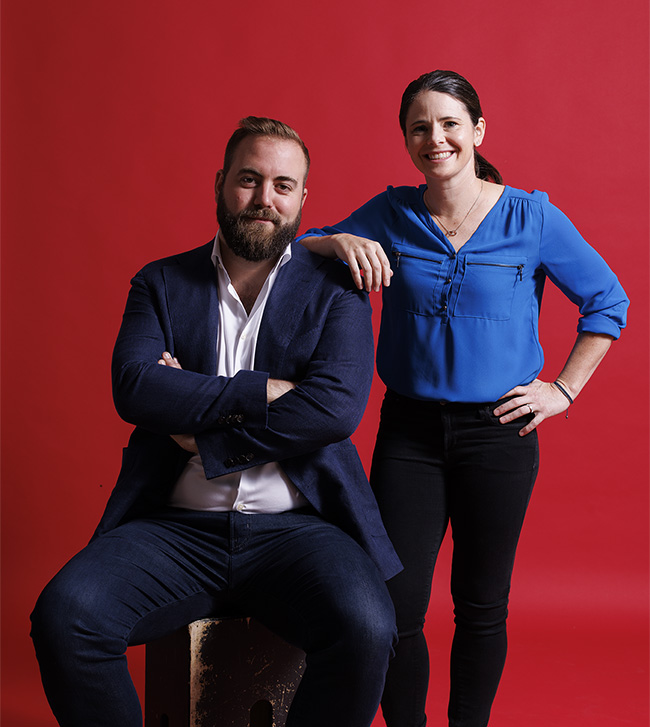 It's a few days after Canada's unexpected early exit from the FIFA Women's World Cup in August and Diana Matheson is everywhere. Here she is with post-mortem analysis in the pages of the Globe and Mail: "A women's league is necessary if Canada is going to have a national team that competes at the highest level." Here she is showing her broadcast chops in a chat with Raegan Subban on TSN: "There's no secret to women's soccer. The key is investment."
And here she is on CBC Radio, commenting on former teammate Christine Sinclair's post-loss quip that the result should be a "wake-up call" for more resources to support the women's game in Canada, including a domestic professional league — something that exists in every other country that competed in the tournament except Haiti: "I think it's important for Canadians to know we can catch up here."
It's not quite the conversation Matheson planned to have around the World Cup. In her interview for this article a few weeks earlier, on the eve of the tournament in Australia and New Zealand, she was counting on a deep Canadian run to drive interest in Project 8 Sports Inc., the upstart organization she and her Smith classmate Thomas Gilbert, EMBA'23, Artsci'15, founded in 2022 with the audacious goal of developing a professional women's soccer league in Canada by 2025. No one expected the team that won Olympic Gold in 2021 to fizzle in Australia.
But Matheson is not one to take her eye off the endgame. A disappointing match or two, even on such a high-profile stage, only reinforces the mission that has come to dominate her life since she hung up her cleats in 2021. Project 8 is deep in the work of creating a new sport ecosystem, and the organization's progress to date has offered validation point after validation point for the pent-up demand for a domestic women's league in Canada. Three — soon to be four — of the league's planned eight teams are sold (in Vancouver, Calgary and Toronto); a slate of founding sponsors are on board (including Air Canada, CIBC, Canadian Tire and DoorDash); and a coterie of agencies are helping build the branding, marketing and broadcasting muscle needed to win fan attention and loyalty.
Moreover, since the day last December when Matheson announced the league (with Sinclair at her side), she's been inundated with messages from young girls, grateful and giddy to have new and — no exaggeration — life-changing possibilities in the sport they love. Project 8 offers a rare chance to build both a world-class business and a more equitable sporting world. The stakes are high and, with the league's launch date only a year and a half away, there's no time to dawdle. "There is just a really obvious gap and a really obvious opportunity here," Matheson explains. "It's like, how can this not work? Let's get going."
Thankfully, she knows how to hustle.
Diana Matheson's life shifted on Aug. 12, 2012. Two minutes into extra time in the bronze medal match at the London Olympics, with the score deadlocked nil-nil, she rushed towards the net on the right flank of a Canadian surge, picked up her teammate Sophie Schmidt's shot as it deflected off French defender Sonia Bompastor and pocketed the ball deep in the mesh. The goal won Canada its first Olympic soccer medal in 108 years, sparking new interest in the women's game and making Matheson a household name.
It's a highlight-reel moment, to be sure. But as any athlete will tell you, success is simply what happens when a whack of hard work meets the right moment. Matheson had been studying the game since she started playing it as a kid in Oakville, Ont., absorbing and improving through her award-winning tenure at Princeton University and her professional debut, such that when opportunity arose in London, she had both the skill and the confidence to strike.
It's not hard to draw parallels to her work today. Because Diana Matheson's life shifted again in the summer of 2021. That's when she: a) retired from playing after 15 years lacing up for national teams and pro clubs in Norway and the U.S., b) started both the Smith Executive MBA (supported by the Canadian Olympic Committee through its Game Plan program, of which Smith is a founding partner and the COC's exclusive business education partner) and the Union of European Football Associations (UEFA) Academy's Executive Master for International Players and c) began to think seriously about the feasibility of a pro league in Canada.
It wasn't a new idea. Canadian players had been following the growth of the U.S. National Women's Soccer League (NWSL), which employed many of them — including Matheson. She had played pro for teams in Washington, Seattle and Utah since the league's launch in 2012. Some, most notably Matheson's former teammate Carmelina Moscato, had started pursuing a domestic league that would allow players to earn a living at home in Canada. "We'd succeeded on the international stage for decades; the only thing missing was that professional side of the game. And we'd watched as the rest of the world really invested in that space," Matheson explains. "I knew I wanted to stay involved in helping progress that somehow."
Matheson's courses of study galvanized that notion into a plan. The UEFA program deepened her understanding of the strange and unique business of sport. The Smith EMBA equipped her with useful financial and management skills and, equally importantly, introduced her to Gilbert — an operations whiz who'd enrolled in the EMBA program to pivot a successful career in consumer packaged goods into something more purpose-driven. The two happened to be placed on the same team for the 16-month program, and the professional connection was immediate.
When Matheson suggested the team consider making the business case for a women's league during a pitch competition in the program's Entrepreneurship Essentials class, the challenge lit Gilbert up. The pitch was a smash, winning the most class votes and a fictional payout and catching the attention of instructor Elspeth Murray, MBA'87, Artsci'85, associate professor of entrepreneurship and strategy and CIBC Faculty Fellow in Entrepreneurship at Smith. "You could feel the passion coming through," recalls Murray, who now sits on Project 8's board. "It was so clear that they really understood this market."
Bolstered, Matheson and Gilbert couldn't stop talking about the league. They hashed out ideas over beers and jotted down concepts on napkins, to the point that when Matheson sent Gilbert a voice memo in the spring of 2022 asking if he'd consider teaming up to pursue this for real, he was all in. "Diana is a force," Gilbert observes, referencing her ability to galvanize people behind a cause. "It's hard not to be inspired."
A Growth Market
Wondering whether there's money in professional women's sports in Canada? Wonder no more: the numbers show a compelling business case.
Growth in audience for the U.K.'s Women's Super league from 2020 to 2021.
Average per-match increase in attendance at the FIFA Women's World Cup in 2023 vs 2019.
Franchise fee to purchase a team in the Canadian professional women's soccer league being built by Project 8.
Growth in value of U.S. National Women's Soccer League teams over 10 years.
Average year-over-year commercial revenue growth in pro women's soccer clubs globally.
Degree to which fans of women's sports are more likely to buy sponsor products than followers of men's sports.
Estimated size of the "underdeveloped" pro women's sport market in Canada, according to Canadian Women & Sport.
Sources | Canadian Women & Sport, Project 8, FIFA, BBC, The Space Between
If you're going to turn your life over to a massive job like launching a pro sports league, it helps to believe that your work will make the world a better place. For Project 8, this is easy. A domestic professional women's league stands to benefit players, who want the stability and earning potential — to say nothing of the desire to be close to friends and family — of working in their home countries. Every single member of Canada's 2023 World Cup squad plays for a pro club or collegiate team in the U.S. or Europe. A Canadian league will create feeder teams and development streams that will deepen the country's pool of talent. It will also attract more female players to the game and — crucially — keep them there. Currently, one in three girls stops playing sports in adolescence, compared to one in 10 boys.
Yet, despite the clear societal benefits a pro women's league stands to create, the business of it all has traditionally been hard for investors, execs and other purse-string-holders to get their heads around. And that's where things get exciting. Audience interest in women's sports generally — and women's soccer, specifically — is growing with gusto. "There have certainly been other points in my career when I felt like it was on the path to breaking through," reflects Nathalie Cook, who signed on to advise Project 8 after retiring from a storied run in sports media, most recently as vice-president at TSN/RDS. "This is a different inflection point."
A few factors are driving this. This past World Cup aside, Canadian women tend to over-deliver on medals at international events. Nearly 80 per cent of Canadians see women in sport as great role models; half consider female athletes as fun to watch as men. Globally, social media has given women athletes new, gatekeeper-free ways to connect directly with extremely engaged fans. (Think of U.S. winger Megan Rapinoe, whose bold personality has drawn more than two million followers on Instagram.) It all adds up to a burgeoning audience that skews young and diverse — catnip for marketers and broadcasters.
Beyond fandoms, the investor ecosystem has changed. As the valuation of pro men's teams bloat and bubble (this past spring's frenzied bidding war for the beleaguered Ottawa Senators is exhibit A), would-be owners are finding the price point and the potential for growth of women's franchises appealing. In America's NWSL, teams that were purchased for as low as $150,000 in 2012 are now worth between $35 million and (in the case of the celebrity-backed Angel City FC) $100 million each. These are numbers to sway even the most skeptical pragmatist.
Sponsorship appetites have evolved, too. As more and more companies adjust to stakeholder demand to invest in gender equity and social good, the ugly baggage of some legacy sports organizations is far riskier to prudent brands than organizations like Project 8 with clean slates and mandates to foster positive change.
"There is a compelling business opportunity here in Canada that is largely untapped and that is actually behind our global counterparts," explains Allison Sandmeyer-Graves, CEO of the advocacy organization Canadian Women & Sport, whose recent report, "It's Time" — which Cook contributed to — outlines how corporate Canada can meet unprecedented demand for professional women's sport. "Project 8's timing is really good."
Of course, an opportunity is only as useful as the ability to capitalize on it. That's why Matheson and Gilbert have been running full tilt for more than a year. Project 8 is smack in the middle of a strategic plan that will see it through to its first match in April 2025.
The league's guardrails are strong: It will be a made-in-Canada solution, picking elements of what has worked for pro women's leagues in the U.S., Europe and Australia, and applying them to the unique requirements of our market. It will aim for world-class production values in everything the fan experiences, from her seat in the bleachers to the recaps she watches on her phone. And it will centre fair and safe treatment for everyone, with robust systems and structures to protect the integrity of the league and its players. "We absolutely have to build this thing differently," Matheson says.
Today, Project 8 has five employees and counting. Matheson has the title of CEO, but she and Gilbert operate as partners. His practical acumen complements her vision and convening power as they tackle problems together. "We're very symbiotic in how we collaborate," Gilbert says. "What's most important to both of us is that we make the right decisions about what we are building and find the right people to build it with." Most days are a blur of meetings, media appearances and check-ins with the web of partners working to get this thing off the ground. There are still team ownerships to secure, broadcasting deals to ink, players to sign and tickets to sell. The league doesn't even have a name yet. (It's coming, in 2024.)
It's a lot. But Matheson seems to have internalized fellow gender-equity trailblazer Billie Jean King's adage that "pressure is a privilege," using the high expectations on her as fuel for a mission that matters. "When those first two pro women's teams walk out onto a field in Canada for that first game, that will become the new foundation for women in sports here," she says. "We'll have a whole other mountain to climb, and a whole other pile of challenges. But getting to that point? That will be pretty exciting." 
The confidence quotient
Diana Matheson learned a lot in her post-retirement studies, but her biggest takeaway was not something she read in a textbook or heard in a lecture. "As an athlete going into an MBA program, I think you're a little intimidated that you don't have the background or the knowledge to do it," she reflects. "But I found really quickly that most people in the program feel that way. We all have a bit of impostor syndrome. As you get to know one another and why you're all there, you get to learn and grow and leave the program with not just knowledge, but a ton more confidence."