New issue of Smith Magazine is now out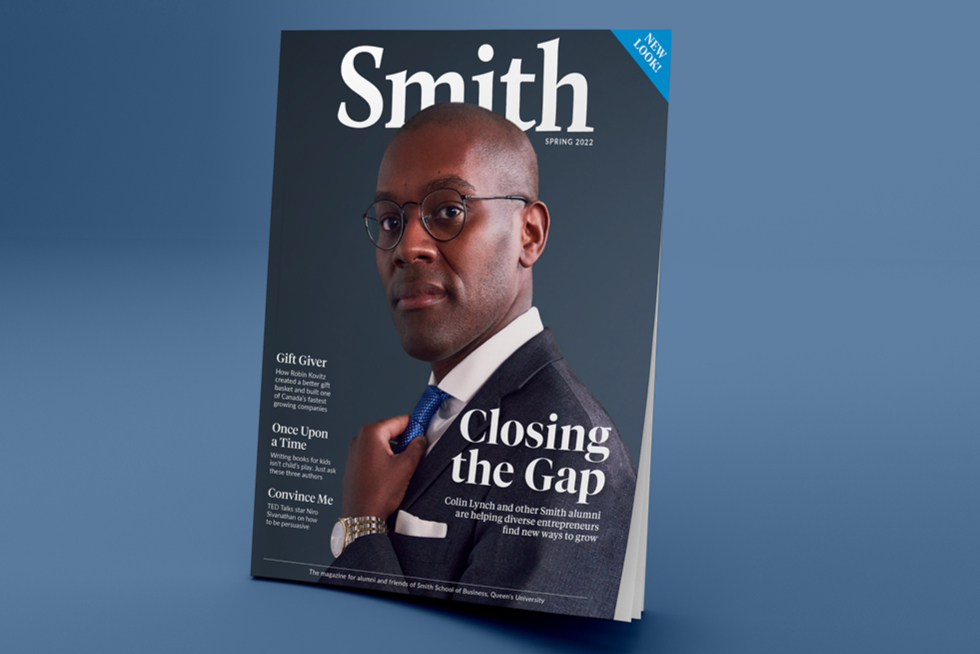 Kingston, Ont. – The latest issue of Smith Magazine is now available—with an all-new print magazine look. This issue includes feature stories, alumni profiles, school news and insights from faculty and alumni experts. Highlights include:
Closing the funding gap
Black, Indigenous and other diverse entrepreneurs often have a hard time getting their businesses funded. A new movement hopes to change that, with several Smith alumni leading the way.
Adventures in advertising
Jill Nykoliation, BCom'93, left a promising corporate career to work in advertising. Now she runs one of Canada's best (and most creative) ad agencies.
Provoke the future
Steve Goldbach, BCom'96, bestselling author of Provoke, on why caution is no longer the best strategy for business leaders. In other words: Do something!
Once upon a time
Ever wanted to write a children's book? Meet three grads who have: Lipika Sahoo, MBA'09, Anitha Rao-Robinson, BCom'89, and Mark Pichora, MBA'09.
The gentle art of persuasion
TED Talks star Niro Sivanathan, MSc'02, Artsci'01, on how to make a convincing argument.
Empowering working moms in Africa
Sahar Jamal, BCom'11, Artsci'11, is looking to make a difference in Kenya and beyond.
Plus:
How Baskits' Robin Kovitz, BCom'02, built one of Canada's fastest growing companies one gift basket at a time; Professor Pierre Chaigneau discusses pay transparency (Should you know what your co-workers earn?); meet Professor Ceren Kolsarici; and much more!
Download the complete spring issue of Smith Magazine here.