Robin Kovitz, BCom'02, understands the magic of receiving a gift basket. She built her business on it.
Robin Kovitz, BCom'02, President and CEO of Baskits Inc., swore she'd never become an entrepreneur like her father. Growing up, she learned that running a business came with so many ups and downs. So many uncertainties.
"The ups were exhilarating, but the downs were terrifying. The overall stress was hard to watch," says Kovitz, whose father owned and operated a large food manufacturing and distribution company in her hometown of Calgary. She spent many weekends and summers working there as a student. "I saw up close how risky entrepreneurship was and longed for the stability of a corporate job."
So, when Kovitz went to study Commerce at Smith, it was with the intention of working for a bank. "I couldn't think of anything more stable," she says. After graduation, she spent three years as a mergers and acquisitions investment banking analyst at CIBC.
Three years later, she decided to get her MBA at Harvard. There, she took a personality test and was amazed at what it revealed about her ideal career path. "I was off the charts for entrepreneurship," she recalls with a laugh. "At the time, I remember thinking, 'This test must be broken!' "
Fast-forward a half-dozen years, and, after working for a couple of private equity firms, Kovitz conceded to the personality test and started her entrepreneurship journey. One reason: She was looking to set her own hours as she started a family.
In 2011, Kovitz co-founded Jet Star Capital Ltd., a search fund company that finds established businesses and acquires them. The name Jet Star stems from the concept of picking a star and propelling it to the next level, Kovitz says. In making that move, she became among the first women in the world to launch what's known as an "entrepreneurship through acquisition" search fund company, which buys a company intending to improve it instead of starting a company from scratch (see "A different path to entrepreneurship" on page 44).
While Kovitz had the financial chops to grow an enterprise, finding one she wanted to buy and build wasn't easy. Several deals fell apart for various reasons before she bought gifting company Baskits Inc. in 2014.
She initially dismissed the gift basket seller as lacking the market and growth potential she envisioned in an acquisition target. "I thought, 'Anyone can make a gift basket in their basement.' But then, when I started to dig into it, I saw that it had a lot of the criteria that I was looking for in a company and a lot of opportunities," Kovitz says of Baskits, which was founded in 1985. "I also saw an opportunity to bring fresh thinking to the industry."
Eight years later, and through two unpredictable pandemic years, sales at Toronto-based Baskits have grown sevenfold, driven by its rapidly expanding e-commerce site (Baskits.com). Kovitz says the company's goal is to reach $100 million in annual sales, up from a few million when she first bought the company. In 2021, Baskits made the Globe and Mail's annual ranking of Canada's Top Growing Companies, with three-year growth of 184 per cent. It was the second consecutive year that Baskits made the list. For the second year, Kovitz was also named one of the 100 Most Powerful Women in Canada by the Women's Executive Network. She was recognized by WXN in its entrepreneurs category.
Today, Baskits has around 50 full-time employees and 100 seasonal staff that come on board for busy gift-giving times such as Christmas, New Year's, Valentine's Day, Nurse's Week and Easter.
Kovitz credits a strong team for the rapid expansion. It's a group that has executed and contributed to her vision of transforming gift giving from a simple transaction to a memorable and impactful experience. "I thought, 'What if, when you opened a gift, each item inside was more interesting than the next? Not just a whole bunch of stuff thrown together, but high-end items thoughtfully curated,' " Kovitz says.
"My first strategy was to elevate the product because our competitors weren't doing that."
Through Baskits.com and three stores in the Greater Toronto Area, Baskits offers a range of products from gourmet food and alcohol to baby clothes and household items. Many are curated under Baskits' brands such as Dabble & Drizzle (combinations of chocolate, nuts and other sweets), Jake & Jill (a line of baby clothes and other products named after Kovitz's two children) and Empress & Co. (a tribute to her late grandmother, Muriel Kovitz, that includes everything from candles to cashmere socks).
It wasn't just the quality and variety of gift-basket products that Kovitz set out to improve with Baskits. She also wanted to step up the gift-receiving experience. As a result, the company created an in-house courier service instead of relying on third-party companies.
"I really wanted to focus on high-end service," Kovitz says, "because I learned that—no matter how good the design and purchasing and assembly is—if the person delivering it is smoking a cigarette and throws it on your front step, you're not going to have a good experience. We worked on building our courier network and created a very sophisticated dispatch and tracking software system."
While the expansion strategy has been a success, the business has faced its share of challenges, the latest and largest being the pandemic.
"Like most businesses, it was terrifying at first," says Kovitz. In 2019, months before the pandemic hit, Baskits launched a travel gift business called Slice of Canada, which sells Canadian loonie-style chocolates and maple syrup products in airports. That business understandably took a hit amid pandemic-related travel restrictions.
The gift-giving side of the business also slowed at first, which prompted Baskits to get a medical device licence and start importing and selling face shields to boost revenue. But as the pandemic hung on and people got used to living in lockdown, many began sending gift baskets as a way to reach out to friends and loved ones they couldn't visit in person. So, while the Baskits stores in Toronto were closed in the pandemic, the company's e-commerce sales remained steady.
The additional business was great news. Meanwhile, Kovitz and her team managed operations, with staff working from home while ensuring the front-line staff, including delivery teams, were protected and safe. More recently, the company has had to contend with higher costs amid rising inflation and supply chain shortages.
"It's been a challenge," Kovitz says. "How can we provide the same or better value at a time when costs are increasing materially, and no one wants to pay more?" Kovitz says her team has adjusted by purchasing more inventory in advance and leveraging strong relationships with lenders.
It's the kind of entrepreneurial ups and downs that Kovitz shied away from at the start of her career—and is glad she eventually embraced.
"The fun thing about business is that it's constantly changing, and so we're also constantly adapting. And that's what makes it so exhilarating," Kovitz says. "I guess you can't really fight who you are."
In this issue
Features
Connect
Insight
Smith HQ
My Other CV
Dean's Message
A different path to owning a business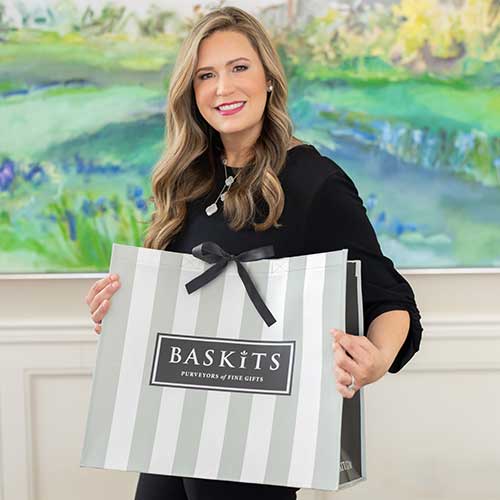 Most people who want to run their own business go the startup route. They come up with an idea, try to finance it and grow from there. But there's another way: entrepreneurship through acquisition (ETA) with a search fund model. That's how Robin Kovitz became an entrepreneur. Today, she's often asked to speak about the ETA route.
The goal of ETA, she says, is to buy an existing business, become its CEO and build the company into a larger and more successful enterprise. The search fund model, which involves investors, provides relatively inexperienced professionals with limited resources the opportunity to search for, acquire and operate a business in which they have a meaningful ownership position.
Kovitz says there are three big advantages to the ETA model. The first: You don't need to come up with a good startup idea. The business you're buying has presumably already proven itself. Second, the seller usually teaches the buyer the ropes of the business as part of the ownership transition. Third, Kovitz says, the business is already generating cash flow. That means, as a new owner, you can get broader access to capital than you would going the startup route.