UPstart winner tackles trash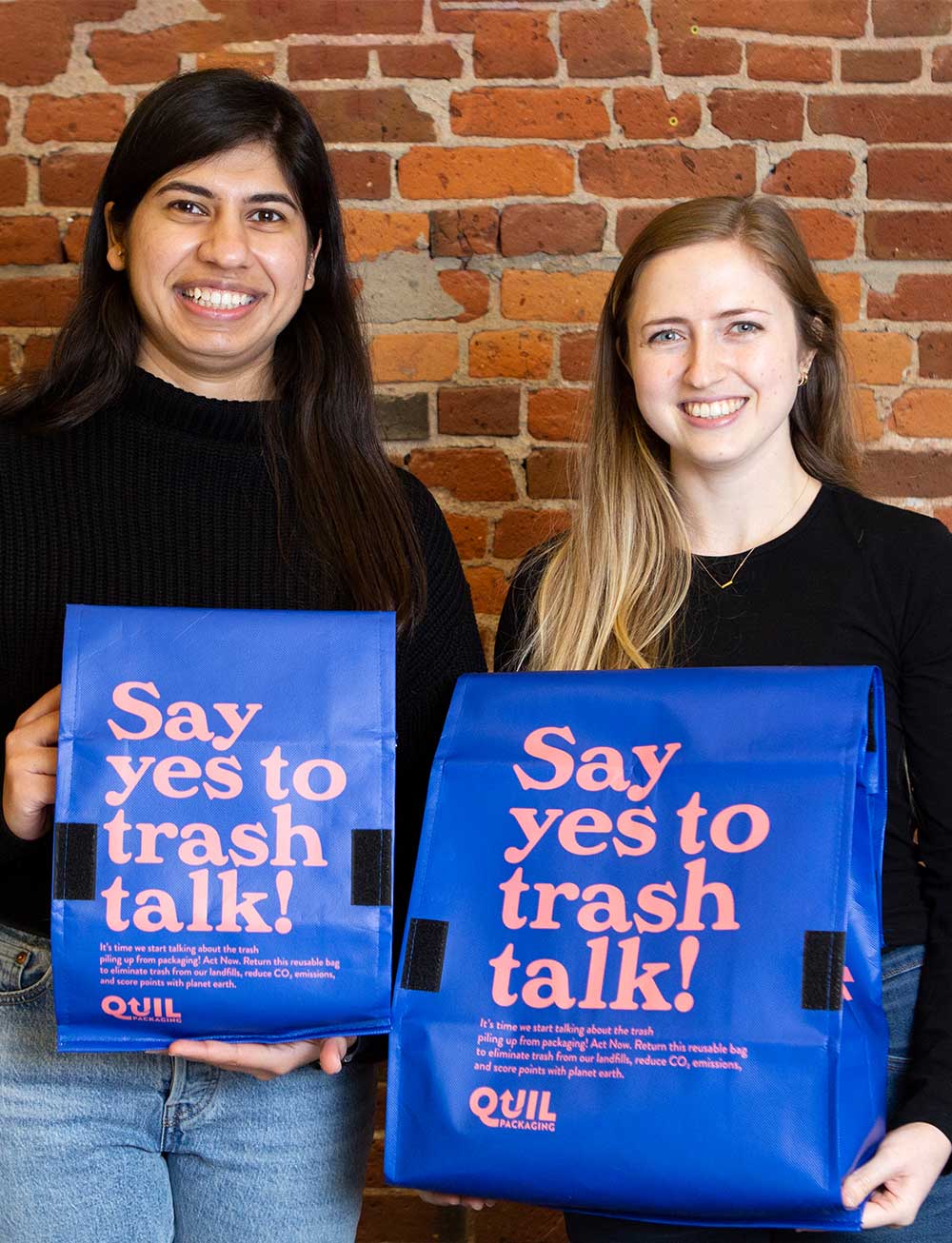 When the pandemic hit, e-commerce surged. Roommates Kelly Thomson, BCom'16 and Mehwish Panjwani, BCom'16, quickly found space in their Toronto apartment taken over by packaging from their online orders.
"Neither of us wanted to be the one to spend an hour breaking down the boxes and dealing with moving them out," Thomson recalls. "We had this moment: 'Hey, this is really annoying for us as consumers and it's awful for the planet.' "
There had to be a better solution. Armed with Thomson's background in supply chain and cost optimization with Bain & Company, and Panjwani's strategy and operations design experience with the Boston Consulting Group, they set out to create a reusable e-commerce packaging solution.
The result—and winner of $40,000 in Smith's annual UPstart Venture Challenge in December—is Quil. The company (shopquil.com) sells reusable packaging made from recycled nonwoven polypropylene. Its bags come in three sizes and are already used by Prana Vida, Uncle Studios, Hernest Project and Atelier B.
"We cold-emailed 30 brands and said, 'Hey, we're bringing reusable packaging to Canada,' " Thomson recalls. That was July 2021. By November, bags were shipping to customers (selected as an option at checkout). Once delivered, Quil bags fold up for drop-off in any Canada Post mailbox, with a prepaid return label.
Customers like it and have even taken the time to leave reviews to that effect on their favourite brands' websites, Thomson notes. Quil is also adding more brands, including Sonday the Label, a maternity and nursing wear apparel brand launched by Katie Callery, MMIE'17.
Thomson says they also have big ideas on how to further redesign the e-commerce channel.
"There needs to be a new e-commerce world that's not only more efficient but better for the planet. We think the first piece of that is packaging . . . but we ultimately want to get into the reverse logistics—how to deal with product returns and how to get product to and from customers more efficiently."
In this issue
Features
Connect
Insight
Smith HQ
My Other CV
Dean's Message