Naanak Sodhi, MBA'21, is engineering a career in song.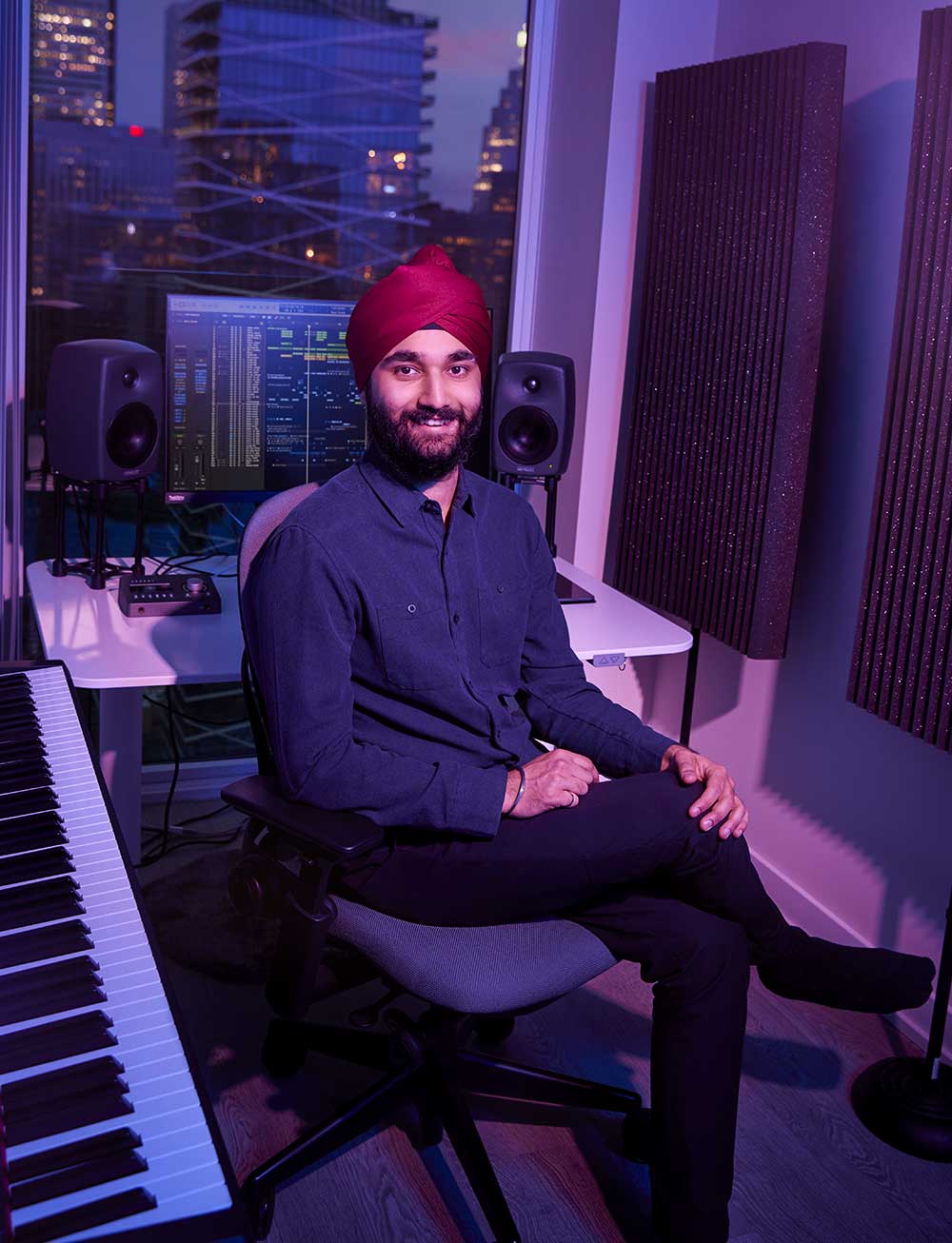 Back in the 1980s, Naanak Sodhi's father got a Casio SA-10 keyboard as a birthday present. It was among the possessions that accompanied the Sodhi family when they emigrated from New Delhi to North America, eventually arriving in Calgary via the U.S.
That tiny keyboard could replicate 99 sounds, including the banjo, cello, heavy metal guitar and, um, "insect," and the young Sodhi found himself irresistibly drawn to his dad's old "magical electronic device," as he describes it.
But there was one more discovery awaiting Sodhi that would be the gateway to a future in music. In a Grade 8 computer science class, he discovered an Apple computer containing GarageBand. For most people, GarageBand is the software bundled with every new computer that they half-heartedly meddle with before losing interest. For Sodhi, it was a revelation. "I was like 'Oh my God, this is just like that synthesizer, except one million times better,' " he says. "I spent that entire semester not doing my actual work because I was making music all the time."
Sodhi eventually obtained a degree in engineering and, after spending the early part of his career with General Dynamics, joined Google Canada last year as a senior account manager on its automotive team in Toronto.
But he has kept his hand in music. Working under the name Sodhivine, he's released six albums—his latest, Future Melodics, arrived earlier this year and garnered airplay on both BBC Radio and CBC Radio—and more than 40 singles.
He has also scored more than one dozen short and feature-length films, and in 2020 was invited to join Bell Media's team of screen composers, composing music for productions across the media conglomerate's 63 TV channels.
He submitted his first batch of 30 tracks to Bell last year, with India's major festivals serving as inspiration for 10 of them. He won't know how or where they'll be used until sometime this year. "My vision as a composer is to always tell a story with music," says Sodhi. "Just like art is designed to decorate a space, music is designed to decorate time. When I write music, my vision is always how I'm decorating the time of the listener."
Sodhi describes his MBA as the "jelly" between the slice of bread that was his engineering career and the bread that represents his creative pursuits. Receiving the Stephen J.R. Smith MBA Scholarship, he says, confirmed that he was meant to pursue the degree.
"My entire life was kind of split into this super-technical piece and the creative piece, and I thought, 'I've got to put these together somehow,' " he says. "If you think of them as two pieces of bread, I needed some kind of peanut butter or jelly in the middle. I could have quit my engineering job and tried to be a full-time musician, but that's only one part of the loaf that I'm eating. I wanted the whole loaf."
In this issue
Features
Connect
Insight
Smith HQ
My Other CV
Dean's Message