Smith students are on the case for local police.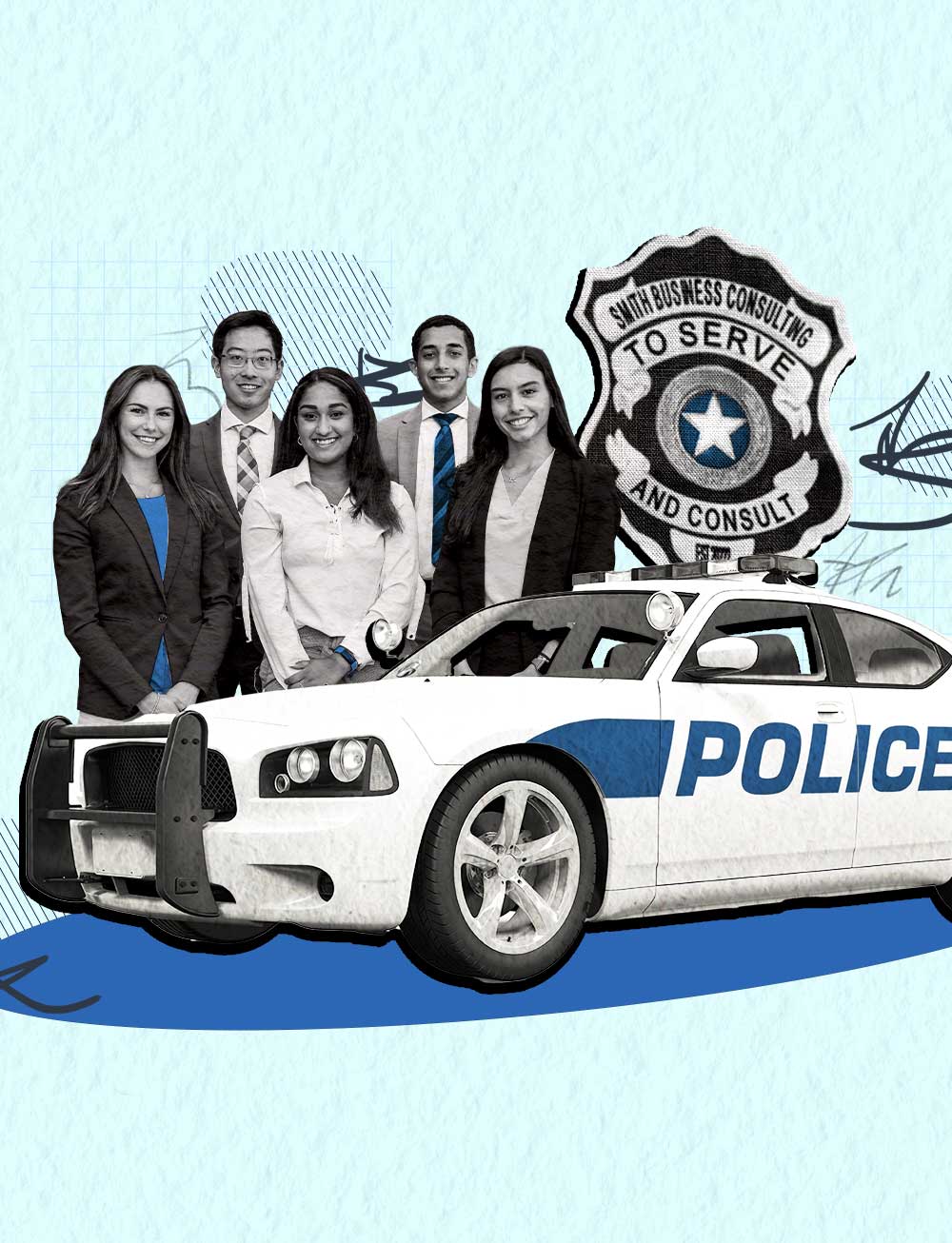 There's a group of specialists that get called on for the tough cases. Armed with just their brains, computers and an arsenal of questions, they get deployed into the field when there are issues to tackle and stories to investigate.
They are Smith Business Consulting (SBC), a student-run management consulting firm that has, for nearly 50 years, brought the skills and talent of Commerce students to bear in solving organizational challenges.
SBC works like a traditional consulting practice. Teams of upper-year consultants, supported by a fourth-year manager, take on client projects for a term. The students' efforts are part of a study course, Comm 504, which accepts 14 students each semester, plus a few in the summer.
"Smith Business Consulting is all about offering team-based experiential learning, which helps students develop contemporary consulting skills in a performance environment," says Charlie Mignault, director of SBC and an adjunct professor at Smith. "Once students are selected, I have an understanding of their academic interests and career aspirations, which assists me in finding clients and projects that match their goals."
The clients are diverse and span everything from agri-business to development and even police services. Late last year, the new chief of the Gananoque Police Service, Scott Gee, phoned Mignault seeking a sequel to a strategic plan previously prepared by SBC.
The team, comprised of Veni Subramanian, Comm'22 and Hengjia Zhang, Sam Hollinrake, Bishoy Attia and Alexandra Hook, all Comm'23, centred the scope of their project around three focus areas the police service had: internal operational excellence, commitment to citizen protection and building community engagement. "From the pillars we defined, we gathered insights through interviews and surveys, engaged the citizens on the street and turned those into recommendations for the police services board," Zhang explains.
"The team was dedicated to learning about our business and developed a highly customized plan that we can move forward with," said Gee, in Gananoque, Ont. "We especially appreciated that they understood the need to look a t our s trategy through an equity, diversity, inclusivity and Indigeneity lens." The plan included means of measuring success in providing professional service to racialized and Indigenous citizens, senior citizens, and those with mental health conditions.
The four-year strategic plan received board approval in January.
For Hollinrake, working with the local businesses in the development of the plan and hearing how grateful they were for the work being done offered some insight into what her future career might look like. "It highlighted that 'why' factor for us—that I can make a true impact on the community using the skills I build across my four years in this program," she says. "Being part of Smith Business Consulting was one of the best decisions I made."
In this issue
Features
Connect
Insight
Smith HQ
My Other CV
Dean's Message