New issue of Smith Magazine is now out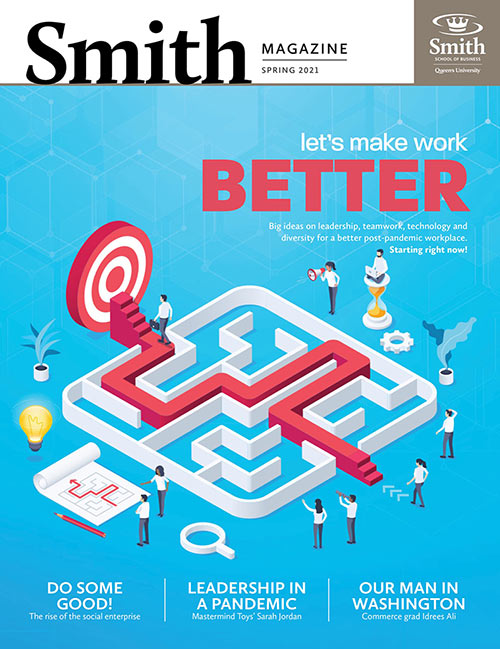 Kingston, Ont. – The latest issue of Smith Magazine is now available, with feature stories, alumni profiles and school news. Highlights include:
Let's make work better: As we look ahead to the eventual end of the pandemic, let's also look at work and how to make it better. Read predictions and ideas from Smith faculty and alumni business leaders.
Listen up: With his podcast, Made To Lead, Aziz Garuba, AMBA'12, is sharing the stories of amazing leaders of African descent.
Corporate social responsibility 3.0: Decades of data finds that CSR doesn't pay off like it used to. But companies shouldn't stop now, says Professor Jacob Brower.
Toy story: How Sarah Jordan, MBA'07, BSc(Eng)'04, took Mastermind Toys through the pandemic last year.
Our man in Washington: Reuters' Pentagon correspondent Idrees Ali, BCom'13, shares his experiences as a reporter and explains why journalism still matters.
Do some good: A new generation of entrepreneurs is mixing purpose with profits, and creating a new type of company: the social enterprise. Meet two alumni making it happen.
The complete new issue of Smith Magazine can be found here.