A year ago, Sarah Jordan, MBA'07, BSc(Eng)'04, became chief executive officer at Mastermind Toys. Then the pandemic hit …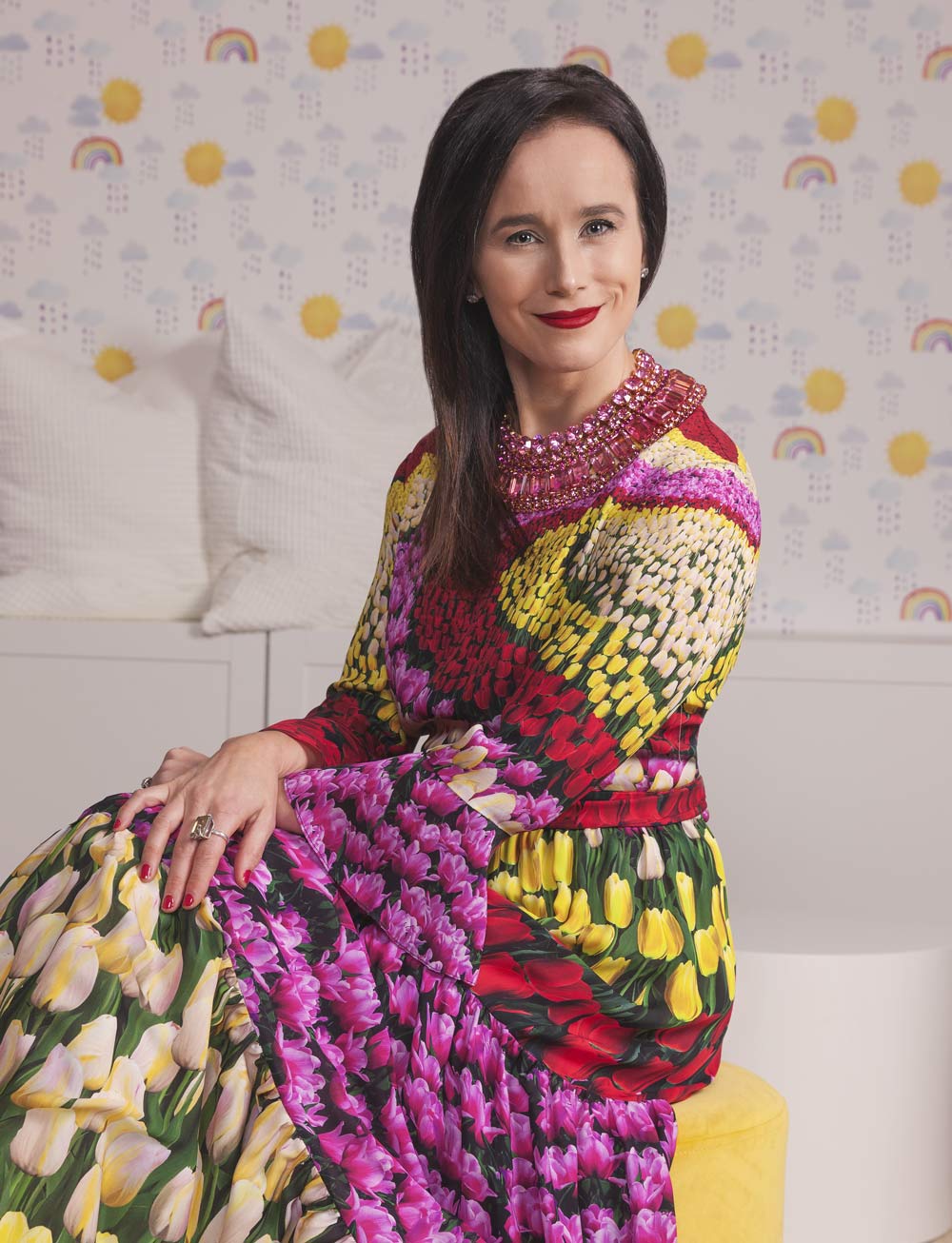 Most CEOs are advised to spend their first 100 days on the job listening and learning about the organization before making any big moves. Those rules didn't apply to Sarah Jordan, who took the top job at Mastermind Toys, Canada's largest specialty toy and children's book retailer, just weeks before the COVID-19 pandemic turned the retail industry upside down. It was not only her first CEO gig, but she was the first to take over from co-founder Jonathan Levy, who held the position since the company started in 1984.
"I thought I was going to quietly make some changes to this hidden retail gem in Canada," recalls Jordan, 39, who was brought in to supercharge the company's customer experience, culture and its mission to be "Canada's Authority on Play."
The pandemic had other plans. Within weeks, before the government-ordered shutdowns, Jordan closed the company's 68 stores across Canada, which accounted for more than 95 per cent of its revenue. At the time, the company did not have any contactless curbside pickup offering in place.
"I really felt the heaviness of the situation," Jordan recalls of that time in March 2020. "I felt like it was a defining moment for leadership, at least in my lifetime, at least in my career lifespan, and that I was never going to encounter another moment like this. I knew I needed to rise to the occasion."
Jordan's Journey
Before getting to how Jordan handled the pandemic as CEO, some background: She was born in Ottawa and raised in Whitby, Ont., about 50 kilometres east of Toronto, to supportive, hardworking parents. Her dad, a registered forester, and her mom, a nurse, had a big influence on her life, ambitions and career path.
"My parents raised me with a 'can-do' attitude," she recalls. "I had no concept of a glass ceiling growing up. I was treated just like my older brother, who also made me fierce."
She excelled in math and science at school and chose to study engineering at Queen's University for the challenge. "I felt like it was the hardest program I could do," she says. Still, she wasn't sure she wanted a career as an engineer. "I love being challenged. I am always searching for the next insight, trend or pattern. I'm a proud problem-solver. I think engineering continued to harness in me that real curiosity because there's never a black-and-white answer. You're learning to always solve complex problems."
It was her grandfather who pushed her to consider a career in business. An engineering professor, meanwhile, suggested that she earn her MBA after noticing her interest in some of the program's business-related content.
"What I've learned over my career is if you give someone a stretch opportunity, and you believe in them, they will not let you down."
Taking the full-time MBA program at Smith in 2006- 07 was pivotal for Jordan. It taught her how to become an effective leader and work with diverse teams. "What I learned, in a very safe space, was the kind of leader I wanted to be," says Jordan, who, at 24, was the youngest in her MBA class. "I had to learn how to inspire other people, to deal with conflict . . . and to delegate."
After graduation and 15 years of work with companies on transforming their customer experience, including 10 years with The Boston Consulting Group advising Fortune 500 companies and three years at Scotiabank, Jordan's drive caused her to want to "own the change agenda," as she puts it. "I wanted to own the transformation, not just advise people on doing it." Then along came the offer at Mastermind Toys.
The Mastermind Makeover
Jordan was hired to helm Mastermind Toys a decade after Birch Hill Equity Partners, a private-equity firm, purchased a majority stake in the Scarborough, Ont.-based company, taking it from about a dozen to 68 stores. Jordan's job was to reimagine Mastermind Toys' store footprint and e-commerce platform, capitalizing on its reputation as a retailer of the top-trending specialty children's toys and books, with an emphasis on educational products.
The mother of two young children wasn't even a regular Mastermind Toys customer when she joined the company. Much of her toy shopping for her own kids had been done online with other companies. That experience as a customer, she believes, helped her to overhaul Mastermind Toys' digital strategy. "It wasn't a turnaround; it was a turn-it-up," she says, "meaning I was taking what were already some amazing ingredients and taking them to the next level." To get there, she put in place a four-pillar strategy. It included launching a digital reinvention; elevating toy curation; amplifying the brand purpose; and driving a performance-oriented culture. "My first six weeks were really about meeting and learning about the team [and] reshaping the organization around those pillars," she says.
As part of that process, she travelled to stores across the country, talking to Mastermind Toys' associates. She asked them about their employee experience as well as more probing questions such as: "If your store was a kid's toy, what would it be?" "If you could do one thing differently tomorrow, what would it be?" "If you could have an event in your store for your customers, what would it be?" "What is your favourite book to sell and why?" "What is your favourite toy to sell and why?"
All good questions. But as news of the pandemic grew dire, and cases spread across Canada, Jordan was forced to ask serious questions about protecting the health and safety of her employees and customers. "I knew that we would have to find another way to meet our customers," she says. "And we did."
Instead of drawing up a pandemic business plan on her own, Jordan turned to her employees. "I looked at the Mastermind Toys team, and I said, 'I need three things from you right now: One, I need you to keep Mastermind Toys special. Two, I need you to be bold and scrappy. And three, I need us to build momentum to come out of this stronger.' " She wanted her team to move fast, be innovative, and not worry about making mistakes along the way.
Like most brick-and-mortar retailers, Mastermind Toys' priority was boosting its online activity to drive sales, and to build and maintain customer engagement. The company also needed to implement physically distanced in-store and curbside pickup. Mastermind Toys began hosting a daily story-time reading on social channels and weekly virtual birthday parties, and launched a Grandparents Day promotion on the first Tuesday of the month. It also struck corporate partnerships, such as the first branded pop-up digital store on Loblaw Marketplace; a partnership with RBC Rewards and RBC Ventures; and a "surprise and delight" program with MadeGood, in which the Canadian brand's organic snack bars were given out in stores and curbside as an unexpected treat for customers.
Jordan also relied on digital platforms to connect with employees, holding virtual coffee chats and town hall meetings. She worked to inspire her team by encouraging members to work together on new ideas and opportunities throughout the pandemic.
"I know that I operate at my best when someone believes in me; and what I've learned over my career is if you give someone a stretch opportunity, and you believe in them, they will not let you down," she says. "I thought about all of the times when I've been at my best; when I've been at my 'wow' moment, and I tried to create those conditions for the team."
Wonder and Delight
In November 2020, despite all the obstacles that came with the pandemic, Mastermind Toys won the international toy industry's Most Innovative Retailer award at the TAGIEs (Toy & Game International Excellence Awards).
The company's success comes as the industry overall is experiencing steady growth. Global toy-market revenues are expected to see an annual compound growth rate of more than four per cent between 2019 and 2025, according to one global industry forecast report, driven by growth in the education, entertainment, interactivity, development and engagement sectors. The industry also saw surprising growth during the pandemic, the report notes, with lockdowns inspiring more people to buy toys, games and puzzles.
According to The NPD Group, toy sales increased 10 per cent in Canada in 2020. Jordan says Mastermind Toys had the best November in the company's 36-year history, before a second round of lockdowns was announced for non-essential retail in Ontario and Manitoba, and further retail capacity restrictions were rolled out coast-to-coast in December.
While such restrictions brought a renewed emphasis on at-home play, retailers like Mastermind Toys still had to find ways to get their products to customers. Jordan says the toy-store chain's rapid transition from a physical to a digital retailer was possible thanks to an understanding of what customers wanted in these challenging and often difficult times. "We really focused on being a resource for parents, educators and caregivers. What do they need right now? How can we bring the same wonder and delight experienced by our customers in our stores to our online channels? And we focused on coming out of this stronger, and using this time as an opportunity to reinvent the business," she says. "For me, it was an acceleration of our strategy . . . . We had to move faster."
The pandemic also validated Jordan's leadership style, which includes engaging employees to drive cultural change and deliver what she calls a "world-class customer experience." She believes strongly that employee experience drives customer experience.
"Authentic leadership is being accepted for how effective it can be," she says. "I believe we are seeing a lot of examples of really inspiring leadership in this time . . . that includes empathy and strength, courage and compassion."
Sarah Jordan:
Leading with Purpose
The Mastermind Toys CEO on leadership in a year like no other.
---
When COVID-19 hit, Sarah Jordan was only weeks on the job as CEO of Mastermind Toys. Quick decisions had to be made. Among them: Jordan decided to close all stores before the government mandated shutdowns. That move, she says, was grounded in the company's values, which gave her a "clear compass" to deal with the uncertainty. It was also an important lesson in dealing with the pandemic: Lead with purpose. Here, Jordan explains other lessons she learned in leading her teams.
Be the chief communicator
Jordan believes that employee experience drives customer experience. "So, it's important for me to give employees and customers a direct channel to ask questions, share concerns and offer feedback. For instance, our Grandparents Day was born out of a comment by a team member during one of my early visits to a store. From there, we've continued to improve it by listening to customers."
Reinvent the water-cooler moment
"Remote work meant finding new ways to connect with employees," Jordan says. "As we shifted to working from home, I held virtual coffee chats with employees to hear their challenges and provide company updates. We also started bi-weekly virtual town halls that have become a forum for employee recognition, team building and to highlight company projects."
Focus on progress over perfection
"I've asked my team to be bold and scrappy," says Jordan. "That means giving them permission to innovate and put the customer first—even if there are some mistakes along the way. It allowed us to act quickly, rolling out new programs like our first contactless curbside service and our 'Virtual Verified' birthday parties. I've challenged the entire team to find more ways of saying 'yes', and I've yet to be disappointed by what they have delivered and accomplished."
Celebrate small wins
"The pandemic forced everyone to revisit priorities and embrace change," Jordan says. As a result, "it became really important to celebrate the small wins as a team. By creating a culture of celebration, we're establishing a momentum that will position us to come out of the pandemic stronger together."