Reporting from Washington
Does journalism still matter? In the age of social media and fake news, some say no. But Idrees Ali, BCom'13, the Pentagon reporter for Reuters, explains why it does. And why he's made it his career.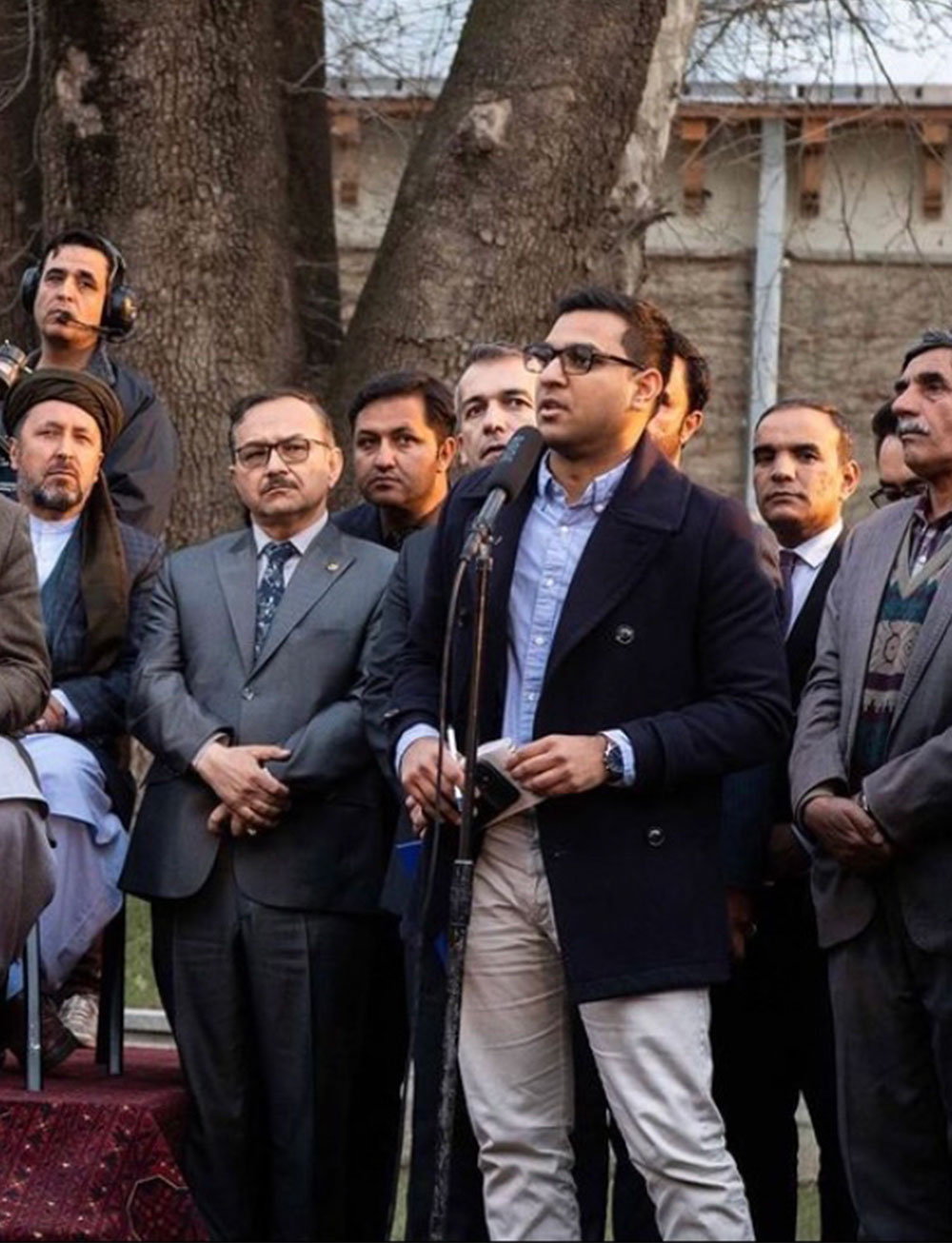 When thousands of former President Donald Trump's supporters stormed the U.S. Capitol on Jan. 6, much of the United States and the world watched on live television in horror as the Capitol was effortlessly overrun. If it hadn't been for reporters at the Capitol, many of them risking their lives to cover the event, people wouldn't have seen and read of the magnitude of what unfolded that day in near real time: an assault on a symbol of democracy.
The weeks since have seen story after story exposing the events that led to the assault and how those in power, particularly Donald Trump, could have helped stop the situation escalating to the point that it did.
Coverage of the insurrection in January was just the latest example of journalists doing their job: providing accurate information to people around the world while holding those in power accountable.
I have been a journalist in Washington, D.C. for the past five years, covering the U.S. military and its wars, from Afghanistan to Iraq, under Trump. It has allowed me a unique perspective into how journalism works, the important role it plays in society and the struggles journalists encounter around the world.
What is journalism?
There are different types of journalism, from breaking news to months-long investigations, across different platforms, from text to television. But at its core, journalism is about informing the public, giving voice to the voiceless and shining a flashlight on issues that would otherwise fester and linger in the darkness.
My path to journalism, like that of many reporters, was not linear. After barely making it out of business school with mediocre grades, I realized that a career in finance, or any other option that required even a minimal amount of math, would likely end in failure.
So why a reporter? My family has been involved in journalism in Pakistan for decades. My grandfather fought for free speech, even at the cost of his health and life, in a country where journalists are routinely harassed and, in some cases, killed. 
My family's rich history in journalism and perseverance through difficult times to inform the public inspired me to become a reporter, even as the industry was going through massive changes and newsrooms around the world were making cuts.
While earning my graduate degree in journalism at the University of Maryland, I worked on an investigative series for The Washington Post looking at the threats faced by journalists around the world. The story allowed me to interview journalists who had fled the Syrian civil war. I also told the story of a prominent Pakistani journalist who was shot multiple times by the Taliban for simply doing his job.
That investigative series helped start my career. It allowed me to get a job at Reuters, one of the world's largest news organizations with nearly 200 bureaus around the globe. After a brief internship, I was lucky enough to become one of Reuters' two Pentagon correspondents.
Having started my journalism career in Washington, D.C. in the last few months of President Barack Obama's administration, I did not realize how much different a Trump administration would be. The U.S. military has traditionally been isolated from politics. But early on, it became clear that Trump would try to politicize the military. This issue would take up much of my professional time in the next four years.
From covering air strikes against Syrian forces in 2018 to reporting on how close the United States and Iran came to war after top Iranian General Qassem Soleimani was killed in 2020, there were few days when I wasn't nervous about how military tensions could escalate.
As a Pentagon correspondent, my job is to focus on where the U.S. military stands on key global issues. The Pentagon is unique in that its building in Arlington, Virginia has a dedicated space for journalists to work out of. Most of my time is spent talking to sources in the building or attending press briefings. These, however, were limited in number under Trump.
The risks of the job
One of the most enjoyable parts of being a reporter is the travel. As a Pentagon correspondent, that's especially true. From visiting war zones to reporting in faraway places like Mongolia, I've had the opportunity to write from different parts of the world.
Almost everyone, no matter where they live, is touched by journalism every day in some way or another. That may include watching a press conference on television about a local council meeting or reading about a foreign conflict in the newspaper the next day.
For reporters, covering some of the most important stories requires a certain level of risk.
My first real experience with any sort of danger came during a trip to Afghanistan with U.S. Defence Secretary Jim Mattis in 2018. At the time, the United States had announced that it would be sending thousands of additional troops to Afghanistan in the hopes that this action might bring the Taliban to the negotiating table.
Unlike war correspondents, who travel around war zones with no security to speak with locals, I experienced quite a different set of circumstances in these parts of the world. Usually, Pentagon correspondents are flown aboard the defence secretary's plane and are in a security "bubble" at all times. We're driven around in convoys or flown in heavily armed helicopters from one point to another.
On this particular trip, about a half-dozen reporters were flying on a Chinook helicopter back to Kabul's airport after covering a meeting between Afghan President Ashraf Ghani and Mattis. About halfway through the flight, one of the armed troops observing out of the helicopter spotted what looked like some type of threat to the helicopter from the ground. (It could have been anything from preparations for a missile launch to someone releasing a kite from their rooftop). Within seconds, the helicopter took evasive manoeuvres and released flares over Kabul so that if a missile had been launched, it would hit the flares rather than us.
Ultimately, there was no threat. But it was a reminder of the dangers journalists can face when reporting the news.
But it barely compares to the risks faced daily by journalists worldwide. Many are threatened, kidnapped, arrested or killed for simply doing their jobs. According to the Committee to Protect Journalists, nearly 600 journalists have been killed around the world in just the past decade, and a record number of journalists were imprisoned globally last year.
Besides physical threats, journalists have to deal with a growing push by governments to spread "fake news" that undermines facts and hides actual information from the public. While the most prominent example is Trump using misinformation to rally supporters to decry an election that Joe Biden won fairly, similar tactics are becoming common around the world.
Today, governments are using technology and the law to go after journalists. There have been reports of journalists targeted by spyware that can be linked back to countries like Saudi Arabia, swarms of bots going after journalists on Twitter if they write unflattering stories, and large-scale Internet censorships. Governments have also targeted journalists by accusing them of running afoul of arcane laws.
In 2019, two Reuters journalists were freed from prison after spending more than 500 days in jail in Myanmar after being convicted of breaking the Official Secrets Act. Their crime: working on an investigation into the killing of 10 Rohingya Muslim men and boys by security forces and Buddhist civilians in western Myanmar's Rakhine State during an army crackdown.
While in prison, Wa Lone, 33, and Kyaw Soe Oo, 29, were awarded the Pulitzer Prize for their reporting.
A new era
Journalism has come a long way from its early days. In 1850, carrier pigeons delivered stock market prices. The first Gulf War in 1991 was considered the first real-time televised conflict. Viewers could watch live TV of missiles fired in Kuwait.
These days, journalists are dealing with another factor that their predecessors did not have: social media. It is frequently the case that we hear about attacks in conflict zones on social media. Sites such as Twitter can be gold mines of information that otherwise would be out of reach to reporters. One example is the situation in Iraq. The past several years have seen an increasing number of rocket attacks against U.S. forces in Iraq. For a reporter like me, the first sign that something has happened is usually on Twitter and not from the U.S. military or sources in the country.
Anyone with a smartphone can essentially be a source or can post information for others to read. In fact, the first sign that al-Qaida leader Osama Bin Laden had been killed in Pakistan did not come from a major website. Instead, a local in the area tweeted about hearing helicopters near his house.
But even with this new avenue, journalists must be careful. As quickly as information proliferates online, it is just as frequently incorrect, over-exaggerated or lacking key context. Newsrooms and journalists are also dealing with pressures to publish news faster. Meanwhile, news organizations are facing financial pressures. Newspapers are increasingly looking to make money through online subscriptions as advertisements shrink. While some outlets, such as The Washington Post, have hired more journalists, most newsrooms are laying off reporters. COVID-19 has only accelerated that trend.
The future of journalism is not clear. It is difficult to predict what news and newsrooms will look like a decade from now. But the one thing that will not change is the need for professional reporters covering the news and informing the public.
Amid increased political polarization, the spread of social media and "fake news," and global conflicts, reporters, and the role that we play, are now more important than ever. People around the world need greater, not fewer, insights into everything from what is affecting stock markets and businesses to how their elected leaders are doing their jobs.
For that, journalism is essential.
Idrees Ali, BCom'13, is a Pentagon correspondent for Reuters in Washington, D.C. In 2020, he received the One to Watch Award from the Queen's University Alumni Association.