A student with winning ways
Sophie de Goede is a standout on the field, on the court and in the classroom.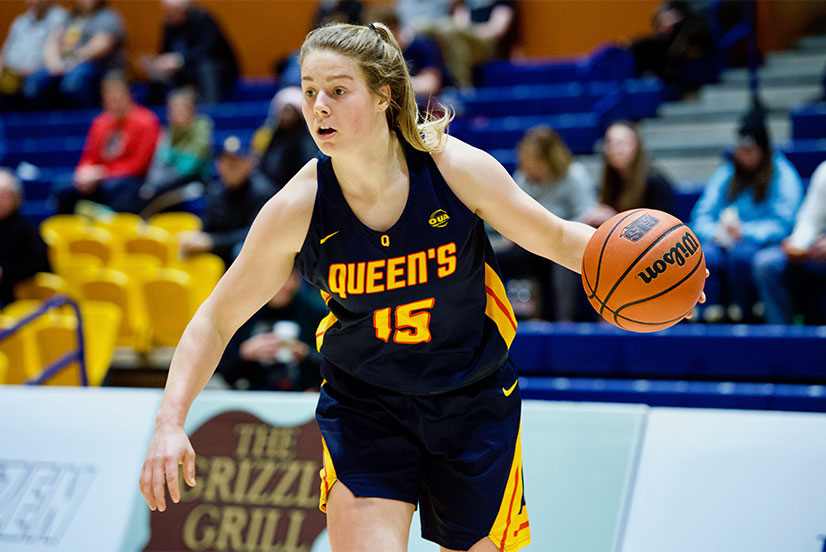 Earning a Commerce degree at a top school like Smith is tough enough. But what about working on that degree while playing on not one, but two, Queen's Gaels varsity teams. Oh, and doing it all with a plus-80 average.
Who has time for that, let alone the energy and ability? The answer: Sophie de Goede, BCom'22, of Victoria, B.C. A two-sport athlete, in rugby and basketball, de Goede was in January named one of U Sports Top 8 Academic All-Canadians for 2019-20. She is just the sixth Gaels athlete ever to receive the honour.
The Top 8 were chosen from more than 4,900 U Sports student-athletes who achieved Academic All-Canadian status. That means they maintained an average of 80 per cent or better while competing on one or more of their university's U Sports varsity teams.
A standout for the Gaels women's rugby team last season, de Goede finished as Ontario University Athletics', top rugby scorer in 2019 with 76 points and was named conference MVP for a second straight season. In basketball, she led the Gaels to a 15-7 record and the playoffs, averaging 12.5 points, 8.5 rebounds and 1.8 assists per game.
Gaels women's rugby head coach Dan Valley says "to watch Sophie not only manage but excel as a Commerce student and member of two varsity sport programs speaks to her truly unique skill set. In this regard, Sophie is unlike any student-athlete in the country."
Both of de Goede's parents played for Canada's national rugby team. And she loves basketball so didn't want to give up either sport. How has she been able to balance two sports and studies? It comes down to good time management. "I find I'm able to make more use of time because I have so much going on," she says.
COVID has halted many university sports. But with students able to take classes virtually, de Goede is continuing her studies while playing rugby in England for Saracens of the Allianz Premier 15s women's rugby league. And if that's not enough, she has another goal now: to play for Team Canada in the Rugby World Cup in New Zealand.