Aziz Garuba, AMBA'12, is helping to tell the stories of amazing Black leaders around the world.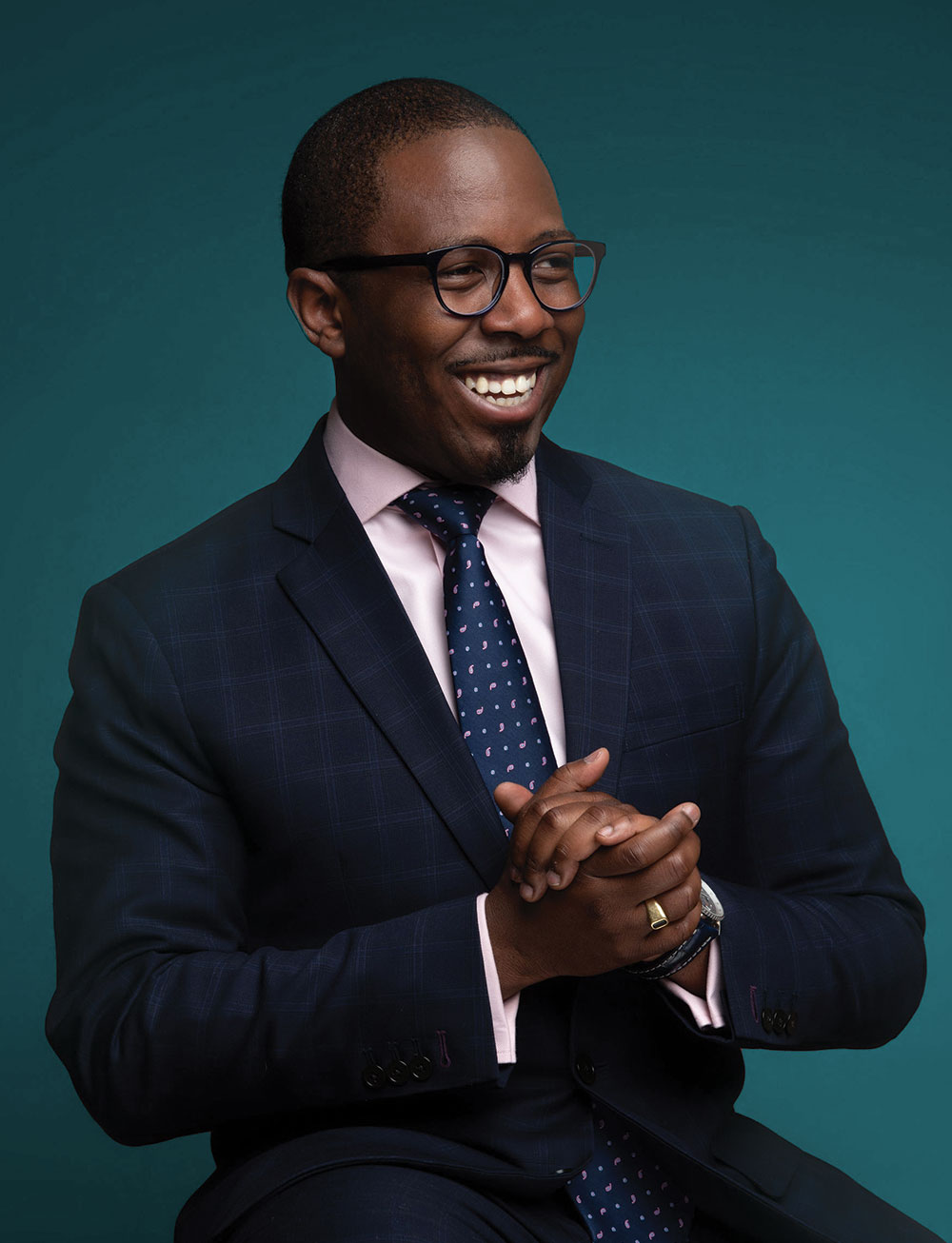 Everyone has a story. Everyone is a leader in their own way," says Abdul-Aziz Garuba. He should know. The Accelerated MBA grad is the host of Made to Lead (madetolead.co), an up-and-coming podcast that's all about leadership.
For Garuba, 35, whose day job is director of finance transformation initiatives at RBC Capital Markets, Made to Lead is more than a hobby. It's a passion with a purpose. It showcases the personal and professional stories of leaders of African descent. "It is easy sometimes to use the same paintbrush to label a whole group of people, particularly Black individuals," says Garuba. "But there is uniqueness in everyone. Africans and Black people have to tell our stories ourselves. No one's going to do that for us. That's what I'm trying to do."
Over the next few pages, we'll dig into his podcast, what drove him to start it and what he hopes to accomplish. We'll also learn about his story and career path. First, let's start with a question:
---
Q: Your background is in accounting and finance. So how did you become a podcaster?
Garuba: The idea started in 2018 with the Canadian Association of Urban Financial Professionals, which I'm involved with. For our 20th anniversary, we put on an event called Black on Bay Street to celebrate the progress of the organization and Black professionals on Bay Street. I thought: How do we continue this story? I was interested in podcasting so I wrote down a few concept ideas. At the beginning of 2020, I decided to do it. But I changed the focus to be not on Black people on Bay Street but about people of African descent globally.
Q: Why did you decide to focus on leadership as a theme?
I've always had a thing for leadership, impact and influence. I wanted to profile people who are leading in their own way but don't always have the title. Especially for Black people, leadership can be very community-focused. They may have leadership in their community but not necessarily a title in their professional lives. I started playing with the name and design and branding in early 2020. From all the research I did on podcasts, I thought people would listen on their way to work. Then the pandemic hit and everyone's commute just stopped. But I launched it anyway [in March last year], and it just took off.
---
A year later, Made to Lead has two seasons and 23 episodes recorded. A third season started in April. Each episode runs around 45 minutes. Garuba asks the questions, then steps back to give his guests time and space to tell their stories—where they grew up, where they went to school, their influences, how they moved up the career ladder, their hardships and what drives them. It's a fascinating mix of inspiration and information led by Garuba, a deft interviewer with a soft touch.
Few of his guests are famous. Yet they make for compelling interviews. Omonye Phillips [Season 2, Episode 9, "It's All in the Mind"], for example, is divisional vice-president of pharmacy operations at Rite Aid and one of the youngest executives at a Fortune 500 company. She pursued a career in health care after her mom died of cancer when she was 10. Mide Akerewusi [Season 2, Episode 10 and 11, "Fracture to Failure to Philanthropy"] grew up homeless with a single mom. He now helps others as CEO of AgentsC, a non-profit consultancy specializing in social change.
---
Q: Your podcast has listeners around the world. Any thought on why it has caught on?
Garuba: I think because there wasn't anything within the space on a podcast level that some of my audience could relate to. I modelled my show after Guy Raz's How I Built This podcast, because I love that style. I love learning about not just the business that these entrepreneurs started but their personalities. And I wasn't able to find something that did the same for Black people or for Africans in particular. And that's what people have told me: "I haven't found anything like this before." "I didn't know that I needed it until I heard it." So my podcast may fill a gap that people didn't know was missing.
Q: You feature people in many different industries, but are there similarities to their stories?
Yes. You always hear that Black people have to work twice as hard. And that is true. But for a lot of Africans on the show, that attitude was something we were already built with from childhood. That's how we were raised—not to work twice as hard because you're going to compete with other ethnicities but work hard to get what you want. That's a uniform theme. Yes, you will experience racism or discrimination in certain cases, but the one thing people won't be able to take away from you is the actual hard work that you do.
---
In fact, Garuba would make for a good guest on his own podcast. He has his own story to tell.
He was born in Nigeria to parents who taught him to love learning and reading and to see the possibilities for himself in the wider world—to be a global thinker. Part of that came from his mom. "Her attitude was, you never know where you will find yourself," he says. But his dad, a Nigerian diplomat, also had an influence. In 1999, when Garuba was 13, his father was appointed ambassador to Canada, and the family moved to Ottawa. Garuba still remembers seeing snow for the first time.
"My first winter was probably one of the worst experiences of my life," he recalls. "There was a day in January of 2000 when the temperature dropped down to minus 50 degrees. And I still had to go to school. My school was one of only three that were still open because it was so cold. And, of course, with Africans and education, nothing is stopping you from going to school. So that was traumatic."
But he had a curious mind and loved exploring Ottawa. "I would try and learn as much as I could. I read widely so I knew a little bit about a lot of things, which as a shy, introverted kid helped in conversations. I would drop these weird stats that no one knew or cared about but people would find very interesting. You know, the bird with the largest wingspan. So I was a little bit nerdy, but it helped in creating a social environment for myself."
Despite the weather, Garuba's dad thought Canada was a good place to grow up. So after his term as ambassador ended and he was recalled to Nigeria, the family stayed put and made Ottawa their home. After high school, Garuba enrolled in business school at the University of Ottawa. At first, he wanted to pursue a career in the aviation industry. That stemmed from a love of planes he'd had since he was a boy. But accounting soon piqued his attention. Upon graduation, he got a job at the Canada Revenue Agency in Ottawa.
Working for the taxman had its advantages, but after a while Garuba began to think about a different career, perhaps consulting or investment banking. To get started, he applied to Smith's Accelerated MBA program. But he worried about getting in. His undergraduate grades had been average at best.
He recalls one particular AMBA admission question: "Do your grades reflect your abilities?" Garuba responded with a firm no. "And then I proceeded to explain why. In undergrad, a lot of folks that were with me spent a lot of time focused on the academics, focused on getting good grades. I loved being in class and listening to teachers, but I didn't enjoy tests. Instead, I got involved in all these other things, being on the student council, case competitions. Those things taught me soft skills and I had opportunities to network with some interesting business leaders in Ottawa."
To his surprise, Garuba was accepted into the AMBA program—and loved every minute of it. Upon graduation, he was hired by RBC for its leadership-development program. In 2018, after five years at RBC, he joined Ernst & Young as engagement manager of financial transformation. Then, last summer, he returned to RBC.
When he first moved to Toronto from Ottawa in 2013, Garuba started attending events run by the Canadian Association of Urban Financial Professionals (CAUFP), which promotes the advancement of Black professionals. It was, he says, "the first time I had ever actually seen a room full of all Black professionals in finance—ever." He joined and eventually became president, a role that he used to expand the organization's profile, especially with the banks.
---
Q: How did you grow the Canadian Association of Urban Financial Professionals as president?
Garuba: I focused on building deep relationships with Bay Street. I wanted to get us to a point where we could clearly articulate the value from a diversity and inclusion talent perspective that we were bringing to firms. I also focused on closing skills gaps so that our members were well-qualified for any opportunity, so that we weren't always going to label a lack of opportunity as being due to discrimination or racism at the first instance. So, let's fix the things that we can control. And after doing all that, if things don't progress, then we can boldly say that there is a systemic issue or other problems that need to be addressed that are outside of our control. Fast-forward to where the organization is right now, and it has a membership of over 700 people and growing.
Q: You also looked to encourage Black high-school students to consider a finance career, right?
The youth piece was a part of a strategy that we developed to do what I called at the time "flood the pipeline". If out of 10 people applying for a job, there's only one Black person, the probability of that person getting hired is 10 per cent. What if we can put six, seven people on the bench? Then the probability of at least one or two Black people being hired is much higher. So we revamped our youth strategy. We put in place programs so that young people could be more informed about opportunities. We wanted the banks to provide internships. That was the only way students could get direct experience and have a good company on their resumé, so that when they graduated, it would be easier for them to get a job in the industry. Today, the banks frequently hire Black talent from our youth programs and from our organization.
---
In 2019, Garuba was among the winners of the Chartered Professional Accountants of Ontario's Emerging Leader Awards. The awards go to CPAs aged 34 and under shaping the future of the accounting profession. It was recognition of the substantial contribution that he has already made in his field.
Garuba believes that he does his best work when he is helping organizations transform. That dates back even to his undergraduate days when he was on student council and took the initiative to update the student organization's paper-based system to electronic. He also points to the work he did with the CAUFP and, of course, his current role at RBC as director of finance transformation initiatives.
Then there's his podcast. Two months after Made to Lead debuted, George Floyd was murdered by police in Minneapolis. His death sparked outrage, protests and the Black Lives Matter movement. Inevitably, some of his
guests discuss their own experiences with racism and discrimination, despite the podcast being focused on leadership and people's career journeys.
An example: Made to Lead's first guest in Season 1 was Dr. Obi Jude Nzeako, a trauma and orthopaedic surgeon from England who spoke about the problem of Black doctors being disciplined at a much higher rate than non-Black doctors. So, Nzeako surmised that for himself, "being an average surgeon just wasn't good enough."
For Garuba, such stories further emphasize the importance of highlighting Black professionals, letting them tell their stories and how they are leading in their own way.
---
Q: Since your podcast is about leadership, let me ask you: Who are the leaders that inspire you?
Garuba:
Number one would be my dad. He was the first in his family to go to university, he was born on the farm in Nigeria. When you think of someone that literally was given birth to on the farm, and then who made it through to the highest levels of foreign service, that's an awesome story. He's retired now but everyone that I've spoken with who knew him in the prime of his career, they always tell me he was a man of integrity and a man focused on helping people.
Another is Barack Obama. His presidency was one of integrity and community. As a leader, you should be concerned about those around you. You're a servant first. And that makes the best leaders, people that know how to serve, know how to galvanize people towards a common goal. Obama did that, and his entire administration was literally scandal-free, which you can't say about a lot of other presidents.
And then there are people like my grandmother, my mother's mother, in Nigeria. Nigeria had a civil war in the 1960s, and she lost everything, including two sons, and had to rebuild her life again. She lost her husband before the war, too. She went from being a housewife to almost a refugee in her own country. She started life again for herself and her remaining kids through entrepreneurship and through teaching. She was the one who taught me to read and write and count. And for me, she represents the resilience and ingenuity of women.

Q: In Made to Lead you ask guests to explain their purpose in life. So, what's your purpose?
To impact as many people's lives as possible, one person at a time. That's my personal mission statement, and it drives a lot of decisions that I make or things that I decide to get involved in. So let's take the role that I have at RBC. The work that I do will have an impact on the business, which ultimately will affect the clients and our business leaders. The work that I did with the Canadian Association of Urban Financial Professionals was highly impactful to a lot of people in changing the course of their futures. Even the one-on-one coaching and mentoring that I do, I'm happiest when people come back and say that something has changed in their life in a positive way as a result of our interaction. And that's what gives me the greatest joy.
My Other CV
Hometown:
Lagos, Nigeria and Ottawa, Ontario
What was your first job?
Sales associate at The Gap
What are you reading right now?
A Promised Land by Barack Obama
Favourite all-time movie:
The Lion King (original animation)
What do you like to do when you're not working?
Editing photos and creating my podcast episodes.
What's the best advice you ever got?
Speak to be understood, not just to be heard.
Best memory from your time at Smith:
The boat cruise and subsequent takeover of a near-empty club in Kingston on a Wednesday by our entire MBA class.
Favourite travel spot:
Cape Town, South Africa
What's on your playlist right now?
South African Amapiano
My idea of perfect happiness is:
Being anywhere sunny with my family.