Curriculum
The Smith Executive MBA Americas curriculum has been designed as a highly integrated series of courses and experiences that provide a solid grounding in management fundamentals and a thorough understanding of how management decisions can have an impact across an organization.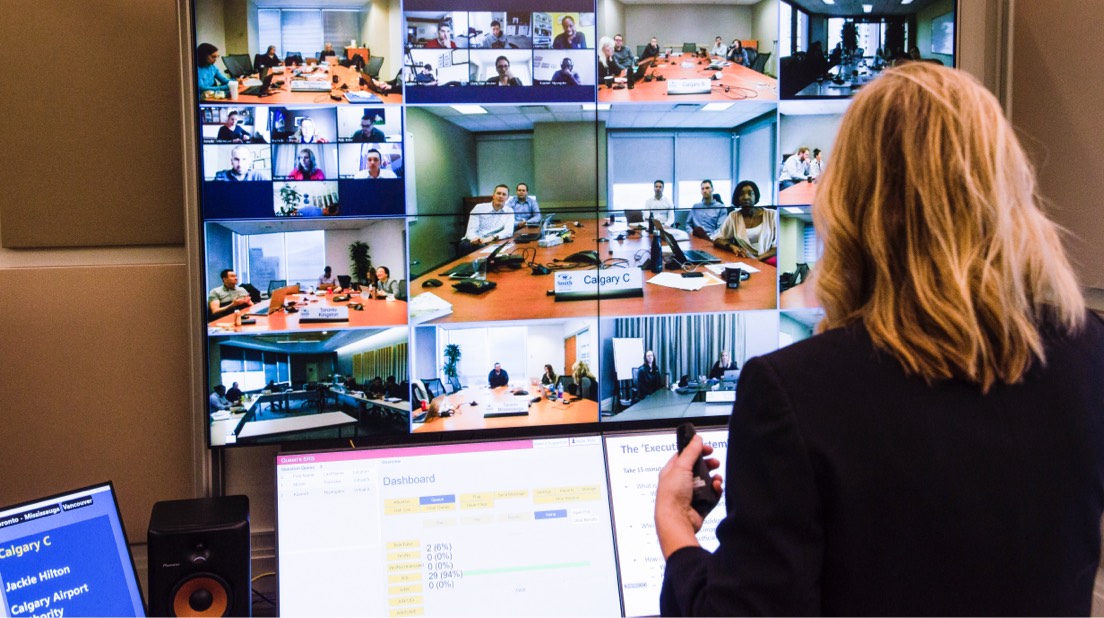 The Americas curriculum provides a solid foundation in:
Management fundamentals
International business
Strategic thinking
Innovation & entrepreneurship
Corporate social responsibility
Leadership
Because these themes are woven throughout the curriculum, you will leave the program with the ability to approach issues from a multidisciplinary perspective—the way the world works.
Typical course sequence and descriptions
June: Opening residential session
The four courses below begin during your first residential session on the Cornell and Queen's campuses.
The ability to be an effective and supportive team member is paramount to success in the program. Through a combination of exercises, case discussions, and briefings, students enhance their skills in building and managing teams, both in the program and in the work environment.
This course introduces some of the major ideas and findings in the field of managing and leading in contemporary organizations. It approaches this complex field by systematically uncovering the myths and beliefs that are held about leadership and examining how they hold up to the scrutiny of critical thinking, analysis, and research evidence.
This course provides a general management perspective on how to manage a business. There is an emphasis on the role of leadership in creating, strengthening, and sustaining high performance by developing an entrepreneurial corporate culture.
While using case studies and simulations, this course examines how to build positive working relationships and ways to move from confrontation to problem solving. It focuses on improving negotiating skills and developing techniques for building agreement among organizational stakeholders such as customers, suppliers, partners, and employees.
July-November: Class weekends
You'll complete the four classes below over the next five months during class weekends in your local boardroom. Two courses are typically presented each class weekend.
This course includes an introduction to the foundational concepts and mechanics of accounting, as well as an overview of the accounting systems used by firms to measure and report their economic performance to stakeholders. By the end of the course, students are able to read and interpret financial accounting reports and draw conclusions about a firm's performance.
This course examines the quantitative tools that are used to improve the quality of management decisions. These tools include statistical inference, regression analysis, forecasting, and decision analysis.
With a focus on microeconomic theory, this course enhances management decision making through the application of economic theory. Topics covered include supply, demand, market structure, market prices, production and cost functions, market failure, externalities, and competitive market equilibrium.
Through a discussion of key marketing theories and practical application, this course prepares business managers to formulate and communicate solutions to commonly faced marketing problems. It explores marketing strategy, mix, and research, while emphasizing the importance of quantitative analysis and consumer behavior.
December: Residential session 2
The following course is featured during a five-day residential session at the Queen's Toronto facility.
A vibrant new venture ecosystem is a vital to part of any economy. This course covers the entrepreneurial thinking and know-how required to create and sustain a thriving new venture ecosystem, and allows students, through its experiential learning format, to 'walk a mile in an entrepreneur' shoes'.
January-March: Class weekends
The two courses below are taught during the next block of class weekends.
This course addresses the two kinds of financial decisions made by corporations: what kinds of investments the corporation should make and how it should pay for them. By the end of the course, students gain a solid understanding of capital budgeting, stock and bond valuation, optimal portfolio choice decisions, the pricing of risk, and capital structure.
This course is designed to provide students with the tools and information needed to interpret performance measures generated by the managerial reporting systems used in today's organizations. It also explores the design systems that generate useful measures, as well as how to make better decisions with the information available.
April: Residential session 3
Held on the Cornell Tech Campus in NYC, the third residential session features the two courses listed below.
Using modern, economics-based theories of markets and firms as a foundation, this course includes a multitude of real-world strategic situations. Readings, lectures, and discussions address a wide variety of industries and establish a set of analytic tools that can be applied to many business circumstances.
With a focus on macroeconomic theory, this course enhances management decision making through the application of economic theory. Topics covered include supply, demand, market structure, market prices, production and cost functions, market failure, externalities, and competitive market equilibrium.
April-November: Class weekends
The six courses below are taught during your final set of class weekends, with two courses typically taught each weekend.
This course provides the knowledge necessary to value companies using an economic framework. The course begins with a rough, but complete, outline of the valuation process. It then increases in the level of detail and difficulty, as students consider real-world valuation cases.
Operations Management deals with the delivery of products and services in an organization. This course focuses on the relevant tools and concepts, including managing processes, service operations, project management, inventory management, forecasting, lean operations, managing quality, and supply chain coordination.
Information systems and technology can transform the capabilities of a business. This course analyzes and reviews global information industry trends and their implications for business. It includes information on how to plan, develop, and implement effective information technology strategies to drive competitiveness and profitability.
Sustainable competitive advantage is derived from maximizing customer closeness while building positive competitive differentiation. This course covers the key frameworks, best practices, and approaches used effectively by strategic marketers.
This course develops the framework for evaluating the gains, costs, and risks of managing firms' financial assets and liabilities. Among other topics, this course will address issues related to firm capital structure, dividend policy, issuance decisions, and liquidity management. It will consider the perspective of financial managers at public corporations, as well as that of market participants.
This course emphasizes global, strategic, and operational themes. Topics include understanding the sources of competitive advantage for the multinational firm, market entry strategies, international alliances, and the role of the general manager in a global business.
This course will help you understand the processes, customs, policies, laws, and institutions that impact the way a corporation is directed or controlled. It also addresses the relationships among the many stakeholders of an organization and their goals and interests.
November: Closing residential session
The remaining courses in the Americas program are completed during the closing residential session at the Cornell and Queen's campuses.
You will complete two electives of your choice. Elective options are reviewed annually. Recent elective options include:
Big Data & Analytics
Coaching for High Performance
Critical Thinking for Business Leaders
Executive Strategy in a Digital World
Global Economy
Investment Banking Essentials
Leading Digital Transformation & Innovation
Management Presentations
This course dives into transformational and charismatic leadership, including how these forms develop, their consequences, and how you can use them in your personal and professional environments.
In this business simulation course, student teams are responsible for managing a manufacturing company. Each team is responsible for making yearly decisions in the areas of sales, marketing, operations, and finance. Teams compete against one another to gain market share, generate revenue, and increase profitability.

Major Projects
Participants in the program are required to complete two major projects: the team-based global Business Project and one of two individual projects – either the new venture Project or the Management Consulting Project. A Project advisor will be assigned for both major projects.
Final Capstone: Global Business Project
Your team will complete a comprehensive analysis of a real global business issue or opportunity anywhere in the world outside of North America. To complete this "live case", your team will travel to an international location to interview business managers and conduct field research prior to writing your final report. This provides an outstanding opportunity to put all that you have learned into practice.
New Venture Project
The objective of this individual project is to create a business case and comprehensive business plan for a new stand-alone business, or a new line of business within an existing organization. The New Venture Project will give you an opportunity to use the management concepts and tools you have acquired in the program to create a business plan for a new venture. You will identify market opportunities, investigate business potential, consider financing options, and create a business plan.
or
Management Consulting Project
The objective of this individual project is to analyze a business challenge and develop a comprehensive set of recommendations and implementation plans to address it. Participants are given a wide scope in the nature of the project. Typically projects focus on performance improvements in operating processes, supply chain management, customer service, information systems, profit margin improvement, or the business planning process.