Building Your Academic Career
As a PhD student, you become a fully participating member of the dynamic Smith School of Business research community. Course work tailored to help you hone your research skills, the development of an impactful thesis, research opportunities with our world class faculty, research seminar series by visiting professors from around the world, the annual Doctoral Consortium designed for sharing research ideas in a collegial environment, support to attend top academic conferences, and teaching opportunities, are just a few examples of the activities that will help you develop into a successful researcher, teacher, colleague, and mentor.
Learn More
Areas of Specialization
As a doctoral student, you will select from nine areas of specialization.
Highly Respected Faculty
The faculty at Smith School of Business is comprised of distinguished researchers, ensuring that your experience at Smith will be nothing short of exceptional. Our faculty not only publish in the world's top peer reviewed journals, but also serve as editors, associate editors, and reviewers for these journals. Our faculty members, who have been recognized with international research awards, have earned great respect for the mentorship they provide our PhD students.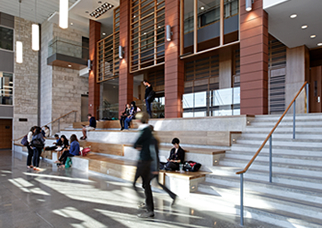 World Class Research Facilities
As a PhD student, you will have access to world class research facilities that are housed in the new expansion of Goodes Hall. The PhD Student Computer Lab comes loaded with state-of-the-art software and access to world leading research databases. PhD students have access to our new Behavioural Lab which is designed to facilitate leading edge research on individual and group level business issues. PhD students also draw on the Research Subject Pool for surveys and experiments. All PhD students are allocated office space from which to work.
A Welcoming Community
Smith School of Business values equity and inclusion, and is committed to enhancing diversity in graduate education.