Ian Gordon, Andrew Callum, Craig Hutchison and Sarah Davis land in the C-Suite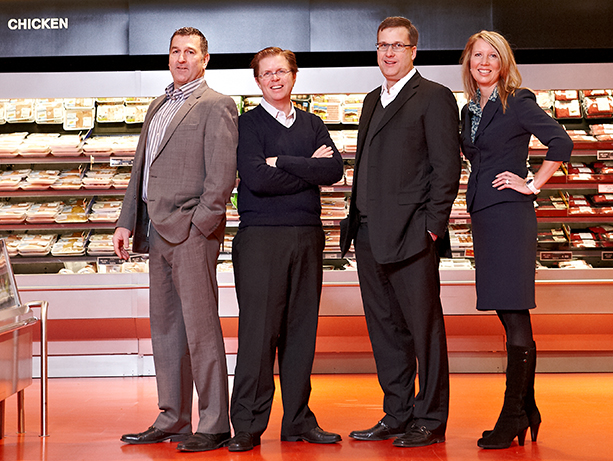 It's probably not surprising that Canada's largest private sector employer—a company with more than 135,000 people—has hired its fair share of Queen's School of Business graduates. What's unusual about one particular group of senior executives is that all four graduated from Commerce in the 1980s and all joined Loblaw Companies Ltd. within 16 months of each other in 2007-08.
Nepotism had nothing to do with it, says Loblaw's CFO Sarah (Holmes) Davis, with a laugh. "Most of us didn't even know each other when we were at Queen's." She knew only classmate Andrew Callum, Senior VP, Finance. Craig Hutchison (BCom'88), Senior VP, Marketing and Public Relations, Joe Fresh, Home and Entertainment, who was a year ahead of the pair, knew Andrew, but none of the group had crossed paths with Ian Gordon, Senior VP, Loblaw Brands, who had graduated several years before (in 1983).
The company's flagship store, the Loblaws at Toronto's Maple Leaf Gardens, was the setting for an informal conversation with the four in early December, just two days after the facility's one-year anniversary was celebrated. Seated in the store's canteen, next to a giant gingerbread house where Santa Claus had welcomed and posed for photos with 3,000 children the weekend before, the four alumni discussed a wide range of topics. From aspects of the business that were a revelation when they arrived (and would likely amaze the average customer) to their favourite President's Choice® black label products, all were candid in sharing personal reflections on life in the C-Suite at Loblaw. Of course, the starting point had to be their early beginnings as Commerce students at Queen's.
Memories of QSB
After more than 20 years, memories of their time at Queen's extend beyond lessons learned in the classroom for these four alumni. It was an experience that also connected them to people, places, and activities outside the lecture halls. Combined with what they learned within the four walls, it ultimately helped shape their future careers.
Ian: In looking back, one thing that strikes me is that my Queen's experience wasn't just about the academics. It was about growing up, it was about life, and involvement in sports, in the community, the ghetto—it was everything wrapped into one. It wasn't just all academics or all fun; it was a very good mix of everything.
Andrew: What impressed me was the way much of our work was team based, which I think mirrors real life. Most of the work we do here at Loblaw involves teams. We rarely do projects on our own.
Craig: Ken Wong was one of my professors I still keep in touch with. From my early days in Commerce, I knew I wanted to end up in marketing. To be in the fashion world, with Joe Fresh, is definitely not the career path I would have imagined for myself. It certainly wasn't reflected in my clothing choices back then, that's for sure.
Sarah: I concentrated on accounting when I was at Queen's and went on to do my CA. I never imagined myself in retail either. Like Ian and Andrew, I remember the team work and the social aspects. I have really great memories from Queen's and good friends I'm still in contact with now. The whole experience provided a really good base for my future career.
Ian: One of the things I remember is that most of the professors had real business experience, as opposed to just the theory. I still quote several of them to this day—profs like Frank Collom. (Andrew adds, "Norm MacIntosh was a big influence.") Gordon Cassidy was a consultant in Ottawa; that was his day job, and he taught us as well. These professors were able to provide concrete examples that helped us understand the real world of business.
Insiders report on food safety
Looking back on their early days at Loblaw, the four alumni agreed that learning about the company's complex and comprehensive food safety practices was an eye-opening experience.
Sarah: I was like most shoppers; I never really thought about the steps involved in getting that particular package of chicken breasts or carton of eggs to my local grocery store. Now I know.
Andrew: The work that goes on behind the scenes to support our reputation for food safety is incredible.
Ian: We have to check the ingredient list and the nutritional information on all our suppliers' labels. This is extremely important so that we can assure our customers that products don't contain nuts or other allergens, for example.
Andrew: Suppliers' production facilities are audited for an incredible range of steps they have to go through, things like temperature controls, hygiene—it's a very long list. While the federal government sets the regulations, the Canadian Food Inspection Agency (CFIA) staff use our audit results to verify that the food safety chain is safe.
Ian: The complexity of process still amazes me after almost five years. Even with all the processes that we go through, it's remarkable how inexpensive groceries still are, how we can still deliver value.
This is big business
With 1,000 stores across the country that operate under 22 banners, the company's retail stores are known by different names in different regions. While Loblaw is widely known in Ontario and Quebec, in the West, the company operates Real Canadian Superstores. Atlantic Superstores are a fixture in the Maritime provinces, and no frills franchises dominate the discount grocery space across the country, except in Quebec where Maxie & Cie is one of the company's retail banners. These are just a few of the retail banners, both corporately held and franchised, that combine to make Loblaw Canada's largest grocery distributer and a leading provider of general merchandise, drugstore and financial services.
Ian: The store names may differ, but our private brands are among the most recognized in Canada. President's Choice® and No Name® are the #1 and #2 consumer brands by sales in Canada. Canadians also rank President's Choice® as one of the three most influential brands in the country. When a survey asked which company's products best matched the statement 'I can't wait to see what they come up with next,' President's Choice® took the top spot, beating out even Apple.
Andrew: We're also the largest trucking company in Canada, which makes sense when you consider how much merchandise we're distributing to our 1,000 stores.
Sarah: We employ a lot of part-time workers, including many students, so turnover is quite high, approximately 30,000 employees each year. It's a challenge for us, just keeping pace with our human resource requirements.
Refined taste buds a job requirement?
One of the perks of working at Loblaw's headquarters in Brampton, ON, is being able to sample new products before they hit the shelves. These executives, food lovers all, shared some personal favourites while explaining the steps involved in bringing new products to market.
Ian: Introducing new products and new lines is one of the things that Loblaw is famous for. Last year saw the launch of PC Premium black label products that have been really well received. We have a team of 12 new-product developers who work with two full-time and three freelance chefs. They're always on the lookout for trends in the marketplace, what's new in the chef community, what sorts of foods are popular in different regions. For a product to make it as a black label brand, it has to fit at least one of two criteria. It has to provoke a strong reaction of either 'Wow! I've never tasted anything like that before!' or 'Wow! That's the best thing I've ever tasted!'
Sarah: All of the product testing is done at our test kitchen at our headquarters in Brampton. There are volunteers among the 3,000 staff there who sign up to do product testing. They take the products home and try them out, then provide feedback. By doing this in-house, we can move quickly to bring a product to market if it has generated rave reviews.
Ian: We test products every day at 10:30 in the test kitchen. It's a part of my job that I particularly enjoy.
Sarah: At monthly Management Board meetings, we also get a chance to test new products. And we're always happy to provide our feedback. My latest favourite is the PC Spicy Herb and Pepper Olive Oil.
Andrew: I'm a big fan of the PC Black Label Marcona Almonds.
Craig: It's the PC Black Label Bacon Marmalade Spread for me.
Ian: I love the PC Black Label Harissa Spice Blend—it's terrific on rack of lamb.
Frozen pizza in aisle 10, sequined t-shirts in aisle 12
Craig Hutchison is in charge of marketing the Joe Fresh brand, a stylish and affordable clothing and accessories line for men, women and children designed by Joseph Mimran, which is found across Canada and now in the U.S. He hosted a New York Queen's Business Club event in April, 2012. The event was held in the Flatiron store on Fifth Avenue in Manhattan where a capacity crowd enjoyed Craig's presentation. Afterwards, they shopped till they dropped (motivated by an exclusive discount generously offered by Joe Fresh).
Craig: Loblaw really took the retail grocery experience to another level seven years ago when it launched Joe Fresh in 40 stores. The clothing brand is now available in more than 350 Loblaw banner stores across the country, and we've also made inroads in the U.S. market with our four Manhatten locations, including the flagship in a landmark building on Fifth Avenue and two other locations. A partnership announced last July will see us roll out a portion of our women's collection to nearly 700 Joe Fresh shops within U.S. retailer JC Penney stores by Spring 2013.
The Joe Fresh brand has the same DNA as President's Choice®: It's all about offering an outstanding product at an outstanding price. We're not only on trend; we're setting new trends, all at an amazing value. We're now the second largest apparel brand in Canada, #1 in kids wear. The clothes have a really broad appeal, attracting urban professionals to suburban families.
A mecca for hockey fans
The Loblaws store at Maple Leaf Gardens is the company's flagship store, all 85,000 square feet of it. There's a cooking school upstairs, a walk-in medical clinic associated with the pharmacy, Joe Fresh, of course, and an LCBO outlet. This heritage building maintained the façade of the old hockey arena while incorporating hockey memorabilia and 'food theatre elements,' such as an 18-foot-tall cheese wall, that make this anything but your typical grocery store.
Andrew: There's always so much going on here—from the seasonable gingerbread house to an opera singer who serenades weekend shoppers.
Sarah: There are some amazing elements: a sushi bar, chocolate sold by the chunk in the Patisserie, the in-store Ace Bakery upstairs, a wall display of fresh and dried mushrooms, a pizza oven, and an incredible deli with hanging prosciutto and other cured meats.
Craig: And of course it's a mecca for hockey fans, in addition to being an amazing conversion of an historical landmark. It's fascinating to sit here and look at the paraphernalia from Maple Leaf Gardens, things like the seats from the old Gardens that people can sit in when having a coffee in the café, the mural showing some of the Leaf's greatest moments, and the maple leaf sculpture on the wall that's a collage of the original seats (photo above).
Ian: Then there's the red dot on the floor of aisle 25 (photo above) that indicates where centre ice was. People come to have their photos taken at the spot and often end up dropping cans of tuna as if they're dropping a puck.
Ian's right. Searches on Google and Flickr for images of 'Maple Leaf Gardens centre ice' turn up numerous photos of the famous red dot. There's a man using his cane as a hockey stick, a still life of Spam carefully placed in the centre of the dot, and several shots of guys faking face-offs using cans as pucks.
The interview wrapped up as the in-store canteen began to fill up with customers. All four of these busy executives headed off to their next appointments, some making a pit stop for coffees to go. They lined up and paid for their purchases—full-price, of course. Grocery retail is a competitive business, after all.
*All photos by David Wile
In this issue
Alumni News
Features
Inside Smith
Profiles
Dean's Message
Letters
Parting Shot