Alumni share expertise with MBA students
Hong Kong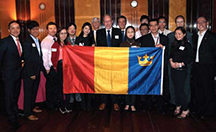 An event at Hong Kong's Queen's Business Club on Dec. 4 brought out an enthusiastic group of Queen's grads. Dean David Saunders proudly joined them in hoisting the Queen's Tricolour flag.
Toronto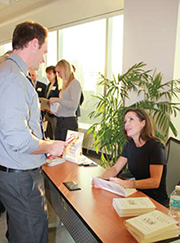 Amanda Lang Amanda Lang signs copies of her book The Power of Why at a December QBC event held at the School's new downtown Toronto facility. Many fans of the CBC Senior Business Correspondent and co-host of "The Lang & O'Leary Exchange" came out to hear her presentation and share in some holiday cheer.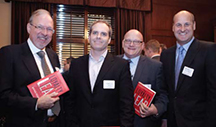 Bryan Pearson, MBA'88, BSc'86, was the featured speaker at a November Queen's Business Club event at Toronto's National Club. His presentation touched on highlights from his best-selling book The Loyalty Leap. (See his profile in this issue.) Pictured are Dean Saunders, QBC Toronto President Ryan Garrah, MBA'04, Randy Carter, EMBA'11, and Bryan Pearson.
Calgary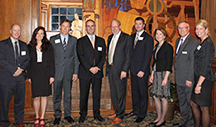 Mike MacSween, EMBA'07, EVP Major Projects at Suncor Energy, was the guest speaker at a Calgary Queen's Business Club event in October. His talk on the economic, social and environmental impacts of oil sands development brought out a record crowd. Dean David Saunders provided an update on QSB news. Pictured, from left, are QBC executives Alex Danzinger, EMBA'05 (outgoing President), Adrienne Bellehumeur, BCom'03, Mikael Sears, EMBA'00, speaker Mike MacSween, David Saunders, André Baribeau, AMBA'06, QSB's Director of Principal Gifts Catherine Purcell, BSc'78, BEd'85, MEd'98, Tim Onyett, EMBA'95 (incoming President), and Erin Thomson, MBA'12.
New York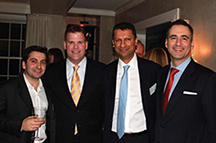 QSB alumni and friends gathered at the home of Jane and MBA'87 grad Jerry del Missier for the NYC launch of the School's fundraising campaign. Pictured are Mustafa Humayun, BCom'07, The Honourable John Baird, BA'92, Canada's Minister of Foreign Affairs, Ken Grewal, BCom'96, and John Prato, MBA'91, MPA'89, Consul General of Canada in New York (see his profile in the Winter 2012 issue).
Vancouver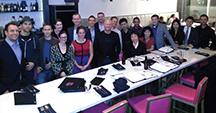 A Queen's Business Club networking event in October at the Pink Elephant Tai gave Vancouver area alumni the chance to reconnect and meet incoming QBC Executives Adam Fischer, AMBA'11, Chris Johnstone, BCom'05, and Craig Buvyer, AMBA'11.
In this issue
Alumni News
Features
Inside Smith
Profiles
Dean's Message
Letters
Parting Shot