Professors Jana Raver and Wei Wang named top QSB researchers
PhD students Alec Cram and Matthew Philp also recognized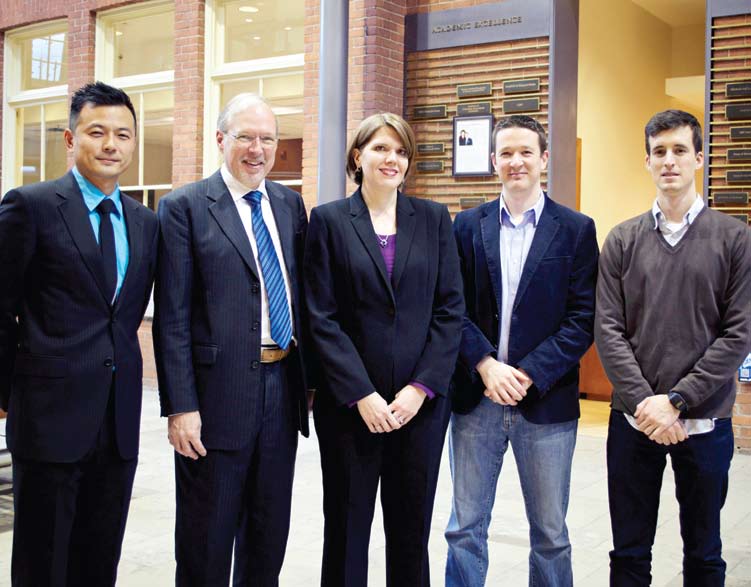 This year's recipients of the Queen's School of Business Research Excellence Awards were lauded at a reception at Goodes Hall on Nov. 20. The QSB Award for Research Achievement was presented by Dean David Saunders to Jana Raver, Associate Professor and E. Marie Shantz Faculty Fellow in Organizational Behaviour. New Researcher Achievement Award honours went to Wei Wang, Assistant Professor and Distinguished Faculty Fellow of Finance. PhD students Matthew Philp and Alec Cram are the inaugural recipients of awards recognizing research excellence at the doctoral level.
Jana's research interests include interpersonal relations and group processes in the workplace. She focuses on the ways in which employees support each other and build high-performance environments instead of engaging in counterproductive actions such as harassment and bullying. She impressed the award committee with her record of publications in top-tier journals and her role as editorial board member for leading publications. She has published articles in journals such as Science, Academy of Management Journal, Academy of Management Review, Journal of Organizational Behavior, and Human Resource Management Review. She is an associate editor at Applied Psychology and a principal reviewer at the Journal of Applied Psychology.
Wei Wang's accomplishments early in his scholarly career are impressive as well, making him a worthy recipient of the New Researcher Award. The award recognizes a faculty member whose research during the pre-tenure period is considered outstanding. Wei's research focuses on bankruptcy restructuring, distressed investing, activist investors, corporate governance, capital structure, and behavioural finance. In 2012, he made a name for himself with several papers relating to creditor rights in large bankruptcies. His research has been published in the Journal of Finance, Journal of Financial and Quantitative Analysis, Financial Management, and the Journal of Fixed Income.
Read more about Wei's research on bankrupt companies in the feature story "Avoiding the Corporate Graveyard" on page 28. Jana's research on dysfunctional workplaces appeared in the Winter 2012 issue ("One Bad Apple").
In this issue
Alumni News
Features
Inside Smith
Profiles
Dean's Message
Letters
Parting Shot