Erin Maynes' FoodiePages.ca connects food lovers with artisan producers from coast to coast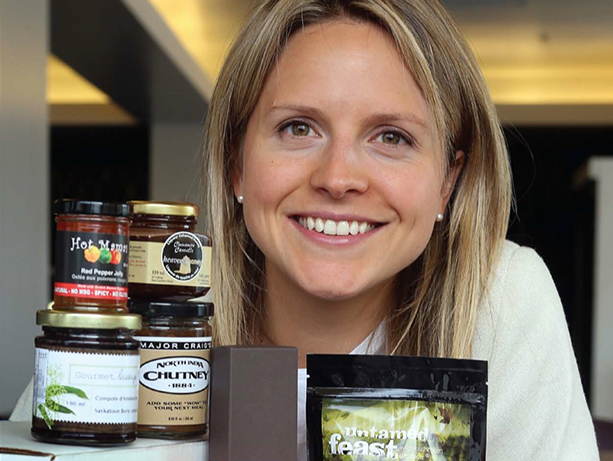 In 1878, the French impressionist Claude Monet took inspiration from a vibrant street scene to paint La rue Montorgueil à Paris, which hangs in that city's famed Musée d'Orsay. Erin Maynes, BCom'07, was similarly impressed by the same locale, one of the oldest market streets in central Paris. She was drawn to the local bakeries and butchers, fresh produce stands and cheese shops that make this neighbourhood a mecca for food lovers. When looking for an apartment while on exchange studying at HEC Paris, it turned out to be the ideal location for the food-loving Erin and her roommates Natasha Myles and Jenna Greenspan, also BCom'07s. Erin would visit the shops nearly every day.
"The fridge was tiny, so we could never stock up," she explains. "It didn't take long to get spoiled by always having the freshest ingredients close at hand." Practising her French by chatting with shopkeepers also gave her the opportunity to learn more about their products—where that particularly runny cheese was produced, where the tastiest tomatoes were grown.
The lessons learned from Queen's Commerce and la rue Montorgueil have served her well in her current Internet venture, FoodiePages.ca, which launched in August. As Erin explained on Global TV's Morning Show on Nov. 1, "FoodiePages.ca is Canada's largest and fastest-growing artisan food marketplace. It's a way for Canadians to discover and buy the best artisan foods directly from food producers across Canada."
What Erin has created is a virtual rue Montorgueil where online shoppers can browse vendors' customized web pages that contain mouth-watering product descriptions, recipes and information about the producers. Shoppers can fill their online carts with such products as Vancouver's Monkey Butter salted-caramel peanut butter and pure wild blueberry juice from PEI. Foodie Pages then emails the order, complete with a printable Canada Post shipping label, to vendors who fill the order and send out the shipment. Vendors pay no fee to showcase their products on Foodie Pages; they only pay a commission when a sale is made. By connecting consumers with artisan producers in an online marketplace, Erin believes she's created a recipe for success for her fledgling business. Of course, sampling and sourcing the products are parts of the job that hold special appeal for this sophisticated foodie.
A passion for food is something Erin shares with her parents, Carolyn and Steve Maynes, both BCom'81, who encouraged their children to try new foods at home in Ottawa and on their travels as a family. Another Maynes family trait is a strong connection to Queen's School of Business. Carolyn and Steve waited until after their last exam in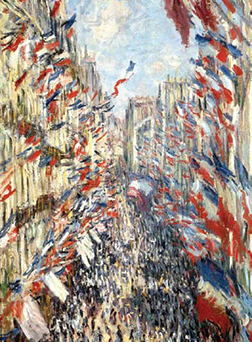 Impressionist Claude Monet's famous painting of la rue Montorgueil  fourth year to go on a date. Fittingly, it was a dinner date at Gencarelli's restaurant, a Princess St. landmark that closed several years ago. Their youngest, Andrew, is also a proud alum, having graduated from Commerce in 2009.
"I didn't have a second choice," Erin explains of her decision to apply to Queen's Commerce. "I'd heard so much about Queen's from my parents, and we'd go to Gaels football games and visit the campus often. I always had an image in my mind that Queen's was the best, and that's what I aspired to." The reality exceeded even her high expectations. "It was a fantastic experience—terrific people, variety and scope in the courses, small class sizes, and an amazing international exchange in Paris. Some of the best friends I've made in my life were friends I met at Queen's, and the bonds I formed with classmates continue to this day."
After graduating, she landed a marketing research position in Toronto at CARA, owner of many of Canada's favourite restaurant brands, including Swiss Chalet, Kelsey's and Milestones. In researching trends in the food and restaurant industries at CARA, Erin realized there was a huge opportunity to innovate within the culinary space.
"I became aware of unmet needs for both small food producers and Canadian consumers who want to know where their food is coming from," she explains. With food increasingly in the spotlight—on the Food Channel, on newspapers' front pages regarding product recalls, in recipe and restaurant review columns and blogs—consumers are making more sophisticated food purchasing choices. On the vendor side, Erin's research revealed that those who sell their goods at markets or specialty shops are so busy on the production side they often have little time, energy or expertise for online marketing. What better way, she asked herself, to match food-savvy consumers with producers of the best artisan food products across the country than to offer an online market that would be open 24/7?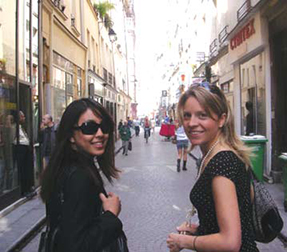 Erin and visiting friend Kathy Zhao, BCom'07, en route to la rue Montorgueil
Her business plan began to take shape in early 2012 and came together with the help of her parents, both CAs. At first they were a sounding board; soon they became mentors and advisors. Carolyn draws on her years in marketing and product management at MD Financial, and Steve, a former CFO of several Ottawa-area companies, helps with the financial and legal aspects. By negotiating volume sales with an e-commerce vendor and Canada Post, Erin is able to offer attractive incentives for vendors to sign on.
After testing the concept in her spare time among her network of family and friends (including many QSB alumni), Erin realized that for Foodie Pages to succeed, it would need her full attention. She left CARA in June, cheered on by supportive colleagues, and spent the next couple of months researching artisan food producers from coast to coast, from purveyors of strawberry lavender jam from Grand Pré, NS, to wheat-free peppered crisps from Victoria, BC. By August, she'd signed up 30 vendors and was ready to take the plunge and officially launch the site.
Its debut was announced through a social media campaign and media blitz of press releases enclosed in artfully assembled packages containing sample products. Some of the recipients bit—literally. Food bloggers have been singing the site's praises, and the mainstream media has also taken note. In addition to the Global TV interview, the site has been the subject of coverage in the Ottawa Citizen, the Vancouver Sun and Chatelaine magazine's November issue ("Let's hear it for Can-Con yumminess!").
Since the launch, Erin has signed up more producers (75 by early December) who are showcasing more than 700 artisan food products. They include condiments, oils and herbs, gluten-free snacks and chocolates, among many other categories.
On Nov. 1 the "Chef's Box" was unveiled: "Chef-curated artisan food, delivered to your door." The inaugural offering was created by Anthony Walsh, celebrated Corporate Executive Chef and Partner at Toronto's Oliver and Bonacini restaurants. It features eight products, including birch syrup from Manitoba, maple smoked rock salt from Vancouver Island and dried cranberries from Lunenburg, NS, as well as Anthony's recipes incorporating these into dishes. (Cranberry-Date Pudding with a Birch Syrup and Whiskey Toffee Sauce, anyone?)
Erin has already lined up other top chefs to produce these curated collections that will change each month. "These chefs' support has been tremendous," she says. "They establish relationships with their suppliers and use only the best ingredients. They've volunteered their services to help our artisans raise their profiles and get the word out about quality Canadian food products. In turn, the website helps them market their own brands and promote their restaurants and cookbooks, but that's not really what's motivating them. For them, it's all about the food."
Food isn't just a commodity anymore, Erin says. "People not only want to know where their food is coming from, they also want to know the story behind it. How many times have you gone to the grocery store and been confronted with 15 different types of olive oil? You can study the labels, but it's a challenge to figure out where each is from, when it was produced, how long it sat in a warehouse before making it to your grocery store shelves. At Foodie Pages, you can read all about the product and find out about the people who produce it.
"Some of our artisans' stories are really fascinating, like Eric Whitehead from Untamed Feast in Crofton, BC, who carries a portable dehydrator on his back so he can dry wild mushrooms the same day he picks them. What our vendors have in common is a passion for food. Some of them left corporate jobs to start up their own businesses because they're that committed to creating the best chocolates, or producing the juiciest cranberries, or the highest quality gluten-free baked goods, to name just a few examples."
While Erin is currently her company's sole full-time employee, she draws on the expertise of a virtual team that's helping to put Foodie Pages on the map. In addition to her parents and a silent partner, who are co-founders, there's a contracted web-master and three interns who volunteer four to five hours a week to help market the site through blogging and postings on Facebook and Twitter.
After only four months in business, media interest and website traffic continue to grow and sales are climbing. Erin continues to sign up new vendors and hopes to reach her target of 100 by the end of 2012 and to double their number in 2013. Asked to predict The Next Big Thing in food, she anticipates a continuation of the trend towards specialty diets. "With books like Wheat Belly on best-seller lists and more people adopting gluten- and dairy-free diets, people are paying more attention to their health and wellness. Factor in food safety scares like XL Foods' tainted beef crisis, and you'll see more and more consumers wanting to buy from producers they trust. I believe there's a definite market for smaller players to meet the needs of these niche audiences. I also think it's just a matter of time before we have technologies that will make it more feasible to ship fresh products like produce and fresh meats."
Her downtown Toronto home office is a long way from la rue Montorgueil, but it has a distinct advantage over her former Parisian apartment. "My fridge is much bigger," she laughs. "That's a good thing, because I have a lot of products I'm researching to see if they meet Foodie Pages' high standards."