MBAs descend on Shanghai for international study module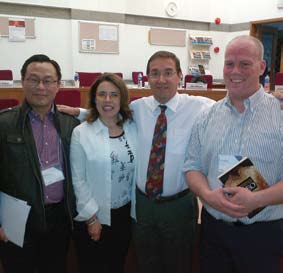 A group of 40 Executive and Cornell-Queen's Executive MBA students completed an intensive one-week program at the China Europe International Business School (CEIBS) in Shanghai. This optional module covered a range of subjects related to doing business
in China and was taught by faculty from both QSB and CEIBS. Pictured taking a classroom break are
students Michael Li and Clemencia Fonseca, both CQ-EMBA'13, CEIBS Prof. Juan Fernandes, and John Milligan, EMBA'13.
In this issue
Alumni News
Features
Inside Smith
Profiles
Dean's Message
Letters
Parting Shot