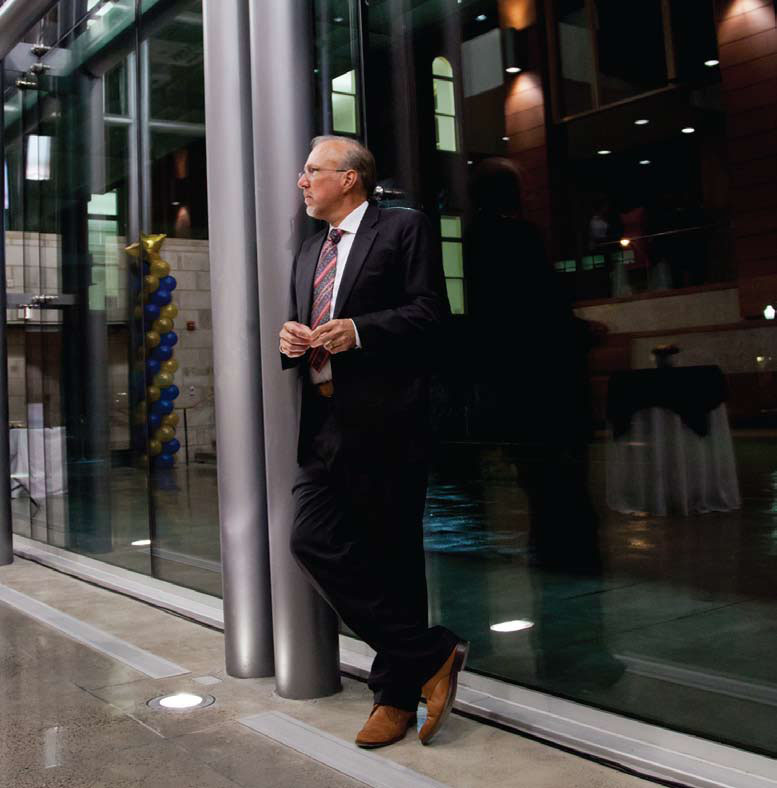 It was with great pride and excitement that I presided over the grand opening of the
expanded Goodes Hall this past September. Together with alumni, student leaders,
benefactors and friends of the school, we celebrated the culmination of a project
many years in the making.
I arrived at QSB in 2003, just a year after the opening of the original Goodes Hall,
then the new home for the School of Business. With increasing enrollments and a
growing suite of new programs, it quickly became apparent that we needed more
space, and so began the expansion project.
It has been very gratifying to be part of something from concept to reality. Among
the groups instrumental in the success of this process were the architects, the
Ventin Group (+VG Architects). Led by Peter Berton, the team artfully captured the
essence of our concept for the new wing. We gave them a broad vision: A building
that reflected the culture of the school—that fostered a sense of community and
camaraderie, with informal open spaces that encouraged teamwork and enhanced
the learning experience.
The feature story about the new wing portrays just how well Ventin captured this vision and made it a reality. The renderings of how the space was planned are a virtual copy of how the space is now being used. I'm sure you will enjoy the stories behind some of Peter Berton's favourite design features in the new wing. From rooms that transform (the Kinnear Classroom) to spaces that sparkle with glass and light (Goodes Commons), Ventin created a remarkable space for all of us.
We are very proud to call this expanded building the home of Queen's School of
Business. To all alumni, students, faculty and friends of QSB, I would like to say,
"Welcome home." We look forward to hosting you soon.
David M. Saunders, PhD
Dean, Queen's School of Business
dsaunders@business.queensu.ca
In this issue
Alumni News
Features
Inside Smith
Profiles
Dean's Message
Letters
Parting Shot